I've been publishing beautiful weddings to inspire couples for almost 13 years now and don't think I've loved what I do more than I do now. How could I not, when there are exquisite, folklore inspired weddings like this one to be shared?
Sophie, who works in PR for fashion marketplace app, Depop married graphic designer James on 4th June at Crayke Manor in North Yorkshire.
The couple sought a relaxed, creative and personal wedding within which they could express their sense of style, personality and creativity. It was most important to them that they had the freedom to handpick all their suppliers and work with a DIY, blank canvas venue. They set out to create a weekend long celebration, that brought together friends and family that re-created the vibe of previous big group holidays.
The bride looked sublime in her Mayfair dress by Halfpenny London, the level of considered detail, from delicate paper flowers created by the bride's mum, to psychedelic lighting, DIY stationery and delicious vegan street food. These beautiful images are by Patrick Phillips. Enjoy!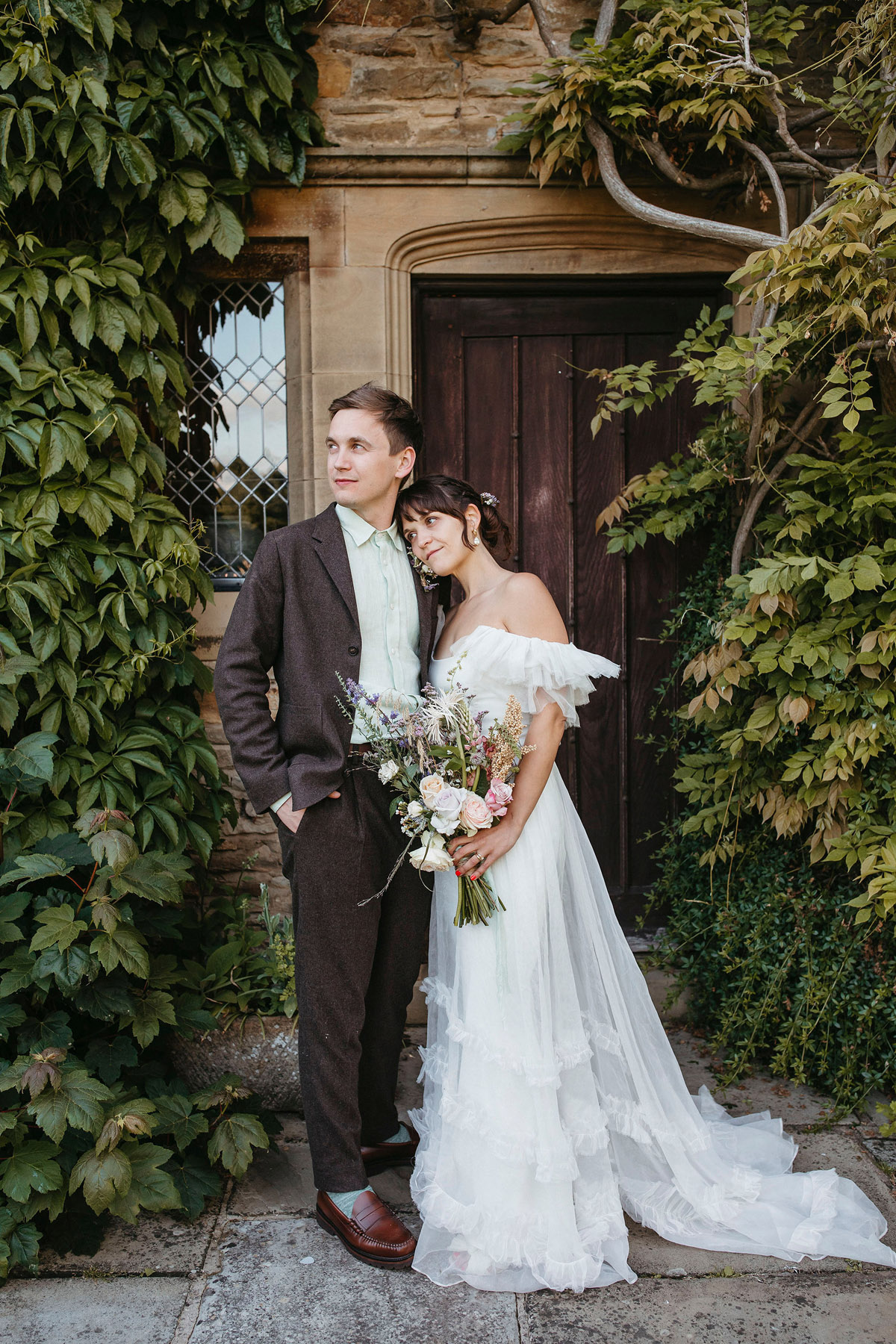 The Venue & Location
James is a Yorkshireman and we spent many happy years together in Leeds before we moved to London – we didn't want to do a city wedding so the beautiful Yorkshire countryside felt like the perfect fit for us. We got married in the picturesque village of Crayke, in the rolling Howardian Hills of North Yorkshire.
Our venue was Crayke Manor, an eccentric ivy covered Jacobean house full of nooks and crannies and oddities, set in 16 acres of grounds, with a festoon-light covered courtyard and adjoining covered stables. Crayke was recommended to us by a friend who had been to a wedding there before, and sent me the Airbnb listing. It was the first and only venue we saw! We were able to stay Wednesday – Sunday at Crayke Manor with the wedding party and close friends, which meant we had plenty of time to settle in, catch up with everyone (& use the hot tub!) and decorate before the big day, which was perfect.
We both are drawn to old English folklore and the arts & crafts movement style and so looked to mix these aesthetic inspirations and references with modern design touches… Trying to avoid too many Pinterest cliches or anything that looked or felt too formal, slick, or polished. Style wise, I'd say we went for eclectic, colourful, romantic and free-spirited.
In keeping with the folklore inspirations, we tied coloured ribbons to a big tree in the front garden where we had our ceremony – like a wishing tree, and hung similar coloured streamers on the back wall of the stables to act as a backdrop and bring more colour into the space.
Shoes, Veil & Accessories
I chose Monica Vinader x Mother of Pearl Baroque Pearl earrings – I knew I wanted to wear pearls and just love that each pair is irregular and unique as well as being sustainably conscious. They were my 'something new' as a gift from my family and I love them so much.
The lovely Ellie Ryder did my bridal hair and all the bridesmaids hair, she absolutely nailed my 'woodland nymph' brief with lots of tiny little intricate plaits and flowers scattered in the back of my hair. Makeup using all Charlotte Tilbury products was by Michelle (Indira at The Shepherds Purse).
The flowers in my hair were provided by our florist Hattie of Honour Farm Folk and I wore my favourite scent, Diptyque Philosykos.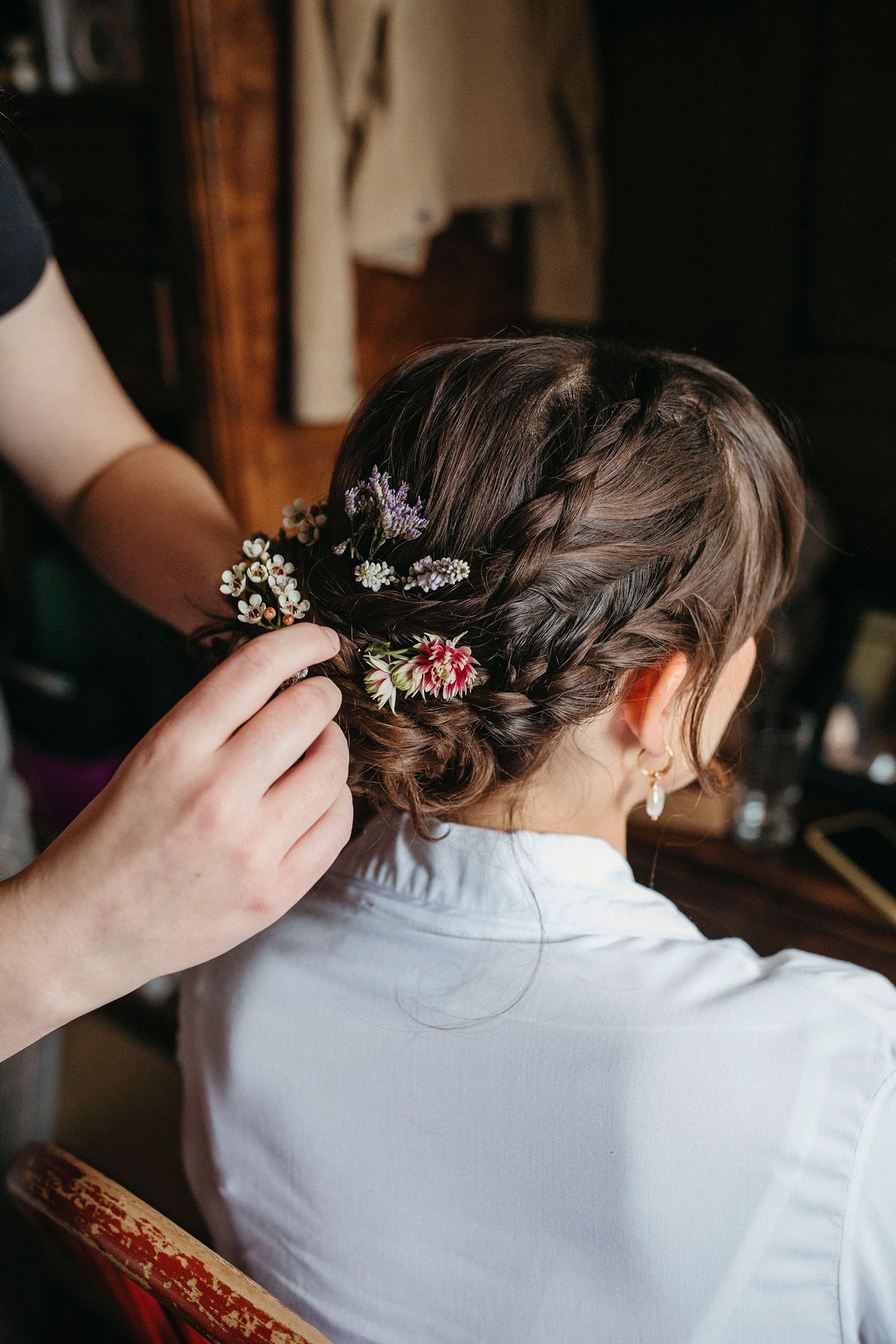 I rented the fluffy white Party Pyjamas by Sleeper to get ready in, from peer-to-peer rental app By Rotation. I use the app regularly and had always wanted an excuse to wear this super fun feathery set, what better opportunity than your wedding morning.
My shoes were Loeffler Randall 'Camellia', in Ivory. I knew I wanted to get married in these pleated beauties long before we got engaged. I'm still obsessed with them and want them in every colour.
The Dress
My dress was the first ever wedding dress I tried on, I had made an appointment at Halfpenny London specifically to try the Mayfair after seeing it featured on their Instagram and knowing it was exactly what I wanted in a dress. Predictably, I fell in love with it even more when I tried it on, it made me feel like an old movie star like Vivien Leigh in Gone with the Wind!
I loved the off the shoulder neckline, romantic silhouette and the way the silk organza and ruffles moved was heaven.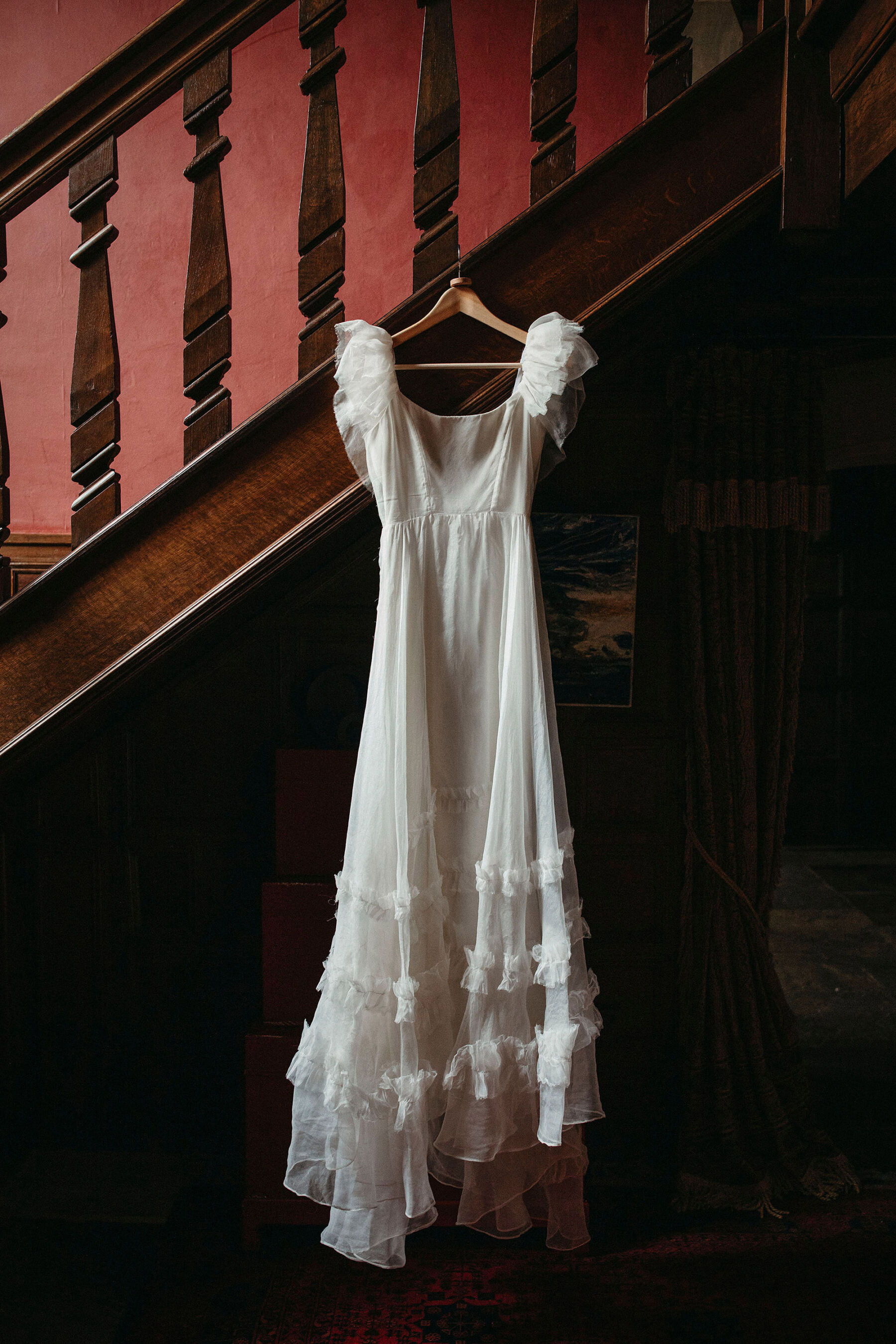 The Halfpenny boutique on Woburn Walk is so plush and beautiful, the whole experience was very special, despite still having Covid restrictions in place when my mum and I visited back in August 2021.
Unfortunately the dress was out of my budget to buy brand new from the boutique, but I had every hope I would be able to find it secondhand at a reduced price. I love vintage and secondhand clothes and work in the resale fashion industry, so really loved the idea of buying my wedding dress from another bride and giving it a new lease of life – so I started setting up alerts on bridal resale websites and religiously searching other boutiques for potential sample sales.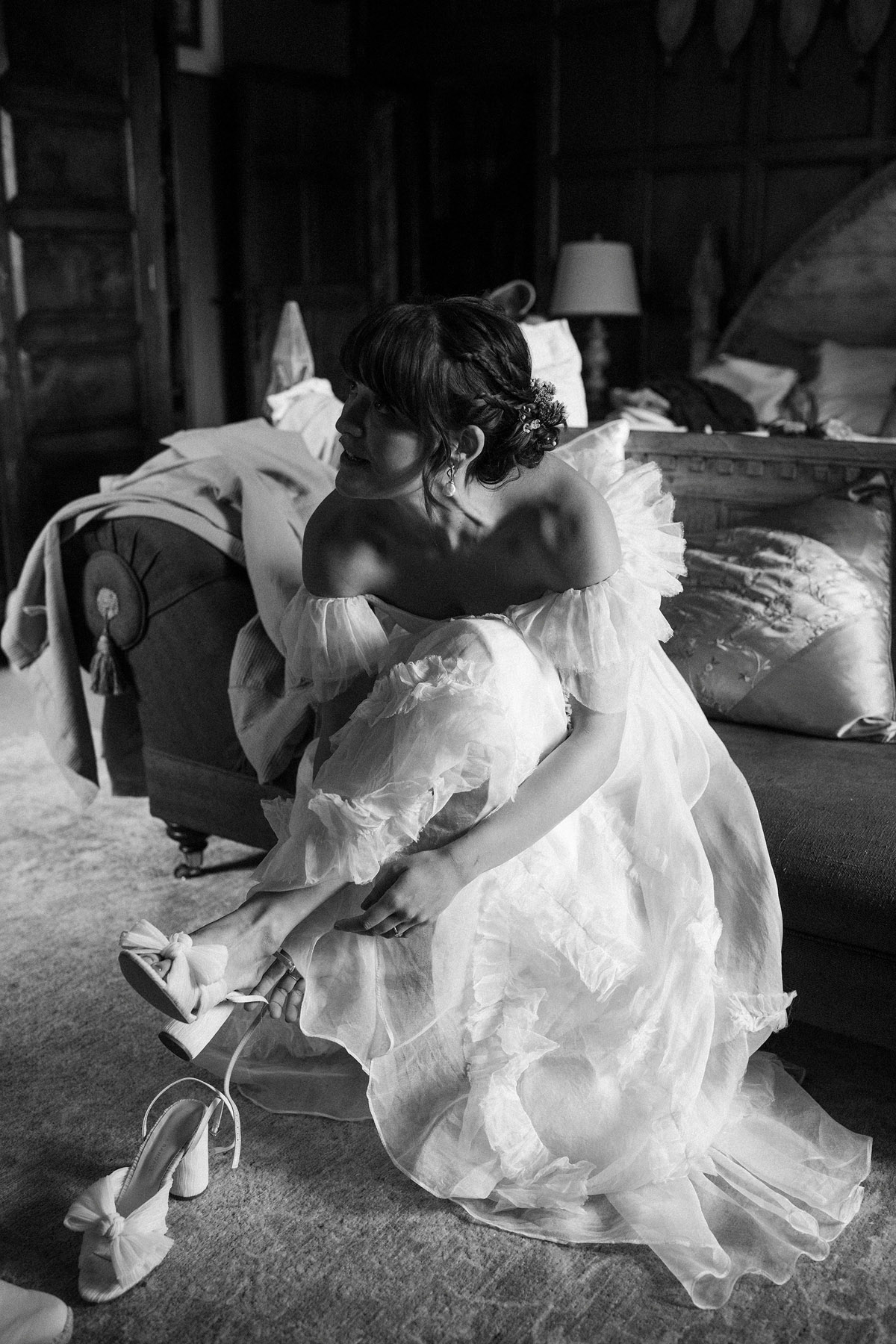 Luckily enough – Halfpenny announced they were having a September Sample sale and I managed to snag a coveted slot (Glastonbury ticket level hype for these twice a year sample sales!). I knew it was a long shot but I emailed the lovely Hollie who had taken my initial appointment, asking if there was any chance there would be a Mayfair dress available… and they had one for me, so she made my dreams come true.
The dress was damaged and needed repair work doing to it along with the alterations. But the Halfpenny team were lovely and gave me some recommendations on trusted Seamstresses and Dry Cleaners. I was over the moon to have found it at a sample sale, and I was ready and willing to try and restore the dress.
I would say to other brides who are looking to go down the same route, whether buying secondhand or at sample sale, to make sure you know what you are getting into, properly check the condition of the dress, and whether it's able to be altered to fit you perfectly.
I spent a good few months and a portion of the money I had saved on the dress, working with a wonderful and talented seamstress Keely Lynch who had experience working with the delicate silk organza and raw ruffles of the Mayfair dress and was able to rescue and restore mine to it's former glory, including re-making the bodice. Thank you so much Keely!
I loved that my dress looked like it had had a life before I wore it, and had stories to tell. The ruffles and frills were a little more relaxed than if it was brand new, it looked different to how I'd seen other brides wear it – it almost had a vintage dress feel. Which just made me love it even more, despite the material being a bit more fragile.
I think it actually suited my personal style more and fit with the style of our wedding celebrations more because of this too!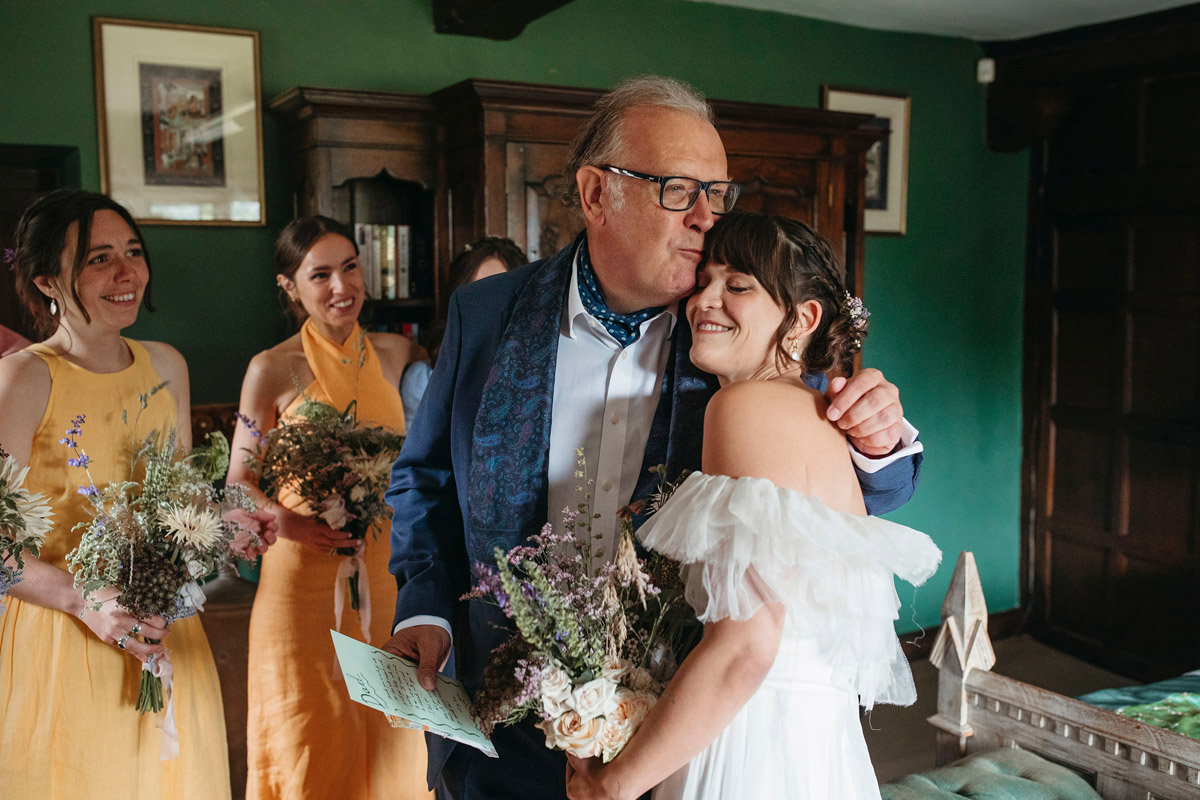 Seasonal British Blooms
I'm pretty flower obsessed, I love learning about them and spending time arranging them, they bring me so much joy – so was extremely excited about the florals and knew exactly what I wanted and didn't want.
A close friend recommended Hattie's of Honour Farm Flowers' beautiful instagram page and I instantly loved her work and whole ethos – seasonal British flowers homegrown in Bronte Country (the most romantic of Yorkshire landscapes), foam free & sustainable, Hattie's beautifully organic and artfully 'undone' design is exactly what I was after. When I got in touch she loved how I described my vision and inspiration for our wedding flowers, and we share a love of flower folklore and symbolism.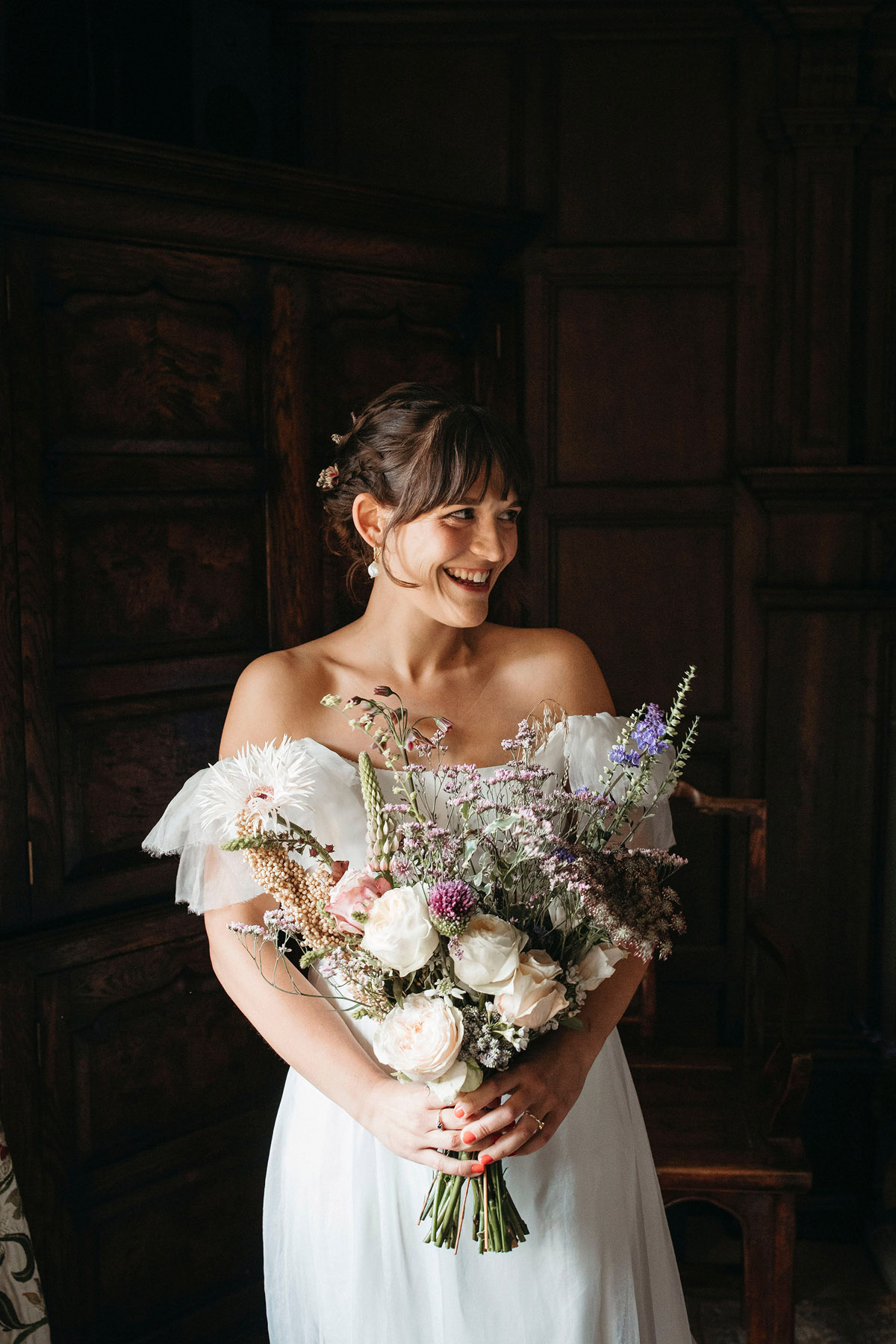 With our venue being pretty much a blank canvas, we knew that investing in flowers would be a key part of the decoration at Crayke Manor, for elevating our ceremony on the front lawn and for bringing warmth, texture and colour into the vast stables space. I really loved the idea of having meadow-like and woodland wildflower displays to mark out the aisle, and as a ceremony backdrop and centrepiece. Hattie created the most wonderful dreamscape florals that were just breathtakingly beautiful.
Being seasonal and homegrown we weren't sure exactly which flowers we'd have and were more than happy to trust Hattie on bringing this to life. The end result in pinks and purples with foxgloves popping up, was amazing – the mossy bases and purple wildflowers reminded us of the wild heather that grows on the Yorkshire moorland, a landscape both James (being a proud Yorkshireman) and I love.
Alongside gorgeous hand-tied bouquets, button holes, cake flowers, hair flowers and bud vases for the tables, Hattie also created a hanging foliage installation in the barn. Amongst the white hanging lanterns that we'd installed, the foliage really helped the huge space feel much more intimate and considered.
Hattie is also the most wonderful human, super lovely to work with and chat to – really hoping our paths cross again soon!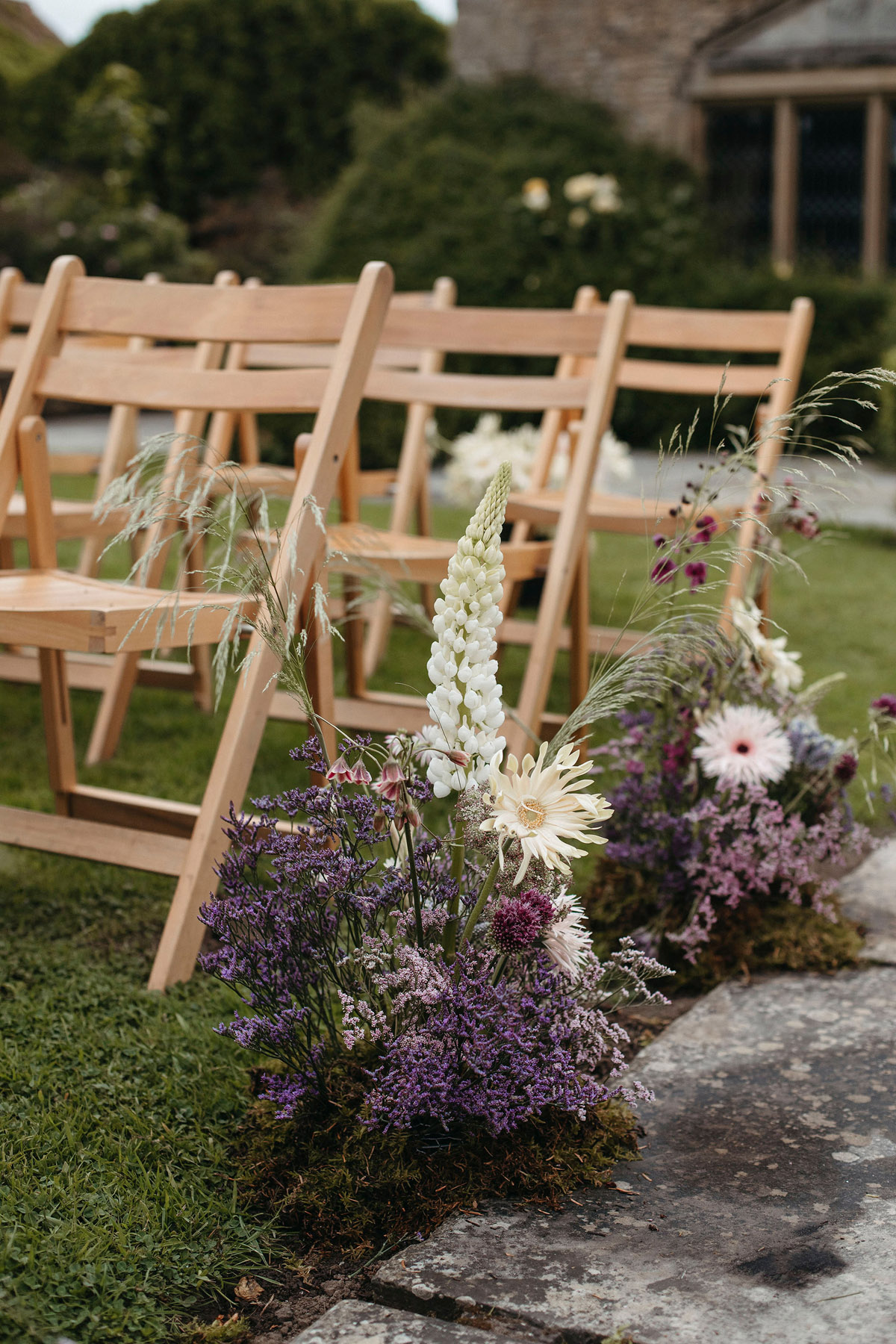 Bridesmaids
I really wanted all my bridesmaids to wear a dress they loved, would feel comfortable wearing and wouldn't just sit in their wardrobe unworn after the wedding. I'm not a fan of the stereotypical matching silky bridesmaids dresses either, so my brief to them was linen or cotton poplin summery dresses, in different shapes and complementing colours – and they all smashed it.
The dresses were, Nanushka (orange), Sleeper, rented via HURR (green) & Other Stories (purple) Free People (pink), M&S (blue) and Truly (yellow). They all looked so individually beautiful, which they are as people! But also really worked well together as a group to add that injection of colour that I love.
They also wore a mixture of my fave Castaner espadrilles and their own shoes.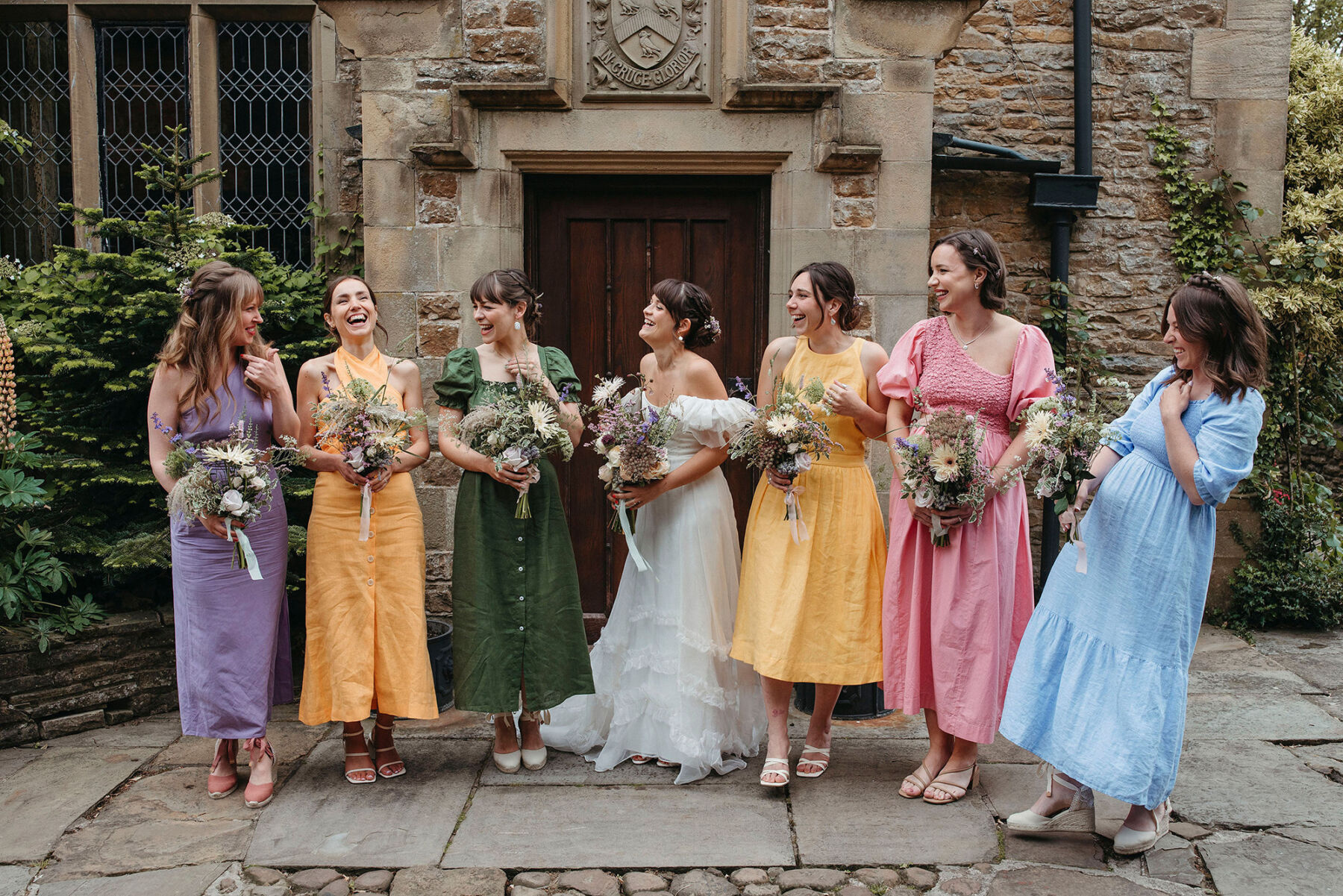 As James is a Graphic Designer, he designed the order of the day, welcome signage, seating plan and cocktail menu. He also designed our save the dates and invites – which we invested in printing physical card versions of and sending out to guests. Whilst not an essential or probably most sensible or sustainable use of our budget…we both love printed media, are very sentimental and collect postcards and trinkets wherever we go, so loved the idea of having something guests could keep and treasure, and put on a notice board or mantlepiece in the year leading up to the wedding.
Our colour scheme was pink and green and throughout the designs he used scans of some old PhotoBooth strips which we always take on anniversaries and trips together.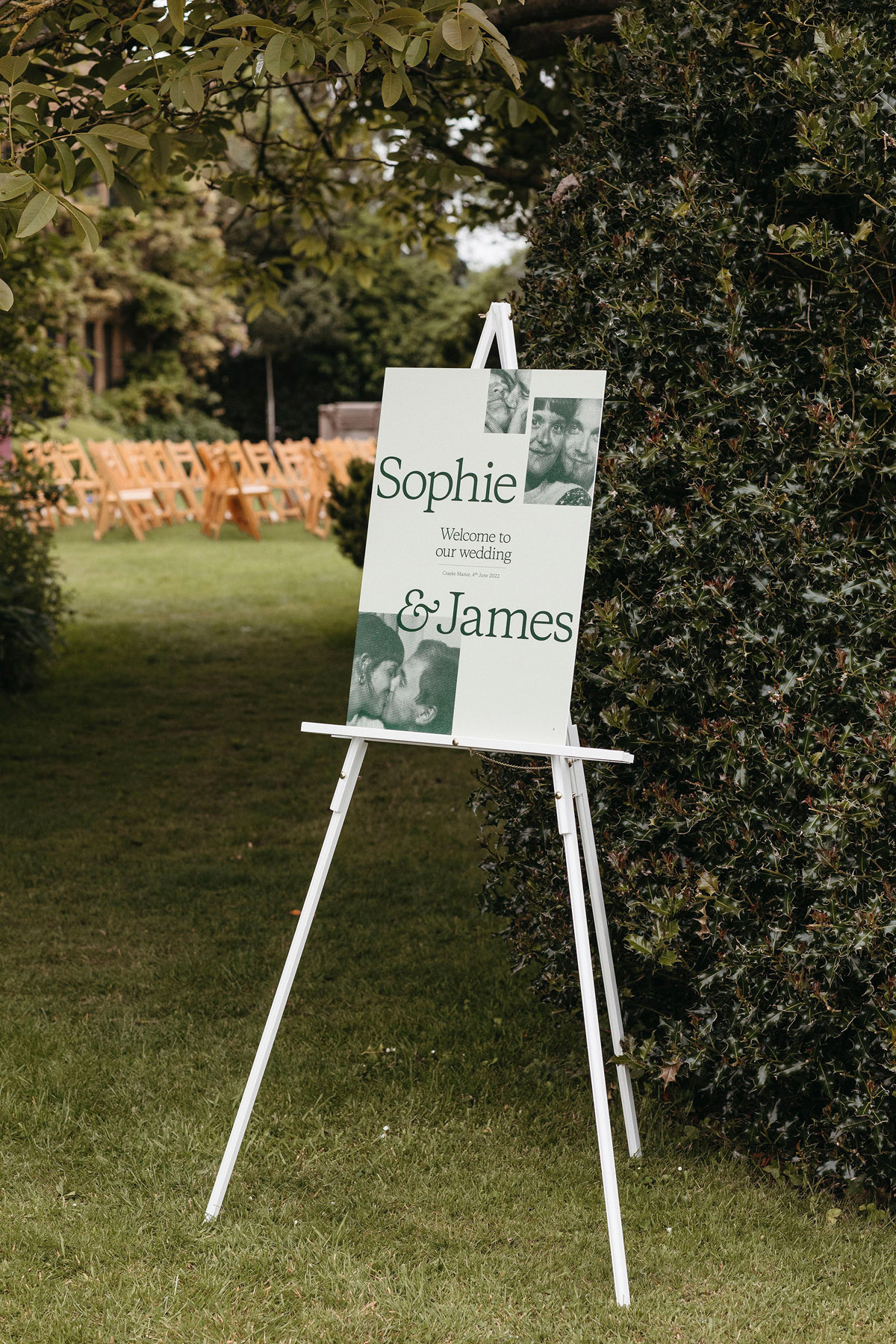 Photography by Patrick Phillips
We loved everything about Patrick Phillips' photography and the way he described his work as creative and relaxed storytelling – exactly what we were after! Patrick is based in Scotland and shoots a lot of beautiful Highland weddings – so thought it might be a long shot, but we reached out to him to enquire incase we could make it work, and turns out he is from North Yorkshire, not very far from our venue. He was totally down for shooting a Yorkshire wedding and liked our vision for the day!
On the day Patrick was a dream, made us all feel so at ease and we loved his chilled, positive and super friendly vibe. Everyone talked about him in such high regard, (we all wanted to be his mate!) and we're still blown away at how he understood and elevated our vision and captured such intimate and special moments so beautifully.
He also went above and beyond, staying to capture some epic dance floor action shots and getting in there with us all!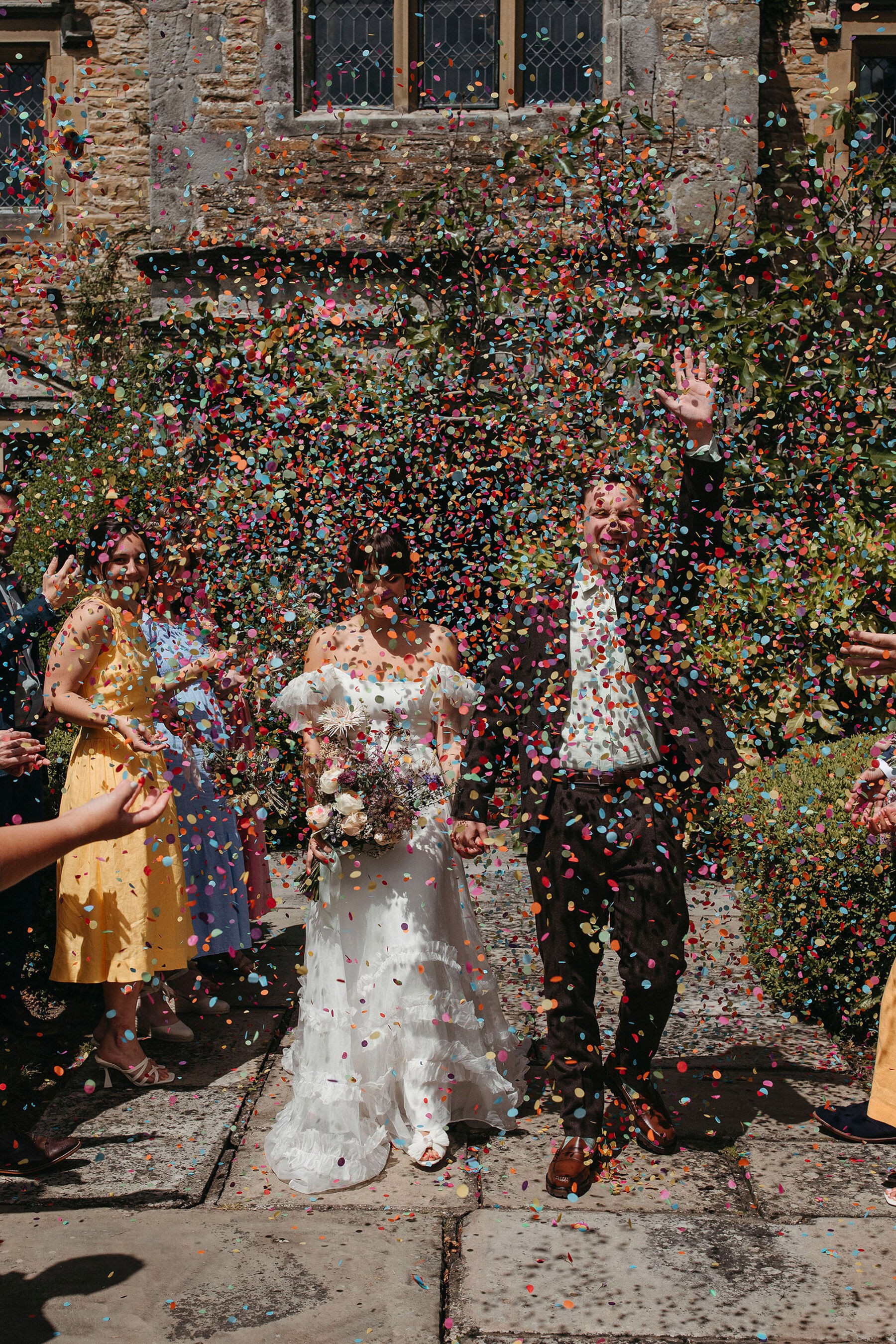 Reception
We were so excited when we found MorMor! Food is really important to us as a couple and we wanted to do plant-based food, being veggie and vegan ourselves. It was a lot of pressure because we knew we had a job to do in convincing friends and family that this way of eating is amazing and delicious, with no compromises on flavour.
After almost despairing that we would be able find what we wanted with local Yorkshire wedding catering companies ( more often than not what we were finding was very meat-centred), we finally found Hugo at MorMor on Instagram. We had a colourful, vibrant, plant-based sharing feast including mezze, fattoush salad, Kurdish naan, spicy cauliflower and garlic and herb potatoes. The food just kept on coming, looked and tasted absolutely incredible.
Our good friend Calum runs a natural wine shop & bar called Dina, near us in East London and supplied wine to accompany the meal – he selected some delicious low intervention wines for us, we had a chilled red, white and orange to share on the tables.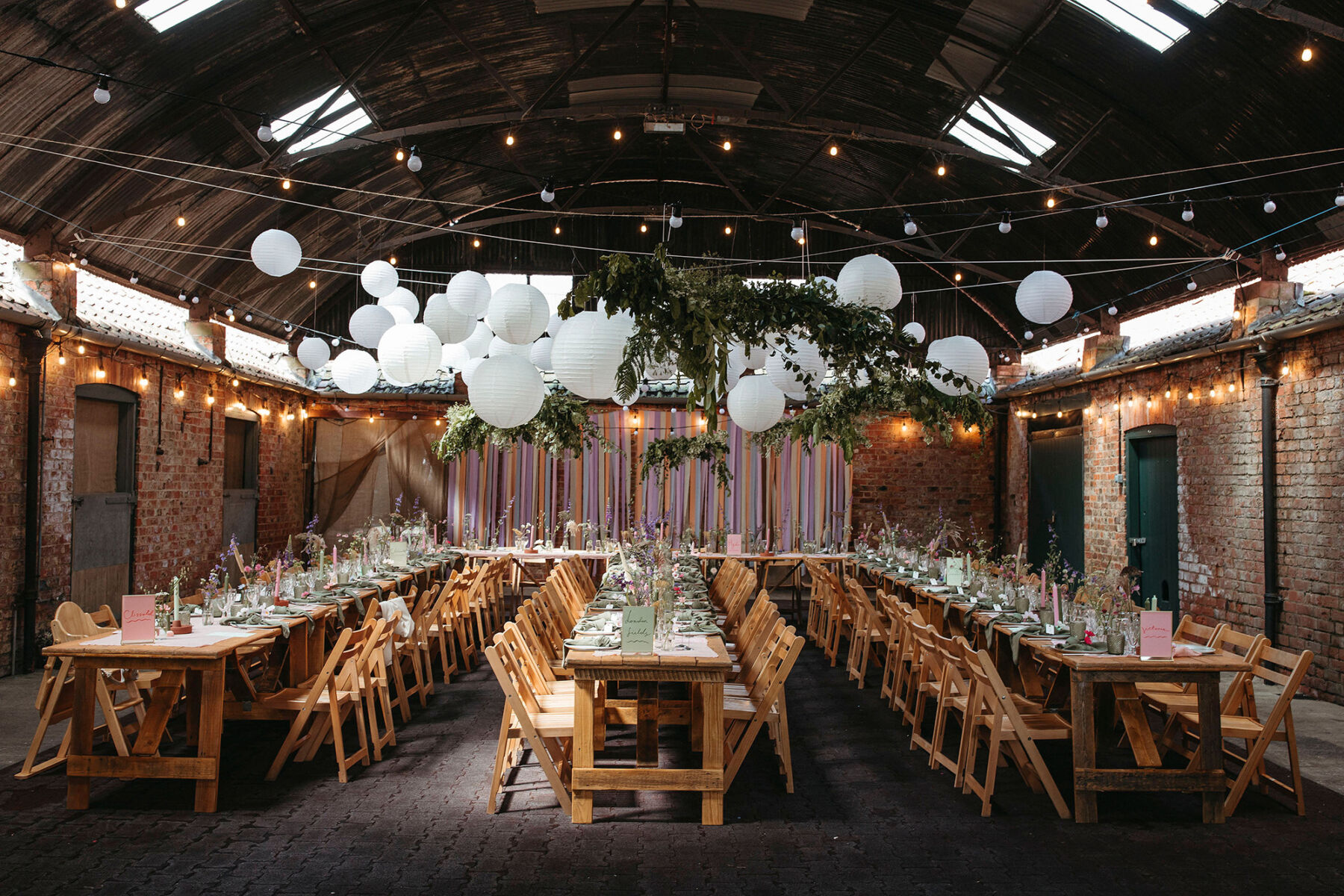 How They Met
James and I met aged 19 on a Leeds Indie dance floor when we were in between first and second year of University, and have grown up together. On our 10th Christmas morning together in 2019, we got engaged.
James found the perfect way to propose; meaningful, genuine and intimate – no frills, not flashy or over the top at all, which I actually loved and made it even more romantic. Just in bed with coffee in the morning, telling each other how much we mean to each other. Something we hope to be doing for many years to come!
We knew we wanted a longer engagement, even before Covid came on the scene luckily. We had 2022 in mind to get married so that we could have as much time as possible to plan and save for a wedding, without rushing it or getting stressed and take the planning in stages.
James found his suit at A Days March on Berwick Street in Soho – they are a Swedish label with a focus on responsibly made quality clothing.
He was inspired by 1960's three button suits, with lots of mod and Beatles references, and wanted something classic but relaxed looking – His A Days March brown jacket and trousers were a lovely quality and he had them altered to fit him perfectly, adding a few tailoring touches to elevate the shape slightly.
His pistachio linen shirt was by SIRPLUS, picked up on Camden Passage – a lovely local menswear brand that makes pieces from surplus and other responsibly-sourced fabrics. He wore a pair of classic brown Bass Weejuns loafers by GH Bass.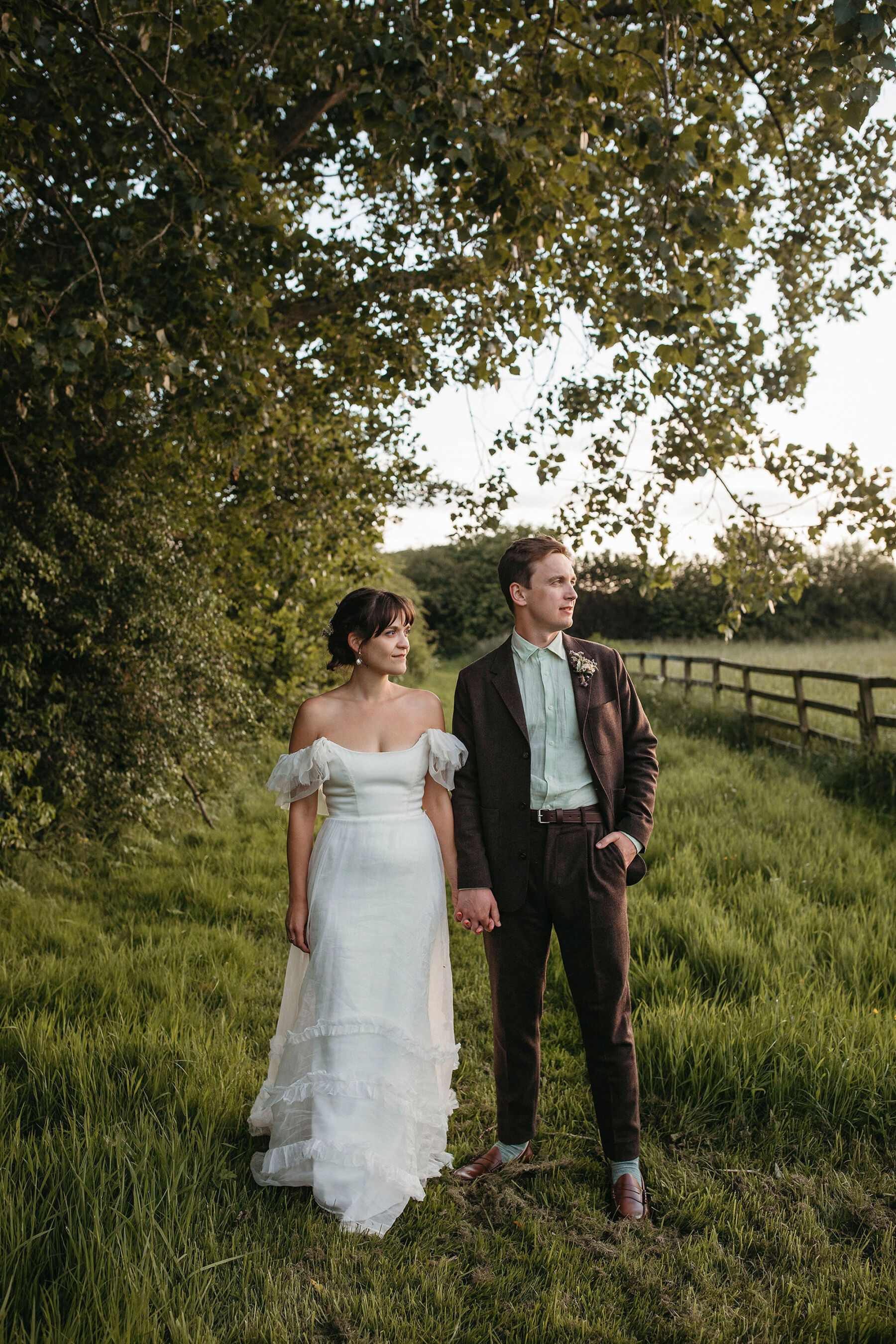 Evening & Dancing
We booked Radio Edit as our wedding band. Frontman Rob and guitarist Dan also played as I walked down the aisle and did an acoustic set at our reception.
James lived with Dan at Uni so the band are friends, and friends of friends. One of James's Groomsman Ned actually used to play Bass in a former iteration of the band, and they invited him up on stage in the middle of the set to play Stevie Wonders 'Superstition'.. and the crowd went wild!
Sophie Kenny via Lucy Nation for our Optikinetics Solar 250 Projectors – we hired two Psychedelic oil wheel projectors for the evening party to project on the ceiling of the stables for vibey, trippy party lighting (just obsessed with these!)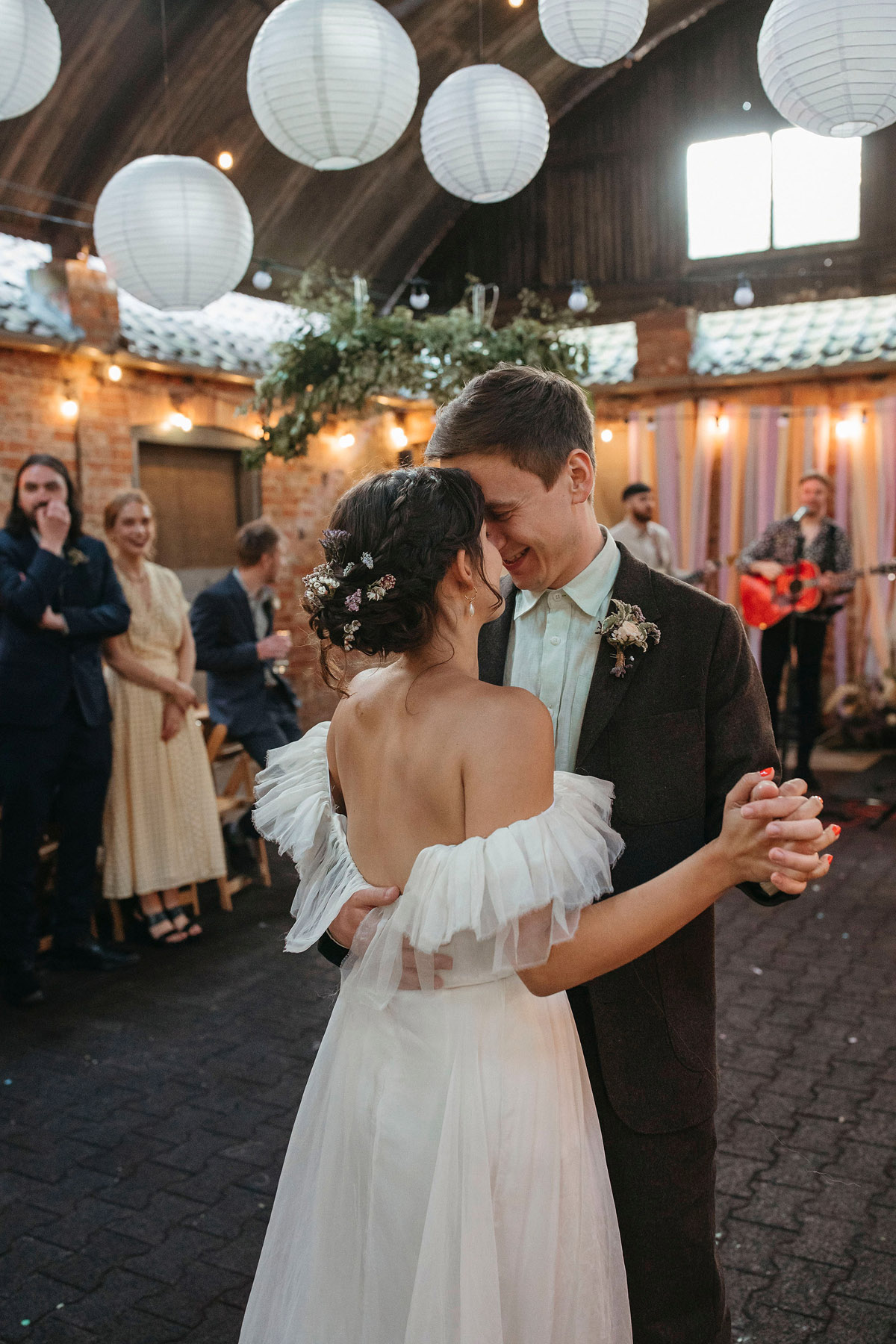 They absolutely smashed it, had everyone up dancing, playing banger after banger – from indie disco, to pop-punk, to 60's/70's/80's/90's classics, their repertoire is vast and brought such high energy. They are properly talented musicians and we had so many compliments from friends and family on how great the band were.
Words of Wedded Wisdom
I visited Love My Dress a lot to get real wedding inspiration and see how couples had approached the whole process – it can feel very overwhelming when you first start planning a wedding (even if you've planned events before!) and Love My Dress is invaluable and inspiring to see how all the pieces can finally come together in lots of different, lovely ways – especially when planning a DIY wedding.
Our advice would be, to try enjoy the planning stages as much as you can and don't let it take over your life! I'm someone who naturally does obsess over every little detail but giving ourselves enough time to bring it all together was essential for us. The nature of DIY wedding planning, especially during a pandemic and when your venue isn't local to where you live – is a lot of time on a laptop, researching and emailing suppliers.
Being able to take it in stages meant we could have concentrated bursts of focusing on 'wedding stuff' but not have to spend every night of the week doing it and could still enjoy our weekends together and have time away from a screen after work. We approached it as we would a work project and my work-back timeline and our wedding spreadsheet was our bible and really helped us map out our spending and stay on top of juggling all the deposits and cash flow etc.
We would also say – try and have the confidence to not have a cookie-cutter wedding, don't feel the need to do things just because you feel you should. A lot of wedding traditions are really old fashioned and unequal that we don't necessarily agree with (more Bride speeches please!), but the beauty of modern weddings is, it is (and should be) totally up to you.
We tried to make every aspect of our wedding as personal as possible, to be a celebration and reflection of James and I as a couple. In the end it made us both incredibly proud to see what we had created and planned together, and having input from our friends and family – from making our cake, to handmade decorations, to being there to lend a hand and help us set up and de-rig the venue – just made the whole experience even more special. Our hearts have been so full ever since.
We worked with the wonderful Lindsay Whitwell as our wedding coordinator, who we had check-in calls with throughout our planning journey. Being a DIY wedding, it was a non-negotiable from the beginning to work with a coordinator to help bring it all together on the day. Working in PR and having plenty of event experience, the last thing I wanted was my wedding day to feel like work! And James and I both agree Lindsay was one of the most important and best decisions we made, for so many reasons. Lindsay absolutely made our wedding weekend the best few days of our lives. From the first time we chatted we loved her energy, and both her lovely personality and professionalism were a vital part of bringing all the puzzle pieces for the day together. Lindsay just went above and beyond across the entire weekend, we felt so supported by her every step of the way. Our entire wedding party and close friends and family fell in love with her – we did too, of course.
We ended up spending roughly over £25k, which was the very top end of our initial budget. But to be honest, towards the end there was lots of little elements, decoration details and gifts that we hadn't budgeted for which was going to be inevitable. We were very lucky that my family also offered to cover various elements of our wedding – my mum helped pay for half my dress and our wedding rings, my dad and step mum kindly covered the cost of the band and the florals, for which we were incredibly grateful.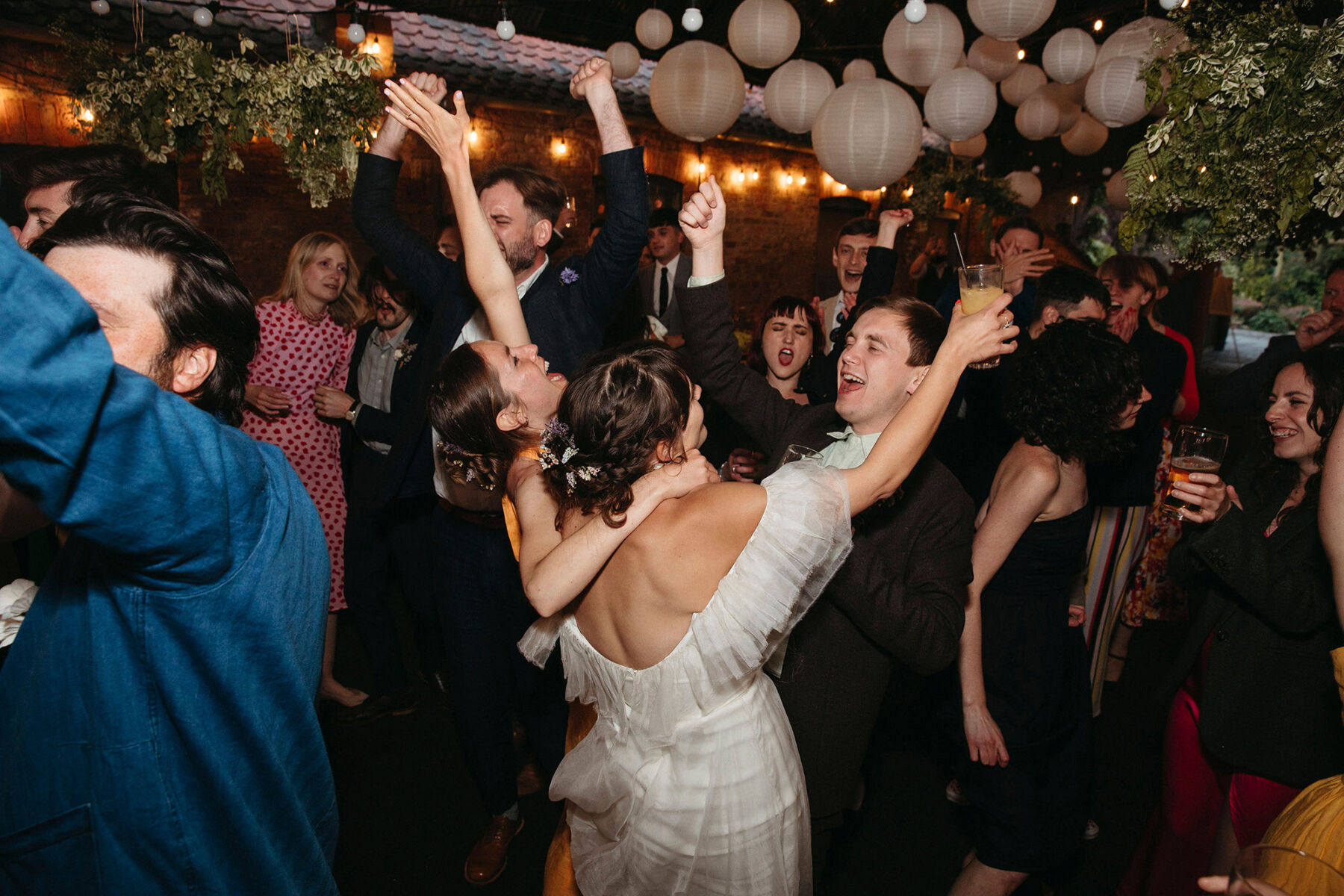 Explore the Love My Dress Wedding Directory