I wouldn't be telling the truth if I said I expected Rich Strike to win the Kentucky Derby. I hadn't ruled it out because I knew there were a lot of intangibles, but I knew it would have to be the perfect scenario. My true goal was to finish 10th or better and beat half the field. And if Rich Strike finished last, so be it. We took a chance.
Rich Strike had won a race at Churchill Downs racetrack in September 2021 and had come third at Keeneland in October. That was when we started thinking we had a really good horse to race; that's when it really all began.
Rich Strike, or Richie as I call him, is a "people horse." He loves attention and he loves being petted. My daughter gives him baby carrots; he probably eats a pound or two of those a day, and he's a kind horse. He's so much fun. But we realized he was starting to wake up.
Training a Kentucky Derby winner
Richie had tons of talent, he'd won a race and tried hard enough, but for some reason he didn't have that "killer instinct." We had to teach him how to become aggressive in the races and not get too far behind. He liked to break and then settle in the back. So, we had to teach him that if he was going to run that way, when he decided to get going and catch these horses he had to do it really quickly and aggressively, he couldn't just methodically try to run by everybody.
We began putting horses in front of him and at the end of his gallops, maybe the last half mile, we'd get him run by them really fast. We started showing him there's a target, so that when the rider says "go!" he doesn't play around, he goes.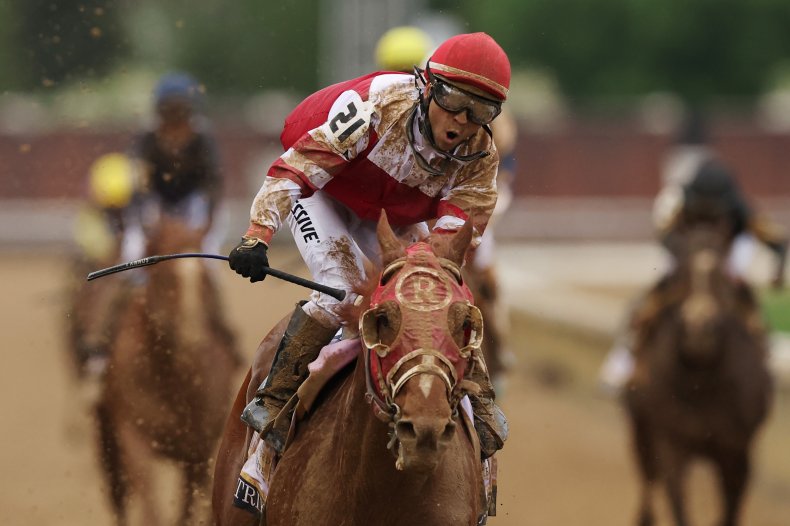 I keep telling everybody it's like Mike Tyson. You look at him and he's this funny guy but when he walks into the ring, he's a boxer. He doesn't want to go 15 rounds, he wants to knock you out in one minute. That's what you need these horses to want to do; to beat every horse as fast as they can beat them. But, you want them to do it the right way; when the rider tells them to.
It took about three weeks of that training at my farm, the Mercury Equine Center in Kentucky, before the rider came back one day and said: "Don't do this anymore, I can't hold him. I show him the horse and he's wanting to run after it." That's when we knew we had taught Richie what he needed to learn. Some horses never pick it up.
Preparing for the Kentucky Derby
We knew we were going into the John Battaglia Memorial race in early March 2022. That went well for us, with Richie placing fourth, so we started thinking we had a Derby horse. We got the points we needed for that to be an option in the next race: Richie came third in the Jeff Ruby Steaks in April.
Around 10 days before the Kentucky Derby, Richie completed the best workout I had ever seen him do. Afterwards, he wasn't even winded, so I remember thinking he was getting good at the right time.
The only thing we did differently ahead of the Derby was to go to Churchill Downs to get Richie mentally prepared for the noise, commotion, press and cameras; the things you don't see every day at all these other tracks. But he wasn't in the race, he was number 21. I heard whispers from people saying he looked like the real deal, but he was on the outside looking in. He would only run if one of the other 20 horses scratched from the race before Friday, May 6 at 9am, so he wasn't taken very seriously.
I was at Churchill Downs every day the week of the Kentucky Derby and with each hour that passed before Friday, hope was fading. The pressure was mounting.
At 8.45am on Friday, we hadn't heard anything and everyone had gotten somber and quiet. I had a contact who kept me updated on everything that was going on, and at about 8.50am, he walked across the parking lot and held his hands out and dropped his head. He said: "I'm so sorry. It's not going to happen."
I sent a text to my daughter and to the farm, and everything just kind of stopped. Then, with one minute to go, the phone rang. It was Barbara Borden, the state steward. She asked if we would like to run in the Kentucky Derby. I couldn't breathe.
Finally, I got the words out to say: "Oh yes!" and I looked over at my guys. They were all standing there with their eyes so bright. I said, "We're in!" and it was like we'd just scored the winning touchdown in the Super Bowl.
On Saturday, we started getting Richie ready about 90 minutes before the race. He walked over to the paddock like the utmost pro. He never turned his head at all the live music and he didn't mind all the crowds screaming and cheering as all the horses passed them to get to the paddock. He walked in there like he'd been there a hundred times and he was the only horse. That gave me a lot of confidence.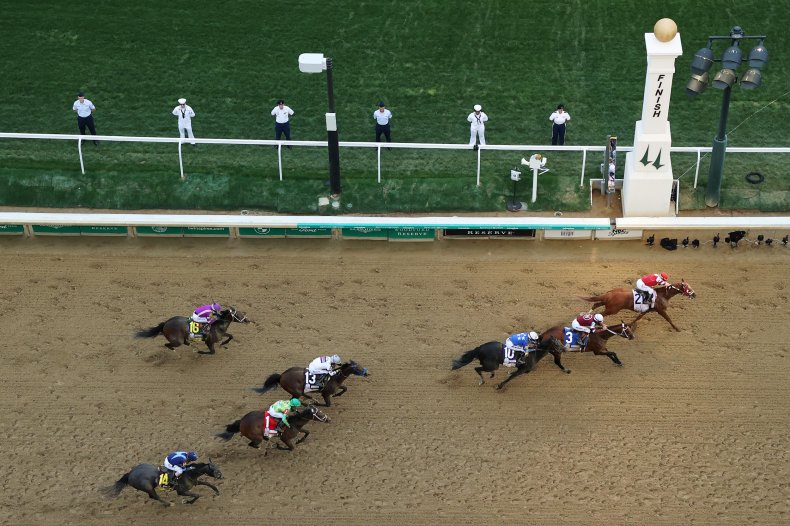 Watching Rich Strike win
As the race began, Richie broke and got to the inside and I saw he was actually moving up into contention a little earlier than normal in these races. I know that as they went into the final turn I said to my best friend Ken Tyson: "KT, he's close enough, he could make some noise from here!"
But in the middle of turning Richie got in this huge group of horses and I couldn't see him. By the time I found him, someone said he was 6th. I saw a horse drop in front of him and his rider Sonny Leon made this great move of pulling around that horse. We had 12 seconds left in the race but it seemed like it was taking hours. I grabbed my Dad and said: "We might hit the board." I was only watching Richie.
I remember feeling so happy because I knew we had made it to third. Then, I heard KT say, "Oh my god. OH MY GOD!" That's when Richie took the lead.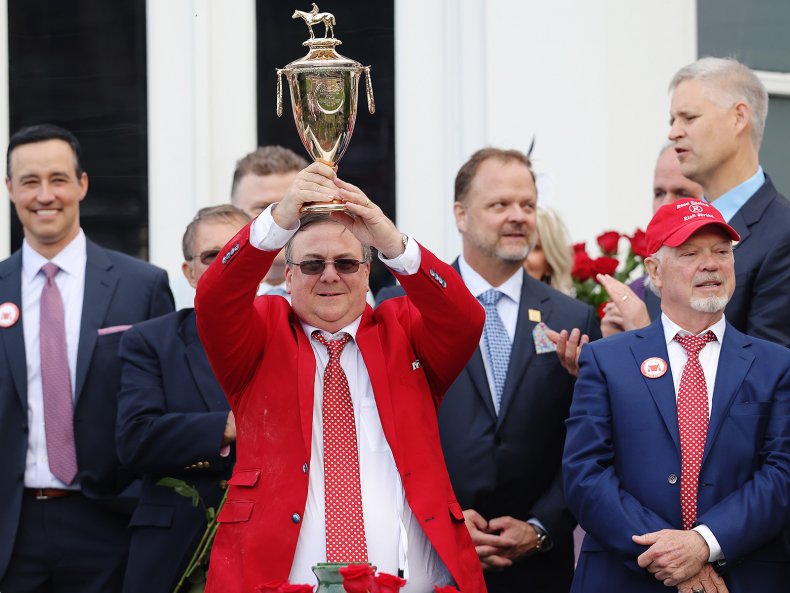 I saw he was getting away and I remember grabbing my dad and saying that we had won the Kentucky Derby. Then I fell and landed on my back, so I didn't see Richie cross the finish line. It was pandemonium. But I was looking at my father when I was pulled up and he had a look on his face that I will never forget. He was in shock. I could tell he was in a moment that he didn't believe.
People who have known me my whole life were saying "My god, Reed, you did it!!" That's when I knew what had happened.
Rich Strike's post-race punch
There's a lot people don't know about horses and horse races so I can understand any thoughts that people may have had when they saw the outrider punch Rich Strike after he won. The truth is it's not unusual and it's happened before in races.
Richie is an inexperienced horse learning the groove and he'd never had a horse run up to him after the race. He had just fought off 19 of the world's greatest horses and to do that, he had to be in full, 100 percent battle mode. Lo and behold here's the outrider coming and he thinks there's another horse to beat. Instead of him being allowed to run by him, the outrider reaches over and does his job. His job was to get my horse, pull him up safely, talk to the jockey as he's getting his breath and bring him back safely to the winners circle.
Richie didn't know that. He thought he was supposed to be at war with this other horse and he didn't like them stopping him. He bit the guy severely and bit his pony. Richie did wrong, the outrider did not. That guy saved my horse. If he had cut him loose, Richie could have lost my rider, or injured himself, or run through the crowd. I understand people don't know what they saw and they think it was wrong. I hated what happened but it needed to happen. Who can tell you in the heat of the moment if there was any right or wrong way to do that, but I'm behind the outrider and he saved my horse.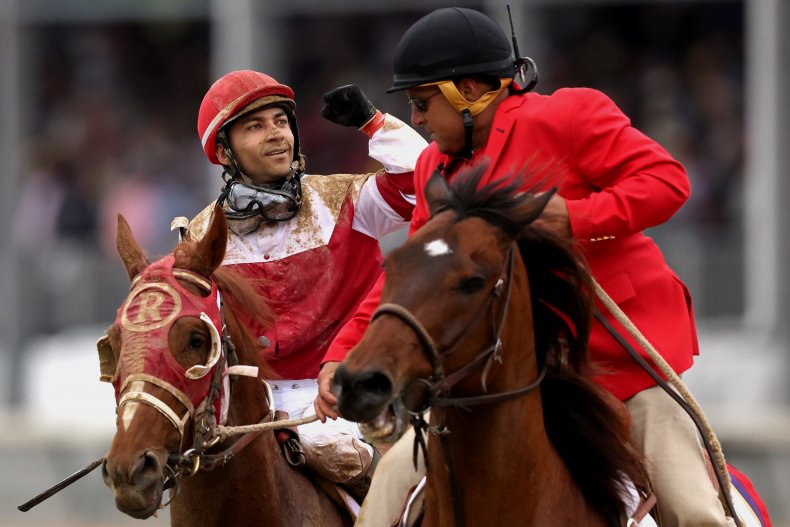 Richie is doing great. We know why it happened and we can prevent that from happening from here on out. From now on, we'll plant the outrider on the backside and we'll let Richie gallop around the turn and slow down. We'll let him go to the pony, rather than the pony coming to him.
Now, people want us to try for the Triple Crown of Thoroughbred Racing, and we want that too. But we only have one Richie. So we have to do what's right for him, not us or anybody else. I want him around next year as a four-year-old, so every decision we make is going to be in his best interest. That's how he got to the Derby. We didn't make any decisions for money or fame, or ourselves. It was all for him.
The winning purse was over $3 million and I believe Rich Strike gets more than 60 percent of that. I get 10 percent of the owner's share, so it's going to be a big check for me, but I haven't even thought about that. I still can't believe I'm the trainer of the Kentucky Derby winner. I know they tell me I am and that he's down at the barn, but he's still Richie and I'm still Eric.
I'm proud of my wife, she works day after day on the farm and does things I couldn't do physically, and I'm proud of my daughter who works like an army of her own. My whole family has been behind me and all my employees on this farm have been through a lot. We've seen it as bad as it can get, and now we're seeing it as good as it can get.
People keep saying, "Oh Eric, you deserve it." I don't deserve anything. I am enjoying this, but I think all of my employees deserve it. I'm so happy that they are having a good time with this. I hope that it lasts a long time.
Eric Reed is Kentucky Derby winner Rich Strike's trainer. He owns and runs the Mercury Equine Center in Kentucky.
All views expressed in this article are the author's own.
As told to Jenny Haward.