It's been a whirlwind romantic journey for the Real Housewives of New Jersey's Teresa Giudice and her beau Luis "Louie" Ruelas. After dating for a year, the couple got engaged, bought a house together and currently live as a blended family with four kids total under their roof. Now, though, they've officially tied the knot in a lavishly over the top wedding ceremony – and the extravagant cake from the shindig is what will really blow your minds.
Courtesy of RHONY's Ramona Singer – who spilled the invite beans on the Gram earlier this year – the whole world knew exactly when and where this marriage was going to take place. (August 6 at the Park Chateau Estate in East Brunswick, New Jersey, ICYMI.) A lot of BTS snaps of the actual big day eventually trickled out via the bride and groom's own Instagrams. The one that was most audacious and very on-brand of Teresa Giudice was the "cake" she had dedicated to her new husband. See a photo of it here, from her Instagram stories: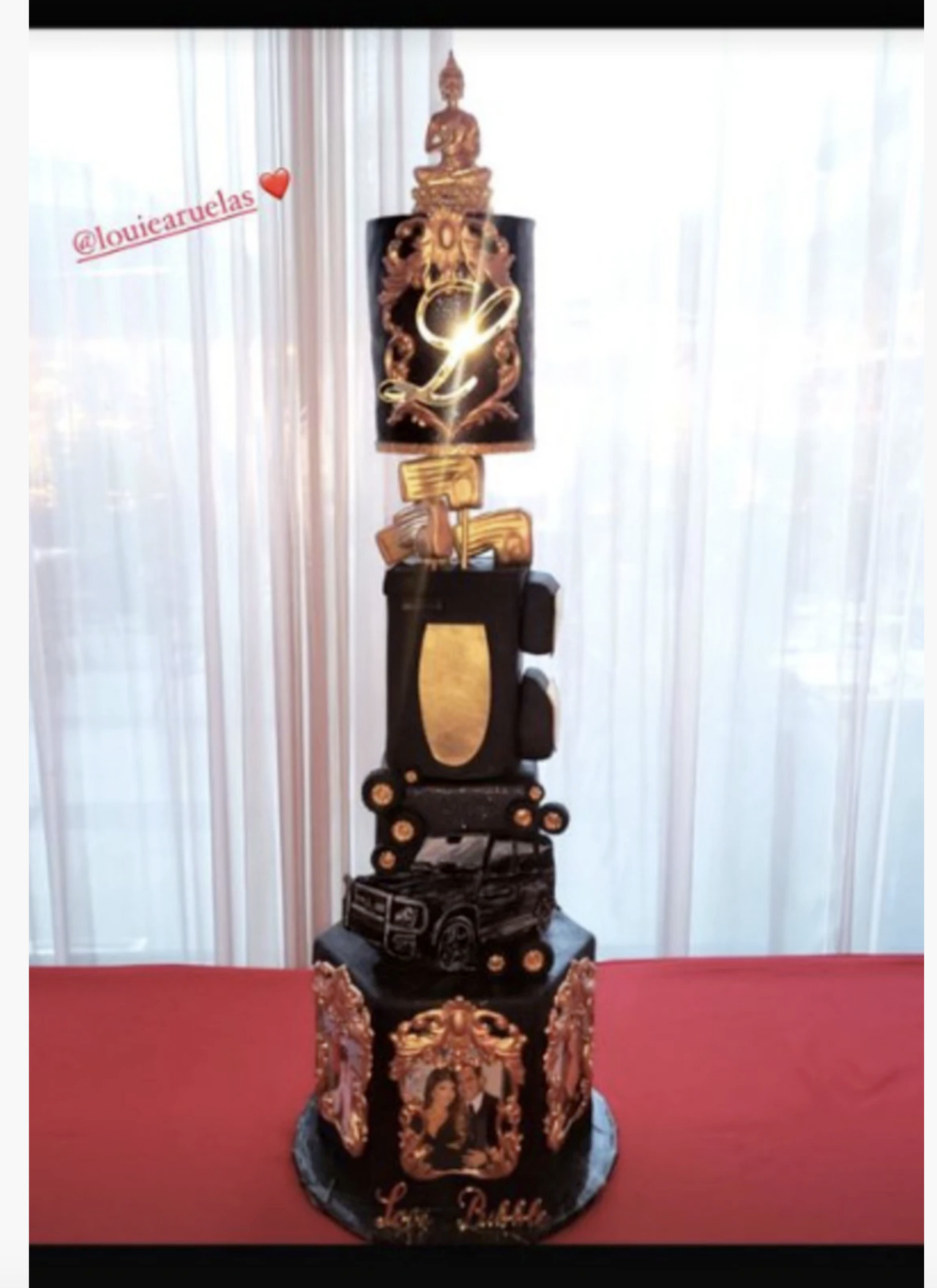 Where to begin with this piece of… art? There's just so much to take in, like the golf caddy and SUV center layers – which okay, I get it, that's his interests. However, I'm largely torn between what is more wild: the photos of them (and a few of just the bride by herself) inlaid in gold, or the meditating Buddha topper? It's just a lot, like a lot a lot, but that's Teresa Giudice for you, as Bravo fans know all too well after watching her for twelve seasons on the Real Housewives of New Jersey.
And, if you can imagine, she actually upstaged the spectacle that was Luis Ruelas' personal cake – with her wedding hairstyle. From a repost on Ruelas' Insta stories, we got to see the quintessential moment of the reality star walking down the aisle. Teresa Giudice looks very beautiful, but again, it's a lot to take in: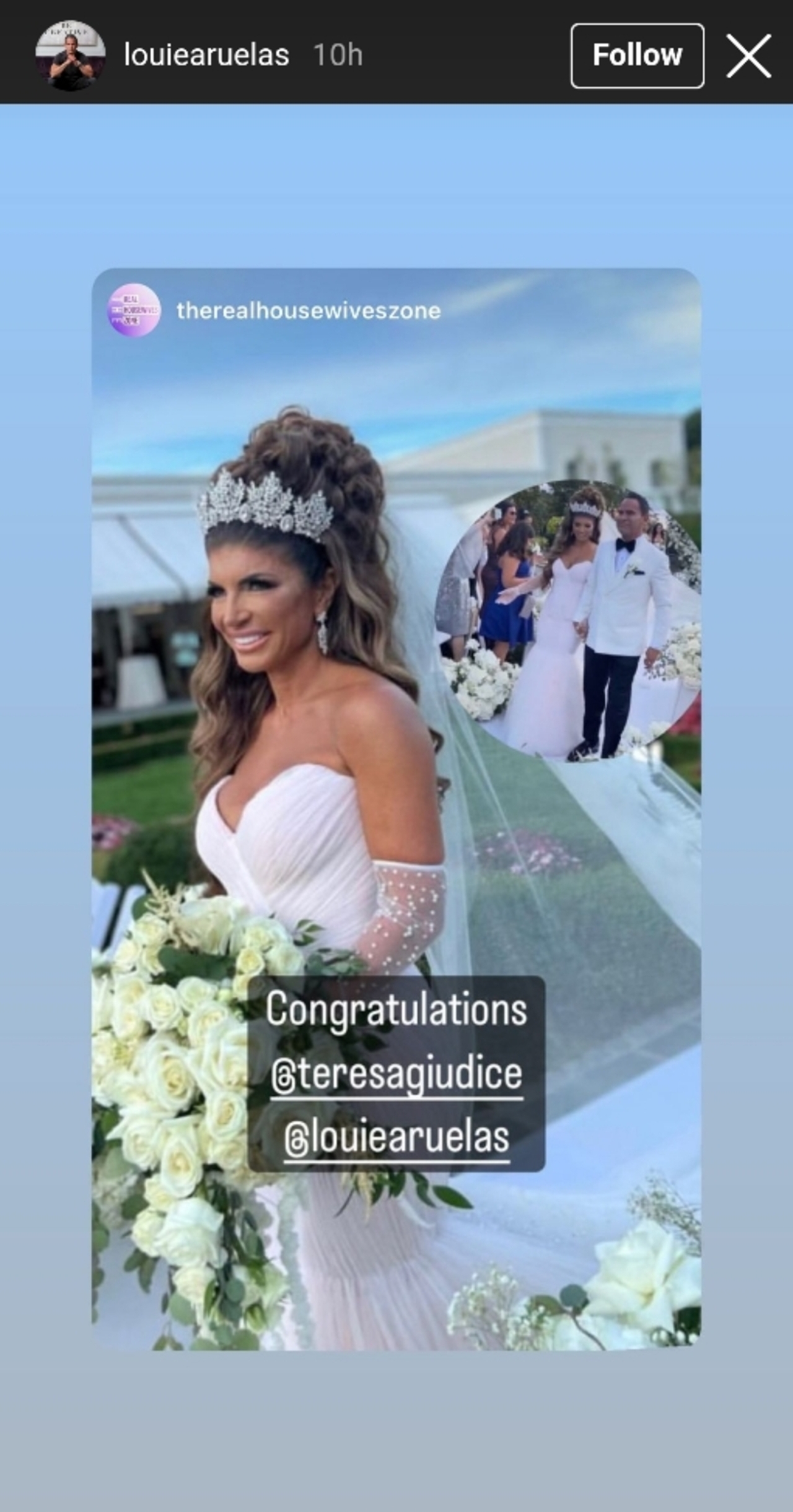 The mile-high up-do was very New Jersey of Teresa Giudice, so I gotta give it to her for keeping the brand strong. She followed up the look, too, with an equally grandiose tiara and long train. You only get married once for your second time, right?
All cake and up-do jokes aside, though, the two appeared very happy to finally be Mr. and Mrs. Ruelas. And the inside looks of the reception afterward show that they continued their streak of going all out for the moment. I mean, I saw full-grown ladies throwing feathers from life-size martini glasses in one pic. In another, all of which comes from Luis Ruelas' account, there's what looks like Vegas performers on stilts acting as greeters? Check them out below, along with what seems like a more "traditional" white wedding cake as well: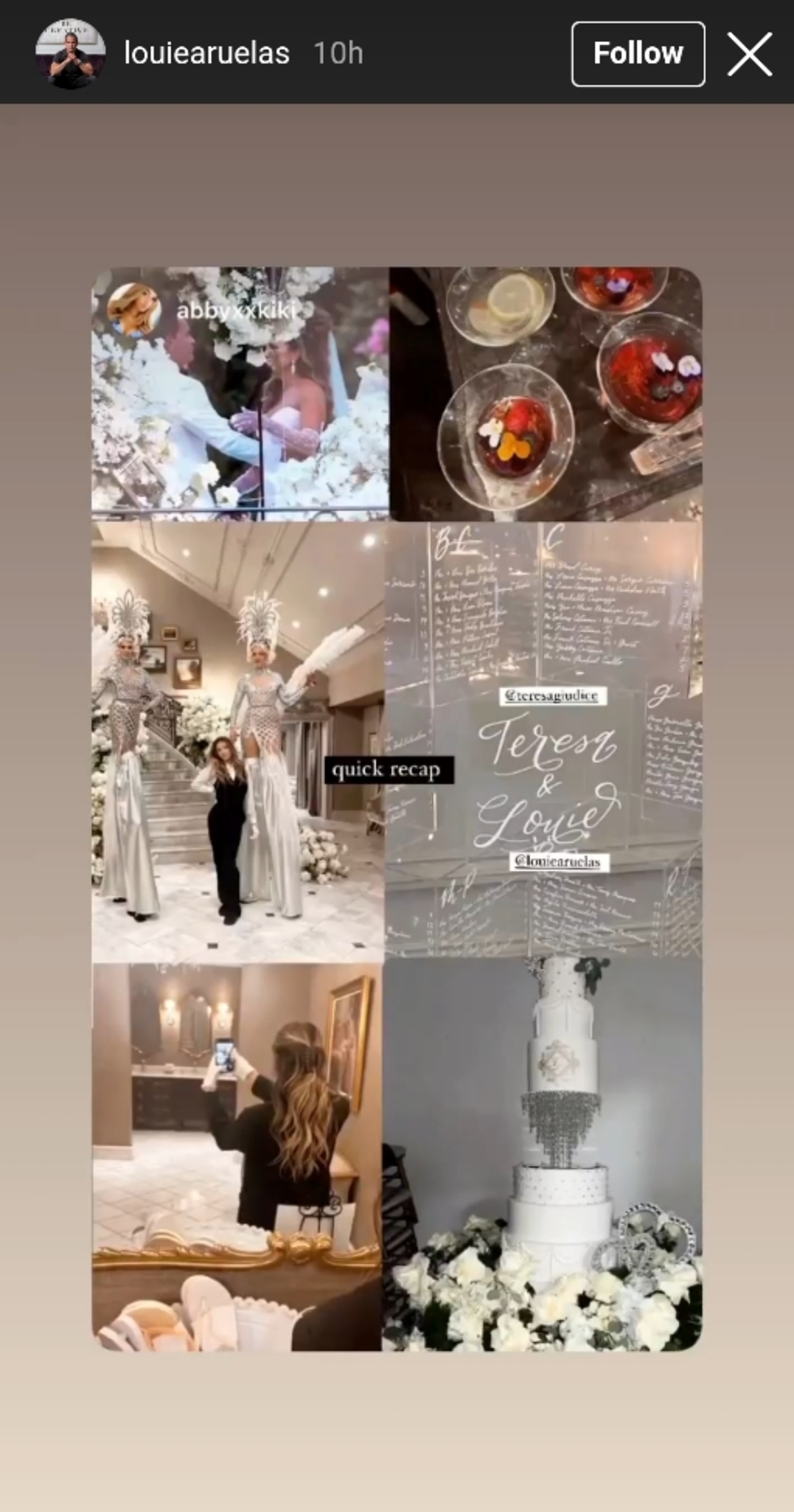 Yet, truth be told, no shortage of drama followed the happy couple down the aisle. As witnessed in Season 12 of the Real Housewives of New Jersey (now streaming in full on Peacock Premium), Luis Ruelas made his official entry into the group, and it wasn't exactly pretty. His past romantic relationships (and allegations of abuse therein in the press) plagued his standings with the ladies and their husbands – mostly with co-star Margaret Josephs who had a lot of questions about the situation. Fans of the star were also very critical that Ruelas was only perhaps using her for her money/fame, which she has adamantly denied.
Interestingly, Margaret Josephs was supposedly spotted in attendance at the wedding. One who was not was the Gorga family, aka Teresa Giudice's brother Joe, her sister-in-law/co-star Melissa and their three kids. Per sources for People, the siblings began feuding a few days prior to the wedding amidst filming for the reality show's thirteenth season. As they tell it, Giudice "betrayed them" in an "unforgivable" way, which is what led to their controversial absence from the nuptials.
So, all in all, you know Season 13 of the Real Housewives of New Jersey is going to be giving serious Season 5 vibes. Although, I doubt the notoriously "zen" Luis Ruelas will get into a brawl over matters with Joe Gorga like Teresa Giudice's last husband did that year… but Teresa and Melissa, now that's another story entirely, and I can't wait to see it. (Just not the wedding itself because Teresa was emphatic that it wasn't going to be filmed for the show…probably for good reason.)