Tips and Trends | October 14, 2022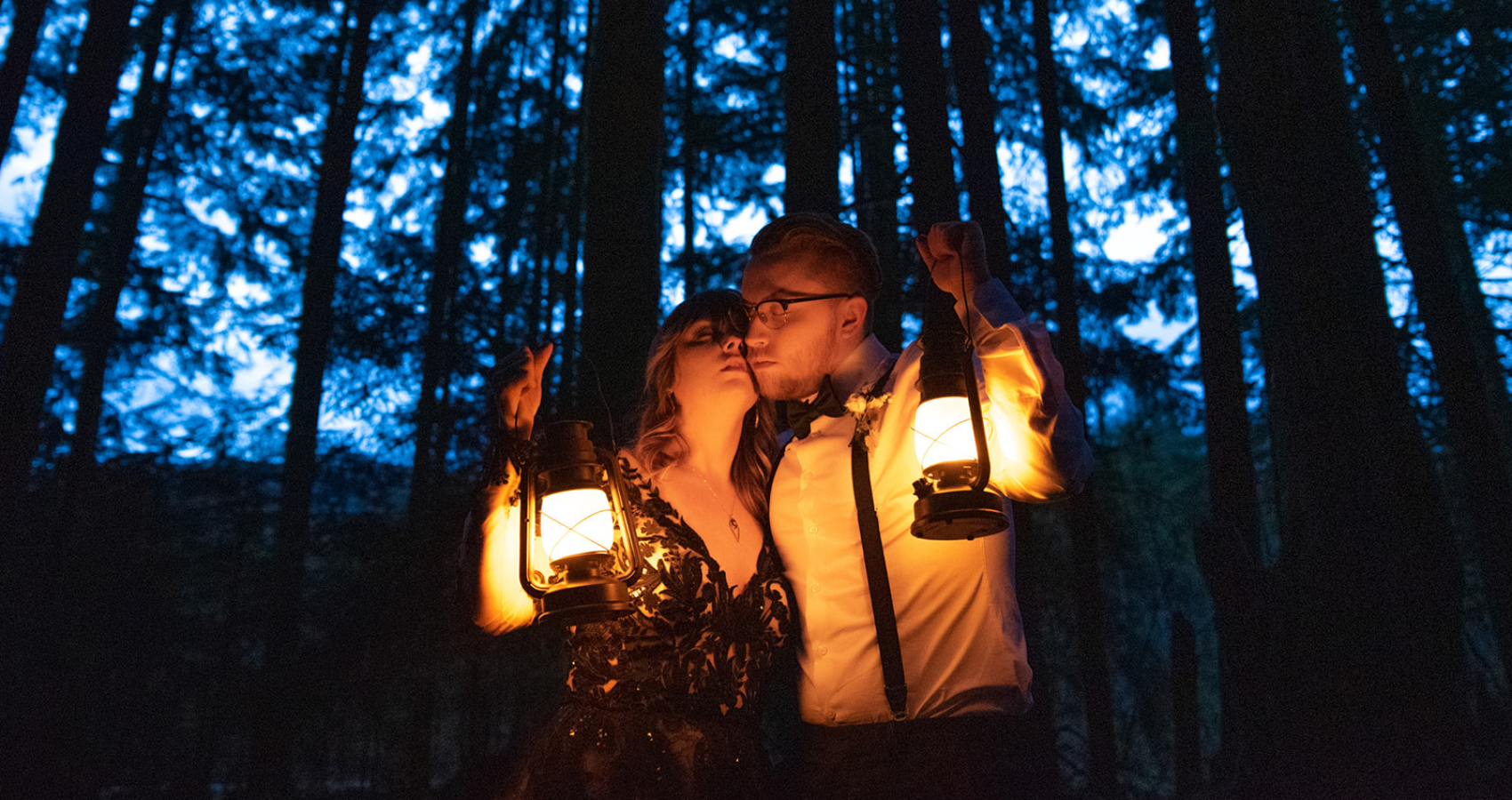 Fall is one of the most beautiful seasons of the year. With the leaves changing, the crispness in the air, and pumpkin spiced everything, it's no surprise that having a fall wedding is popular among brides. Planning your dream wedding day might feel overwhelming at first but staying organized and getting all the help you need will ease the process and your nerves as you plan out your fall wedding ideas.
Not sure where to begin? Start by searching for fall-inspired wedding ideas. Knowing exactly what aesthetic best fits your dream wedding will give you a clear picture of exactly what you want and the means to make it happen. Once you're ready to dive into the planning process, be sure to prepare a budget, a backup plan for the weather, appropriate attire, a fall-festive menu, and decorations. For a shortcut to planning your perfect fall day, take our Style Quiz below to help narrow down your wedding dress style!
Dive in below to learn more about how to plan an unforgettable fall wedding!
Set a Budget
Although a wedding budget is not the most enjoyable part of the planning process, it's essential! You will want to identify the areas of your wedding that are the most important part for you to have on your big day. If your wedding dress is the most important part, make sure to think through your strategy so you can get the gown of your dreams! If it's professional photos, do your research to find the best photographer for your budget and aesthetic. This applies to everything that you want to have for your wedding.
Considering purchases before or after your wedding, such as a new home, is also essential. It's best to evaluate your finances ahead of time. If your plan is to buy a home right away, figure out how much house you can afford by entering your location, yearly income, monthly debts, and how much money you can allot for a down payment into a mortgage calculator. Once you've determined a realistic home-buying price range, you can set an accurate budget for planning your wedding.
Venue Fall Wedding Ideas
PC: Bloom and Wander Co Photography | PC: Michelle Albert Photography | PC: Taylor Brooke Photography
Autumn can be a tricky time of year to host a wedding; however, we have a few fall wedding ideas to make your celebration perfect!
Although the dream of a beautiful blue sky wedding day is ideal, let's be realistic—we can't control or predict the weather. Just because a rain shower may occur on your big day doesn't mean you can't still plan for an outdoor wedding! As long as you have a backup plan, you'll be prepared to take on any weather that might be thrown your way.
Choosing a venue that can accommodate indoor and outdoor parties is highly suggested. A few popular venues for autumn weddings are barns, vineyards, breweries, bed & breakfast inns, country clubs, or mountain lodges—oh, the things you can do with a beautiful setting! If you can only find an outdoor venue that fits within your budget and date, don't worry. Check to see if the venue supplies outdoor tents. If not, find a local rental company. This will provide a place for you and your guests to escape the rain while still enjoying the warm colors of the outdoor scenery. If it's a cold brisk evening once the sun goes down, having outdoor space heaters is also a huge plus, so you and your guests can stay warm. Adding some cozy blankets for your guests to snuggle up under helps battle any chilliness they might experience as well!
Because it's a fall wedding, try to avoid a late evening reception. Daylight savings time causes the sun to set earlier in the evening. An ideal start time is around 4pm or 5pm, if the time slot is available at the venue. Make sure to have other dates in mind and alternative venues just in case your first choice is booked. Having a backup plan in place will not only save you from worrying about something happening, but you'll also have a solution ahead of time if a mix-up occurs! 
Autumn Wedding Dresses and Attire
PC: Bloom and Wander Co Photography
The weather during fall can be unpredictable so it's important you, your bridesmaids, and guests are prepared with the appropriate attire. The temperature might drop once the sun goes down, so a long sleeve wedding dress might be an option worth exploring!
Not only are long sleeve dresses chic, but you can customize the material, pattern, and style that best fits your desired aesthetic. Elegant materials to use for the sleeves are satin, lace, chiffon, and tulle. We offer many different patterns and styles for sleeves you can choose from them as well! Consider donning butterfly, bell, fitted, puff, bishop, or illusion sleeves on your big day.
PC: Bloom and Wander Co Photography
Still can't decide? No worries! Explore our blogs on detachable wedding sleeves and capes and jackets to personalize your wedding day look!
For the bridesmaids, a fun way to tie the season into your wedding is to coordinate their gowns to match the natural autumn color palette! Consider having them wear fall colors like burgundy, burnt orange, sage green, mahogany, or deep shades of purple. Don't be afraid to have each bridesmaid wear a different color to make your fall-inspired wedding look come to life as well. By doing this, you will make each bridesmaid as unique as each autumn hue found in nature. 
PC: Julie Cole Photography | PC: Robby and Savannah
Lastly, don't forget about your guests! In your invitations, include suggestions for attire, especially if the ceremony and reception are outdoors only. As an added precaution, consider adding a throw blanket to the chairs at the ceremony for extra comfort or warmth for your guests—blankets that coordinate with your color palette, of course!
Create a Festive Menu
PC: Kelsey Christian Photography
To help make your special day unforgettable, create a festive food, drink, and dessert menu. First, decide what kind of serving style best fits your budget and venue. Options to choose from include family-style, buffet, serving stations, or plated. If you're leaning towards a more relaxed and casual dining experience, look into hiring food trucks to serve your guests. Once you have a serving style in mind, the next step is to choose what kind of food you're going to offer.
When you think of fall, comfort food usually comes to mind (at least for us!). Keep reading for some tasty options.
For the cocktail hour:
Lay out a charcuterie table with an assortment of cheeses, meats, olives, fruit, vegetables, and crackers.
Add pumpkin seeds and cinnamon sticks around the table for decoration.
If you want a salad as a first course, add some fall snacks like raisins, goat cheese, pumpkin seeds, etc.
Include butternut squash or tomato soup as an alternative.
Steak or chicken with a creamy sauce, pasta, barbecue, and anything potato-based will be great entrées and sides to wow your guests.
Really, anything warm and flavorful will be a great option to include on the menu!
PC: Bloom and Wander Co Photography
Next, plan the dessert menu! If you don't want to indulge in a big fancy wedding cake, put together a dessert table with an assortment of pies, cakes, and pastries. Tasty ideas are warm apple pie, pumpkin bread, cannolis, melting chocolate chip cookies… Anything you want!
If you do choose to order a wedding cake there are many ways to make it autumn-ey! Incorporate fall spices, colors, and flowers to give it the sweet seasonal feel you're looking for. Adding carrot shavings to bring out the autumn orange color or fall leaves and sunflowers for an elegant autumn touch are also some fun wedding ideas!
PC: Megan W Photography
Finally, craft an autumn-inspired drink menu! When hosting a fall wedding, you'll want to have hot and cold beverages for you and your guests. The cocktail menu is a great way to include as many fall-inspired beverages as possible. Popular fall cocktails include hot toddies, spiked apple cider, Moscow mules, pumpkin whiskey, spiced maple bourbon, or mulled wine. For non-alcoholic beverages, offer a hot cocoa bar or a warm apple cider. You and your partner can go the extra mile by naming each drink offered after something that's close to you, funny, or anything you wish!
Incorporate Autumn Decor
PC: Natasha Shapiro Photography | PC: Bloom and Wander Co Photography
When planning the decor for your fall wedding, get creative by incorporating as many festive colors and flowers as possible. First, think about the types of flowers you wish to include. These will be added to your centerpieces, bouquets, and other decorations for the ceremony and reception. Popular fall flowers are dahlias, sunflowers, roses, pampas grass, and chrysanthemums. Don't feel limited to just including flowers in your bouquets. You can also incorporate ferns, berry plants, twigs, leaves, or lambs' ear to bring out the autumn flower selections.
Depending on your aesthetic, you can get as extravagant or simple with your centerpieces as you wish. To help save money so you don't go over your budget, consider looking into DIY wedding decor ideas. Explore thrift stores or second-hand shops for glass vases to hold your flowers. Don't worry if they're not all the same size, shape, or colored glass! It will add uniqueness to the rest of the décor! Nothing says fall more than using pumpkins and gourds as decorations throughout the venue. They're cheap and easy to paint if you're not a fan of their natural bright orange hue. For a rustic fall look, find old wine or whiskey barrels to use as cocktail hour tables! These are also handy items to decorate with signs and appetizers.  
PC: Parografia | PC: Ashton Rowan
Layering the space with outdoor rugs, especially under the tents will give it a homey feel. Incorporating furniture into the space such as couches, ottomans, and decorative chairs is the perfect touch to create a cozy atmosphere great for pictures. Find a furniture rental company that has rustic pieces to go perfectly with the vibe you're looking for.
Lastly, add as many lighting options as possible. Hanging lanterns, string lights, or torches around the venue will provide a whimsical look to end the evening.
So, are you ready to dive into planning your future fall wedding? Save the tips above along the way for help, and don't forget to enjoy every step of the way.
Congratulations on your engagement and be sure to follow us on TikTok! We launched our 25 Days of Giveaways on October 4th to gift our amazing brides-to-be some wedding-themed gifts! It's not too late to win a bridal gift of your own!
Explore more blogs here:
12 Fall Wedding Dresses To Bring In The Autumn Season
How Much Do Maggie Sottero Wedding Dresses Cost?
Types of Wedding Hairstyles To Match Your Dream Wedding Look