Tips and TrendsWedding Inspo | November 6, 2022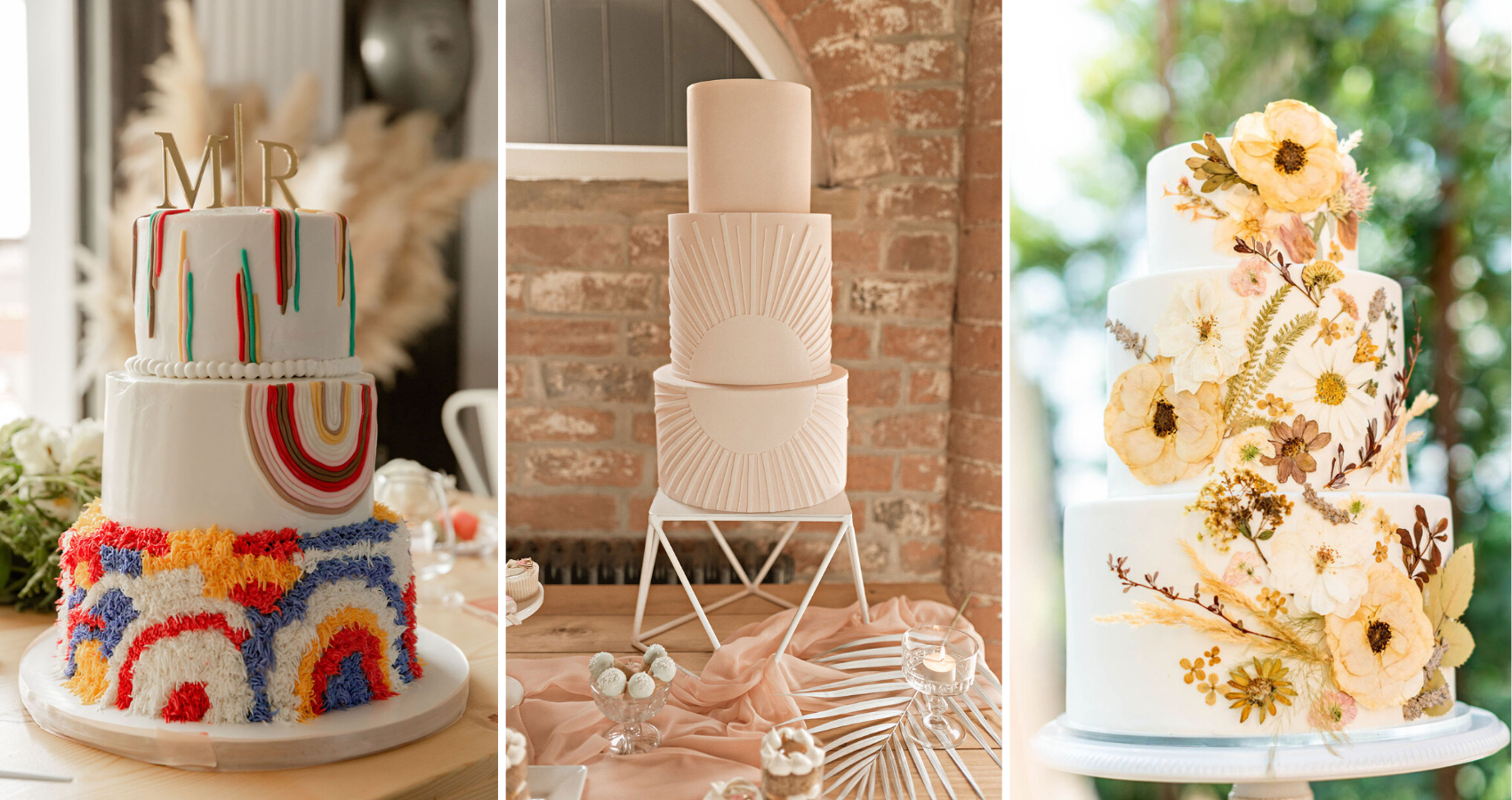 Happy National Cake Day, brides! It's the sweetest day of the year, so we wanted to give you some wedding cake inspiration for your big day. Your cake is the perfect backdrop to incorporate your unique and personalized wedding vision for your special day. Plus, wedding cake tasting is possibly the second most exciting part of wedding planning—second to wedding dress shopping, of course! So, we've gathered 20 gorgeous wedding cake ideas to incorporate into your bridal style. We promise these cakes will not only make your mouth water but also complement your super chic wedding theme!
Scroll on for all the yumminess, and make sure to sign up for our exclusive Maggie text messages below to get all the tips and tricks, wedding education, and #MaggieInspiration for your big day!
How Wedding Cakes Got Their Start
Wedding cakes originally came from Ancient Rome! After the marriage ceremony, a scone-like wheat or barley cake was broken over the bride's head for luck and fertility, then the happy new couple would eat the first bites together as a unified act as a married couple.
Later on in history, ancient Brits took this bread-breaking tradition in a new direction by throwing the bread at the bride to encourage fertility in her marriage. After that, it went on and on until the tradition of beautiful wedding cakes became what it is today!
Tips on Choosing the Right Wedding Cake Design for You
Before we show you our lineup of gorgeous cakes, here are some of our pro tips for choosing the right wedding cake aesthetic for you.
Whatever your wedding vision is, be sure to include your partner in your decision. Choosing a wedding cake design and flavor is not only a bonding experience for you both but also too tasty and fun not to experience together!
Work with your wedding venue. This is key, as the venue often offers catering and may even require you to utilize their baker. It can also be a money-saver to utilize their preferred bakery or on-site pâtissier for your wedding cake.
Estimate the size of your guest list so you select a cake design that is big enough for all your guests to enjoy! The wedding cake is a crowd-pleaser, after all. You wouldn't want anyone to go home without! Once you receive RSVPs, be sure to communicate with your baker if the number has significantly increased or decreased from your initial estimate.
Give yourself plenty of time. Bakeries can fill up fast—especially during peak wedding season. Most bakeries recommend reserving the date for your cake six months in advance during peak season and three months in advance during the off-season.
Choose a flavor you and your guests will love. Some popular and traditional wedding cake flavors include vanilla, yellow, and chocolate, but you can always branch out with more unique flavors like carrot, pumpkin, cookie dough, lemon, or strawberry. You can also opt to have the best of both worlds with a vanilla or chocolate base with caramel or raspberry filling.
Budget the right amount of money for your wedding cake. According to The Knot, the average U.S. wedding cake costs around $500. You can calculate what price your wedding cake will be by how many tiers you'd like, and the number of guests you'll have. Usually, a cake for 50 or fewer guests will be around $319, while a wedding cake for 100 guests or more will be closer to $600. Don't let those numbers scare you! There are a ton of cost-saving options for your wedding cake, like having an individual cake for you and your partner with cupcakes for your guests, or shopping our affordable wedding dresses to save money for your cake!
With these tips under your belt, you'll be able to choose the wedding cake that works best for you and your wedding style!
Rustic Cake with Greenery
PC: Chris Bartow Photography
If you're down-to-earth with a deep appreciation for organic textures, you'll love the look and feel of real wood accents with a touch of greenery in this three-tier cake. Naked cakes are right on trend, and this design looks especially delicious with chocolate layers and a white crumb coating.
Serve this cake on a DIY wood slice, the perfect functional wedding day memento to accent your coffee table. Then, ask your florist for a few flowers or pieces of greenery to add an extra detail to the cake tiers.
Simple Wedding Cake with Cupcakes for Guests
PC: Hayley Moore Photography
Cute and affordable! What could be better? If you're looking to have a simpler treat for you and your guests, consider a cute and simple cake for you and your partner, and matching cupcakes in every flavor for your loved ones!
Not only is this tasty, but it's also a simple way to make a big statement on your wedding day. Consider placing your simple wedding cake front and center with a tasteful gold topper, keepsake cake board (think of the future charcuterie boards you can make on it!), and alternating levels of chocolate and vanilla cupcakes.
Romantic Floral Cake
PC: K&A Photograpy
Is there anything more stunning than a simple cake with beautiful florals? If you're a spring bride, wedding cakes like the one our beautiful bride in Mallory Dawn by Maggie Sottero chose is the one for you.
To make this simple cake as unique as you are, consider matching the florals on your spring wedding cake to your beautiful bouquet! Love florals for your cake? Take a look at our blog on floral wedding dress and accessories.
One-Tier Wedding Cake on Tower for Donut Lovers
PC: Kristina Wild Photography
If you plan to cater your celebration with your favorite food truck and want the dessert to be just as easy and delectable as the tacos that you and your sweetheart love, opt for doughnuts instead of a cake. Or, for the best of both worlds, have a small, one-tier cake for you two to cut and enjoy, then add tiers of doughnuts underneath. After all, sticking to finger foods suits your type of soiree. And you want everyone to be able to dance, eat, and drink all at once!
Beach Cake with Graham Cracker Crumbs
PC: Alexandra Robyn Photography
Live out your beach bridal dreams with this gorgeous coral-colored wedding cake. Featuring a graham cracker crumb bottom inspired by sandy beaches, this design "takes the cake" for a seaside celebration. Don't forget to add beach-inspired accents like glass bottles, wooden crates, and sandy florals to complete your overall look!
Simple Cake with Red and Black Accents
PC: Margan Photography
Just because it's a simple wedding dress doesn't mean it can't be bold! Take it from our two gorgeous brides in Roxanne and Zander by Sottero and Midgley.
Consider choosing a simple cake (hey, you could even make it yourself!), and decking it out in unique and bold cake toppers. It's a fun and memorable way to personalize your wedding cake while incorporating your wedding theme into dessert.
Love the black wedding dress that our Real Bride is wearing? Read our blog to find more black wedding dresses for you!
Earthy Wedding Cake Design with Berry Tones
PC: Innocent Thunder Photography
To complement your rustic bridal vision, opt for a cake design that's textured, natural, and fresh. This rustic wedding cake features chocolate brush strokes and is great for fall and winter celebrations. We also think it would pair perfectly with Scandinavian décor that's clean and modern with distressed accents.
Luxurious White Cake with Bow and Pearl Accents
PC: Elizabeth Austin Photography
Looking to add a little luxury to your big day? This simple yet glamorous pearlcore wedding cake is the perfect complement to a regal or royal celebration. We especially love how the satin bow on the side contrasts with the pearl and gold detailing on the front!
Did you know that the pearlcore trend stretches beyond wedding cakes? Read our blog to learn how to incorporate this luxurious trend into your wedding day in other ways.
Beach-Inspired Blue Wedding Cake with Candles and Seashells
PC: Claire Eliza Photography
Excited to cut the cake for your seaside elopement or ocean-front celebration? Opt for "something blue" in a sky-hued concoction with wave-like texture! This three-tier wedding cake is easy to configure for an outside reception. And it looks dreamy against an ocean sunset, sea cliffs, or a sandy beach.
To tie the beach theme all the way around, read our blog to find the sexy beach wedding dress for you!
Mask-Inspired Wedding Cake for Our Unique Brides
PC: Alicia Marie Photography
Calling all Phantom of the Opera fans! If you love all things theatrical, dramatic, and unique, then this mask-inspired wedding cake might be the one for you!
This monochromatic cake makes the perfect statement for your reception with its four tiers, black and white frosting, decorative masks, and feathers.
Cottage-Core Inspired Floral Wedding Cake
Are you a fan of all things cottagecore? Love florals? Planning on walking down the aisle to a song from Taylor Swift's album, Folklore? If so, this decadent four tier wedding cake is the perfect inspo for your bohemian wedding day!
This naked cake is complete with lush florals, a chocolate cake, and fresh berries—the perfect flavor and décor for your guests!
Gothic-Inspired Geode Wedding Cake
PC: Francesca Hill Photography
What's better for a gothic-inspired wedding than this unique four-tiered geode wedding cake featuring deep purple and black hues? Out of all the wedding cake ideas we've seen, this one definitely wins when it comes to "wow" factor. We promise you'll have a fantastic time pairing moody and gothic details with this statement-making confection. Be sure to budget accordingly, as geode wedding cakes tend to cost more due to the level of detail required.
If you love this spooky-inspired wedding cake, make sure to read our blog on how to plan a Halloween wedding!
Chic Neutral Wedding Cake
PC: Ellen Sear Photography
Neutrals are all the rage right now, so incorporate this modern trend into your wedding day by having a chic, neutral-colored cake.
This three-tiered cake is the perfect example of this. With a smooth, terracotta frosting and subtle sun design to tie the tiers together, it's sure to be a hit on your wedding day! Craving some other sweet treats for your guests? Get some oh-so-tasty French pastries for your loved ones to snack on throughout your reception.
Italian Floral Wedding Cake Idea
PC: Hannah Mac Photography
This matte white cake features nature-inspired textures and real-looking blooms together in a burnished palette. We'd recommend this unique design for rustic soirees, outdoor celebrations, and fairytale escapades. Fair warning, your guests may need reassurance that these super realistic blossoms are entirely edible.
Rainbow Wedding Cake
PC: Genesis Imagery
Channel your inner child through your wedding cake with a fun and child-like rainbow wedding cake! Whether you choose rainbow frosting in this super fun design like our gorgeous bride in Josie by Rebecca Ingram, or a simple peekaboo cake with rainbow cake inside, it's sure to be a hit with your guests.
Naked Boho Wedding Cake Idea
PC: Erika Diaz Photography
If you're inspired by spontaneity and have always wanted to get married in the woods or the great outdoors, boho wedding cake ideas are for you. Since bold colors call your name and you aren't afraid to mix textures, we recommend feathers, lace, and velvet accents. With naked layers and natural details, this cake is as fun as your free spirit and creates a romantic boho aesthetic perfect for a woodland celebration.
Chocolate Drip Wedding Cake Idea for a Romantic Occasion
PC: Jessa E Photographs
You're looking for something timeless and elegant for your special day, perhaps a ceremony at a vintage church with a rose garden reception. Well, we have the perfect bridal treat for you: a sophisticated yet romantic one-tier wedding cake with berry and rose accents. The best part of this wedding cake is its affordability, but we also love how the semi-naked layers and chocolate drip combine to create a totally dreamy look.
Simple Winter Cake with Pine Cones
PC: Vanessa Hicks Photography
As one of our favorite cake ideas, this wintery-white cake is perfect for a winter or holiday celebration. To pull off this snow-inspired look, simply add pine cones to the cake tiers. You have the perfect combination for your cold-weather soiree.
Industrial-Chic Cake with a Palm Tree Accent
PC: Ellen Sear Photography
This super unique wedding cake idea is perfect for an industrial chic wedding theme. We especially love the hand-painted palm tree on the top tier! We are also big fans of the pink industrial-inspired bricks of the middle tier to contrast the bottom tier. Plus, it features fun fondant lettering for the Mr. and Mrs.! So sweet!
Two-Tier Wedding Cake with Colorful Cake Stand
PC: Lindley Battle Photography
If you're looking to host a beach, garden, or casual celebration, we have the perfect cake idea for you. The two tiers of this wedding cake are decorated with buttercream frosting for a simple yet modern look. For a bit of spice though, it features a chic and colorful cake stand with a trendy, geometric aesthetic.
Classic Spring Cake with Delicate Flowers
PC: Rachel Laxton Photography
This three-tier buttercream cake idea "takes the cake" for a classic spring wedding. Beneath the frosting lie layers of vanilla cake, a traditional wedding cake flavor and also a well-known crowd pleaser. Plus, the pink and yellow roses on this confection combined with a bit of greenery give this design a delicate, whimsical look.
Are you all craving cake as much as we are? Make sure to follow our socials below to look at more wedding inspo like this and read our blogs below for similar content.
Best of luck wedding planning brides!
More Blogs Like This:
The Ultimate Guide to Setting Your Wedding Budget
Types of Wedding Hairstyles To Match Your Dream Wedding Look6 Types Of Wedding Nails For The Classic, Edgy, And Girly Brides
6 Types Of Wedding Nails For The Classic, Edgy, And Girly Brides