Hello to a wonderful Wednesday on the blog! Today's wedding comes from one of my most gorgeous readers! I met Lexi in the Boho Brides and Grooms Facebook group. With nearly 4K members it is quite the place to meet other couples getting married and exchange advice. Lexi was sharing some of her gorgeous wedding photos, and as soon as I saw them I knew I had to share them with you as well. This wedding is a real beauty! I just adore the colour scheme of Terracotta and Blush, the handmade decoration from Lexi and Andrew is exquisite, the flowers are stunning, the cake, the tablescape. But most of all Lexi and Andrew steel the show, they both look delightful. Thanks to Lexi for sharing this wedding with you all and thanks to K and C Photography for the wonderful photos.
We had a big bridal party. Ten groomsmen, ten bridesmaids, four flower girls and one ring bearer (our son). It was truly the boho wedding of my dreams. Everything came together so perfectly. We were so thankful to have so much help from our families, it would not have been brought to life without their help.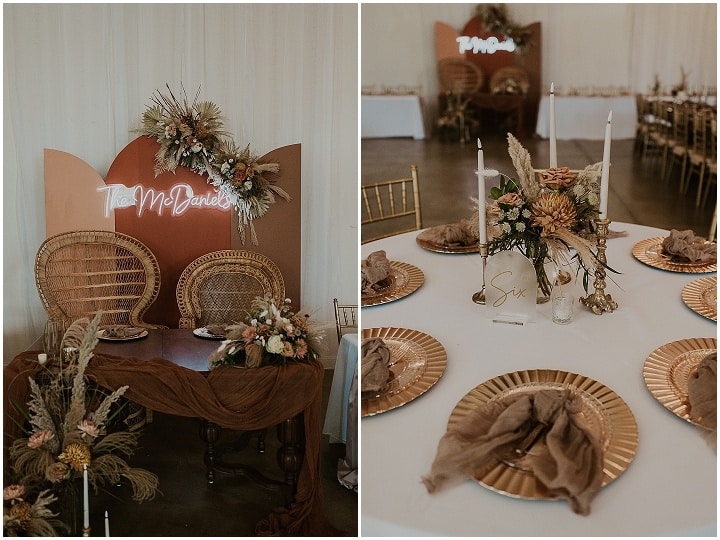 Lexi and Andrew were married on 30th April 2022 at The Belvedere in Carthage, Missouri. 'We chose the location because wanted to have a ceremony close to family and friends. We had 250 guests. We originally were going to get married in Cancun, but with all the changes of the world – we decided to do it close to home and made the decision 7 months prior to the wedding to switch it up.'
How they met
We were introduced through my friend and now sister-in-law. We met in April of 2018. Got engaged May 2021. Had a baby July 2021 and married April 2022. Craziest year of our lives!
The proposal
We went on a trip to Hawaii, just us! On the very last day there, we went on a waterfall hike. On the way back to the car, Andrew popped down on one knee and proposed. I was SHOCKED! I thought at the beginning of the trip maybe it would happen and it didn't, so I thought there was no way that it was going to happen! So I put that whole idea out of my head!
How did you allocate your budget?
I tried to do as much as I could myself and spend extra on the eye-catching things, like florist and food! We ditched the idea of favours and decided to have an open bar instead.
Where did you splurge and where did you save?
We splurged on the florist, food, and drinks.
How did you choose your photographer?
We had used our photographer a few times for couples pictures and family photos. We always hit it off with them so well, so we decided we wanted them to be a part of our big day. They knew exactly what we were looking for and delivered more than amazing photos. We were very thankful for them, they captured our wedding so perfectly.
The dress
My dress was purchased at a shop in Kansas City, MO – Bride Extraordinaire and it is by Lillian West. I purchased "something blue" shoes. I got a pair of Vejas with blue velvet V. I still wear them pretty often and hopefully will be able to wear them forever.
The suit and bridesmaids
Ralph Lauren suits. Baltic Born dresses. The maid of honour's dress is from Anthropology.
Theme or colour scheme
Terracotta, blush and champagne
Flowers
Pampas grass. All the pampas grass and roses. A big reason our wedding came together so well was because of our florist, LeaAnn Hudson with Eclectic Creations. She helped me stay within budget and not purchase silly things that I wouldn't use in my house afterwards. Every small detail brought everything together.
Decoration
We made these amazing arches that really captivated the guests!
Food
Amazing Penne from Heaven – we had our wedding catered from a local restaurant, Red Onion Cafe.
Wedding cake
A local bakery, The Green Door Cake House
Entertainment
Music and drinks
Where are you going on your honeymoon?
We didn't go anywhere. We decided to enjoy a week at home, the three of us.
Personal touches
I made all the signage myself, as well as the arches were made by my family. For our bridesmaids, we had alani nu energy drinks and it was one of my favourite parts of the day because it's my favourite drink.
Special moments
One of my favourite moments from the day was our first dance with our son. We also ate dinner, just the two of us and it was nice to have just us together, even for a short moment. The wedding day was so busy, it was nice to remember the whole reason we were there.
Advice for other couples
PLAN PLAN PLAN! If you take the time prior to the wedding to plan, then you won't have any stress the day of. We literally had NOTHING go wrong. It went so smoothly and it was perfect because I planned so much.
Supplier Shout Outs