Wedding Inspo | November 11, 2022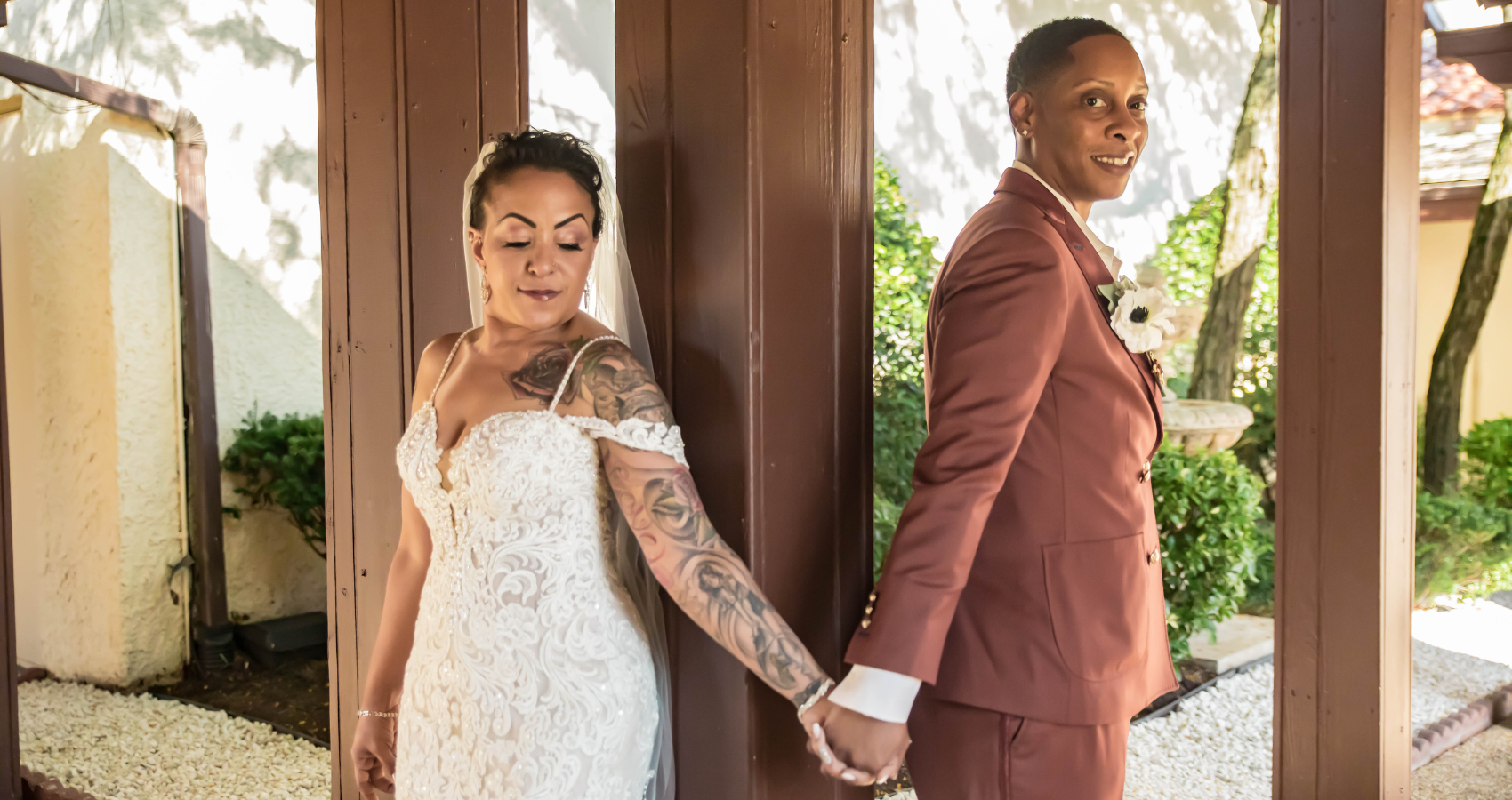 Weddings may be fun, complicated, and full of surprises, but above all they should be symbolic of all the happy, sweet, and adventurous things to come! To help you cash in on all the good vibes for your wedding day, we've compiled 10 wedding superstitions to follow for luck, fortune, and positive energy.
To get you started on your preparation for your big day, make sure to sign up for our #MaggieInspiration text messages below for our top tips, tricks, and wedding education!
Common Wedding Superstitions
Interested in how to attract good luck on your big day? These are the most common—and tradition worthy—wedding superstitions, their historical context, and ways to personalize them for your celebration.
Wearing a Veil on Your Wedding Day
PC: Lucy Cuneo Photography
A bridal veil is stylish, dramatic, and irresistibly feminine. It's perfect for photos and dramatic ceremony entrances – it also happens to be perfect for bringing in good luck on your wedding day!
The veil superstition dates to Ancient Greek and Roman times. Brides wore veils to ward off demons, curses, and hexes — basically any jealous forces that would steal the bride's happiness.
Historically, veils have also been used in arranged marriages. Veils were used to "hide the bride" before an actual ceremony, lest the groom judges her for her appearance. While arranged marriage between strangers is still practiced today, the veil's meaning has evolved to place less emphasis on superficial looks and more on the act of taking a leap of faith as a new couple.
Bridal veils are still common additions to ceremonies — the perfect accessory for brides with a chic and traditional flair. Lucky for you, we have a ton of wedding veils to try!
Something Old, Something New, Something Borrowed, and Something Blue
PC: Elaine Palladino Photography | PC: Hey Sisters! Photography
You've almost certainly heard this wedding mantra: Gather good luck tokens inspired by friends, family, tradition, and connection. Let's break these wedding superstitions down:
"Something old" usually represents the bride's recognition of her family and past. This is when you wear something from your pre-married life.  
"Something new" is bought for the bride and it represents her entering marriage with optimism and good luck.
"Something borrowed" is to carry on the good luck from another happily married couple. If you wear something on loan from them, the happy vibes just might rub off on you!
"Something blue" is said to represent purity — hence the tradition for brides to wear some or all this color. There are many ways to incorporate a blue hue into your bridal look. Consider blue shoes, a blue clip, blue flowers in your bouquet, or blue nails!
This superstition is easy to personalize every step of the way!
Wearing White on Your Wedding Day 
PC: Dylan Wood Photography | PC: Mariel O. Photography | PC: Mariel O. Photography | PC: Jinal Govind Photography
While white hasn't always been the color of choice for brides—and still isn't in many places—it's certainly made its mark throughout history. In Ancient Rome, white was worn to be associated with purity and innocence. The virgin goddess Vesta was typically depicted wearing white to represent hearth, home, and family.
In Ancient Greece, white symbolized joy and was worn in various ceremonies — one of those wedding superstitions tied to prosperity and good luck. 
In modern times, white became popularized in the West with Queen Victoria's marriage in 1840 to Prince Albert. At the time, brides wore their best gowns to their weddings in an array of colors.
Love the tradition of white wedding dresses? Explore our gallery of white and off-white wedding dresses for your wedding day! 
Rain on Your Wedding Day 
PC: Robby and Savannah Photography
This is one of those wedding superstitions that feels a bit paradoxical: There's an old wives' tale decreeing that rain on your wedding day means fertility. The logic is pretty sound: Rain is good for crops—and rain on your wedding day is a sign you'll have a big family in the future!
Rain also represents cleansing, renewal, and unity: The invitation to start your big day off with a clean slate. 
In Hindu traditions, rain on the day of a wedding is said to make the unit even stronger and longer lasting, since a wet knot is very difficult to untie.
If you're anticipating or even hoping for rain on your wedding day, be sure to prepare for atmospheric conditions! Take photos with clear umbrellas, rent a wedding tent, offer shawls, and take plenty of photos. One memorable tradition we love is saving the day-of rain in a glass vial as a token of your love and celebration. 
Having the Groom Not See the Bride Before the Wedding
PC: Marcus Jones Photography
Similar to the wedding veil's history, the practice of keeping the soon-to-be-betrothed separate can be traced to arranged marriages. If a groom doesn't see a bride before the ceremony, he wouldn't have the chance to reject her based on her looks.
Over time, this superstition has evolved into a more affectionate ritual. Couples opt not to see each other as a way to mark the occasion, as a final goodbye to their "single" life, or to give one other space to connect with their families and wedding parties. It's also a great chance to connect with just yourself — a final meditation on what you're leaving behind and committing to for the future.
If you'd like to incorporate this wedding superstition into your celebration, focus on how it can make the occasion feel special. For example, as you plan to go your separate ways for the night:
Enjoy a romantic dinner with your sweetheart.
Spend time with family or friends.
Treat each other to luxe accommodations in separate rooms at a nearby hotel. 
Recreate your first date together for a bit of reminiscing before the start of your new journey together in marriage. 
Carrying the Bride Over the Threshold
PC: The Philgreens
The time-honored tradition of carrying the bride over the threshold of your new home or honeymoon suite is sweet, playful, and perfectly suited for accident-prone couples in romantic comedies. 
This superstition also dates to ancient times, when it was believed that spirits and demons could enter a bride through the soles of her feet after she left the church. Naturally, the groom would be the one to sweep her off her feet. 
Whether or not you believe in the foot-targeting demon superstition on your wedding day, now it's just fun—and cute for party photos!
In Western Europe, it was also believed that a bride who tripped over the threshold of her new home would bring bad luck to her home and marriage. So, if you're the superstitious type, why not cover all your bases for a fortune-filled happy ever after?
Throwing the Bouquet or Garter  
PC: Dominik Schramm Photography
The bouquet toss is a persistent wedding tradition for modern couples. It's a fun and easy way to get the reception crowd going — and one that inevitably puts your single guests on the spot. 
Some brides love the tradition of passing along their bouquet as a token of good luck, while others may mix it up. Some alternatives we love:
Toss a backup bouquet so you save your own.
Break up your bouquet and give the individual flowers to your family and wedding party.
Stage a balloon drop or confetti bomb.
Make a special toast and hand the bouquet to a special loved one.
Include the whole crowd with a lantern ceremony. 
Invite women to the reception floor for a group dance party. 
The garter toss is another one of those wedding customs with a slightly uncomfortable backstory… This superstition took hold as a way of verifying the bride's virginity, when a crowd of wedding guests would follow the newlyweds into their bedchambers and compel them to show evidence of consummating the union. 
It seems various rumors and versions of the garter toss superstition have persisted in wedding lore. These days, some couples continue in the spirit of fun and games, while others reject it entirely. 
Interested in learning more? Here's our full rundown of the wedding garter tradition.
Throwing Rice After a Couple Gets Married 
PC: Love Clic Photography
The rice toss is another in the lineup of classic wedding customs, but it's recently fallen out of favor. When done outside, it's a hazard for birds and other wildlife. When done inside, it's just really annoying for the venue, vendors, and the clean-up crew. 
The good-luck practice stems from parts of the world where rice signifies wealth and prosperity. In South Asian weddings, for example, it is meant to show the parents love for their daughter. However, in Celtic tradition, throwing rice, barley, maize, and other crops was a mark of fertility, happiness, new life, and overall prosperity.
Pakistan has their own twist on this superstition as well. Rather than rice, wedding guests use paper airplanes or confetti. 
In Jewish weddings, the party may feature Aufruf—meaning "to call up"—which symbolizes when the bride and groom are called to recite the blessing Aliyah! After the Rabbi blesses the couple for their special day, members of the congregation throw sweet treats like candy or raisins at the couple. This is done to wish them a "sweet life" and bless them as newlyweds.
We love the festivity and occasion of a rice toss but definitely recommend using a more environmentally friendly alternative. Our favorite options:
Bubbles
Sparklers (if your venue permits)
Ribbons
Flower petals (think roses and lavender buds)
A "photoshoot tunnel," where the couple walks down making cute poses as everyone snaps photos with their cameras
Kazoos and toy trumpets
The sky's the limit — go wild! 
Don't Use Yellow Roses in Your Bouquet 
You might not have heard of this wedding taboo before, but some superstitious couples swear by it. Over time and in various cultures, yellow roses have symbolized lousy luck for the happy couple. In the Victorian era, for example, yellow roses signify infidelity, relationship breakups, and jealousy — three things you certainly don't want on your newlywed agenda. 
If you love gold and yellow in your bouquet but want to steer clear of bad luck, try other varieties of flowers. Some of our top picks:
Sunflowers — they symbolize loyalty and adoration, as per the myth of Clytie and Apollo.
Ranunculus — these are all about charm, attraction, and personality. A bouquet of these blooms is a token of affection and chemistry. 
Marigolds — these moody, festive blooms represent strength, light, vibrancy, and creativity. In some traditions, they represent mysticism, wealth, and even a little bit of dark jealousy. 
Daffodils — this cheerful spring staple represents growth, new beginnings, and tender love. 
We have plenty more about flower symbolism and bouquet meaning in our full guide. 
Having Bridesmaids In Your Wedding Party
PC: Jolie Connor Photography
The tradition of choosing bridesmaids is a vital component of most modern weddings, but you may be interested to know about its superstitious origins. 
In ancient times, having bridesmaids encircling the bride was another practice to ward off evil spirits — just in case the bridal veil wasn't enough. Historically, they would also wear veils as a way to redirect evil spirits with multiple doppelgangers. It seems the aisle walk was especially perilous for brides-to-be back then!
Nowadays, the bridesmaid party is all about support, friendship, and honoring the betrothed couple. 
There are plenty of ways to modernize and personalize the bridal party tradition to make it unique to your wedding:
A bridal party doesn't have to be made solely of women. All genders can be included.
A formal, public aisle walk isn't mandatory. Your ceremony can be made intimate and personal with a private vow exchange. 
Bridesmaids can wear mismatched gowns.
Ask your loved ones to wear similar colors or matching embellishments, even if they're not part of a formal bridal party.
Host a pre-ceremony cocktail hour with your closest circle.
Have a kids-only lineup.
Give a callout to all your favorite people in your ceremony or speeches, even if you don't have them lined up as bridesmaids. 
Give out unique bridesmaid gifts as a token of luck and appreciation. 
There you have it — longstanding wedding traditions, fun ways to honor wedding superstitions, and modern alternatives to make them totally your own! As always, follow our socials below for more inspo and wedding customs, planning tips, and check out our latest blogs!
More Blogs Like This:
We hope you have a fabulous, fortune-filled wedding day to start off your life of luck and prosperity. Best wishes!