One of the most common questions we receive as wedding planners is how best to search for the perfect venue. It's always hard to choose favorites, but these are a few of our top Oregon picks! If you're a couple who loves the unique climates of Portland, Wine County, Central Oregon, or The Columbia Gorge region, this is your go-to guide for 11 truly special Oregon wedding venues that are beloved by both locals and out-of-towners alike.
Portland Art Museum
How many other people can say that they've had their wedding in a location with so much rich history, specifically for the Portland area? The Portland Art Museum offers so many different layout options that no two events will ever be the same. This all inclusive venue allows for creativity to be at the forefront of the planning process and showcase each client's unique style, design, and personality on their special day. From traditional western style ceremonies to cultural celebrations, PAM is the perfect blank canvas for creating a jaw dropping design from the ground up.
The Art Museum has many unique spaces to host both your ceremony and reception. Utilizing multiple of the indoor or outdoor spaces, such as the Sculpture Garden and Sunken Ballroom, can create the illusion of a multi-location event throughout the same space. If you have a favorite gallery you've admired over the years, use the space to host cocktail hour or your cake cutting and show off specific artwork that fits into the theme of your special day or is beloved by you and your partner.
View fullsize
View fullsize
View fullsize
View fullsize
Want a special Insider Tip from our team? If your budget allows, look into booking both event spaces so your wedding will be the only event taking place in the museum. This will allow for a much more private experience and more spaces for your guests to utilize and explore. Additionally, because the museum is located in the heart of downtown Portland, be sure to consider parking for your guests. Renting the lot next door is a great way to guarantee an easy load-in and exit at the end of the night!
See more of our Portland Art Museum weddings here!
Lewis and Clark College
We frequently have couples asking us for help in finding a location not too far outside of Portland's city limits that still showcases the beauty of the PNW. Our number one recommendation? Lewis and Clark College! Located within 10 minutes of downtown, the gorgeous campus is a prior residence to Portland's historic elite and has also been listed in the top 10 of Most Beautiful College Campuses to Get Married On! The Reflection Pond and Lawn feature views of Mt. Hood that are unmatched and showcase the iconic beauty of the Pacific Northwest. From a boho style elopement to a full glam extravaganza, Lewis and Clark offer a unique look for any client's vision.
Whether you want the space to feel like the backyard of someone's home by bringing in lawn games or utilize the multiple acres to host a huge high end event, the opportunities are endless at Lewis and Clark. With such a large campus accessible for your event, renting golf carts will make transportation for guests, set up for vendors, and multiple location photos for the bridal party a much smoother transition throughout the day. When booking the venue, remember that you have the space for 3 days total to accommodate set up and tear down. In other words, your vendor team will love the flexible timing for load in/load out!
Sunriver Lodge
If you're looking for gorgeous natural views and a one stop shop to showcase Oregon in all its beauty, Sunriver is a perfect place to say I Do! Many of our couples rave about their memories of visiting Sunriver as a child and hold a special place in their hearts for Central Oregon. Sunriver offers the perfect resort style feel for guests to feel like they are on a destination vacation, despite being only a couple hours from Portland. With Bend just a short 20 minutes from the resort, out of town guests will have plenty to keep them busy from hiking to shopping to brewery hopping.
Sunriver offers many different ceremony and reception spaces to accommodate an event of any size or in any season. For an indoor ballroom feel, the Great Hall is a classic location for a ceremony or reception. With a rich history and new restorations to maintain its beauty, it is the quintessential Sunriver look. The Lawn offers an outdoor open-air space for large groups and includes striking views of Mt. Bachelor as your backdrop. The Cove is the newest space in Sunriver for a smaller ceremony, away from the bustling resort activities. All three spaces can be used together for a unique multi-space event, or separately for a simple and intimate celebration.
The Resort also includes quite a bit of onsite amenities including tables, chairs, linens, and china, so customizing the space by bringing in local specialty vendors and additional rental items can really enhance the event experience. Lighting also goes a long ways both indoors and outdoors to create a magical feel for all elements of the day.
View fullsize
View fullsize
View fullsize
View fullsize
View fullsize
View fullsize
As you can imagine, Sunriver is a popular vacation spot year round. Be sure to book lodging early to reserve space for out of town guests and utilize nearby activities to show off the beauty of Central Oregon. Don't be afraid to get creative with event spaces due to weather. Even though it might be a chilly fall evening, the outdoor lawn can be a great choice with the addition of a few heaters and blankets.
Waverley Country Club
If you're looking for a Portland wedding venue with a traditional feel and the combination of old architecture mixed with modern touches, Waverley Country Club is the spot for you! Established in 1896, Waverley is one of the oldest golf courses in Oregon with breathtaking views along the Willamette River and perfectly manicured lawns for any incredible event. Although the space leans more towards couples looking for that classic wedding feel, there are so many spaces, both indoors and outdoors, that can be customized to fit each couples' unique personality and style for wedding day.
View fullsize
View fullsize
View fullsize
View fullsize
Typically described as a, "one-stop shop" for wedding needs, Waverley offers not only delicious in-house catering and bartending, but also spacious getting ready rooms for the wedding party as well as numerous rental items such as tables, chairs, linens, china, and AV. Their onsite staff is a dream to work with and makes wedding day a breeze for the entire vendor team. An insider tip from us to you: pocket fold napkins are the best way to keep menus and place cards from blowing away amongst the seasonal breezes off the river.
See more from Rosalind + Blair's Waverley Wedding here.
Camp Colton
Did you ever dream about getting married at your favorite summer camp? Oh boy do we have a place in mind for you! Located just under 40 miles outside of Portland, Camp Colton is a stunning escape to the wilderness for those looking to embrace their love of the outdoors. The historic chapel, brought from army quarters in Corvallis to Camp Colton in 1947, offers a traditional ceremony space to tie the knot with modern upgrades to accommodate all your AV and tech needs. Indoor ceremonies not your style? Just a few steps away into the forest is an outdoor site where you can exchange vows surrounded by towering evergreen trees and the simple sounds of nature.
View fullsize
View fullsize
View fullsize
View fullsize
The newly renovated Gathering Hall, allows for an indoor reception space complete with a commercial kitchen and a large outdoor patio to dance the night away under the stars. Need even another reason to choose this space? The venue also has quite a few in-house rental items, including numerous table and chair options, linens, china, and getting ready spaces. With so many unique spaces for a ceremony, reception, or cocktail hour, no two events on Camp Colton's grounds will ever feel the same.
Stoller Family Estate
Oregon Wine Country has gained significant traction in recent years with the addition of many new vineyards and tasting rooms throughout Newberg, Dundee, and McMinnville. It's often hard to find the right location that allows for all elements of your wedding day to take place onsite, but Stoller Family Estate is one of our favorite recommendations. Just under an hour outside of Portland and nestled within the Dundee Hills, Stoller has transformed their 400 acre property into a hidden oasis for their award winning wines and events of all shapes, sizes, and styles.
View fullsize
View fullsize
View fullsize
View fullsize
View fullsize
The grounds of Stoller offer many different locations for both ceremonies and receptions, giving them the ability to host events of all sizes, complete with in-house catering, bartending, and of course access to their delicious menu of wines. From small tasting rooms to their most recent addition of the Experience Center, this venue has endless possibilities with so many hidden gems throughout the grounds of the vineyard. Many couple even choose to get ready and spend the night onsite in one of the estate houses to make wedding day a breeze from start to finish. If you're interested in the possibilities at Stoller for your next event, we always recommend popping in for a tasting with their doors open daily from 11am-4pm.
See more from Molly + Steve's big day at Stoller here.
Tin Roof Barn
One of our most frequented wedding venues each year is the Tin Roof Barn in White Salmon, WA. This award winning venue features its signature 100 year old barn as the stunning focal point on the grounds surrounded by wildflower pastures, apple orchards, and the natural landscape of the Columbia River Gorge. The Ceremony Patio comes complete with its own barnwood arbor, making it the perfect location to say I Do as you overlook the northwest mountains and surrounding forests. As you step inside The Barn you are greeted with 3,400 square feet of entertainment space, including furnished lounge areas, an indoor/outdoor dance floor, built-in DJ booth, custom chandeliers, and more!
View fullsize
View fullsize
View fullsize
View fullsize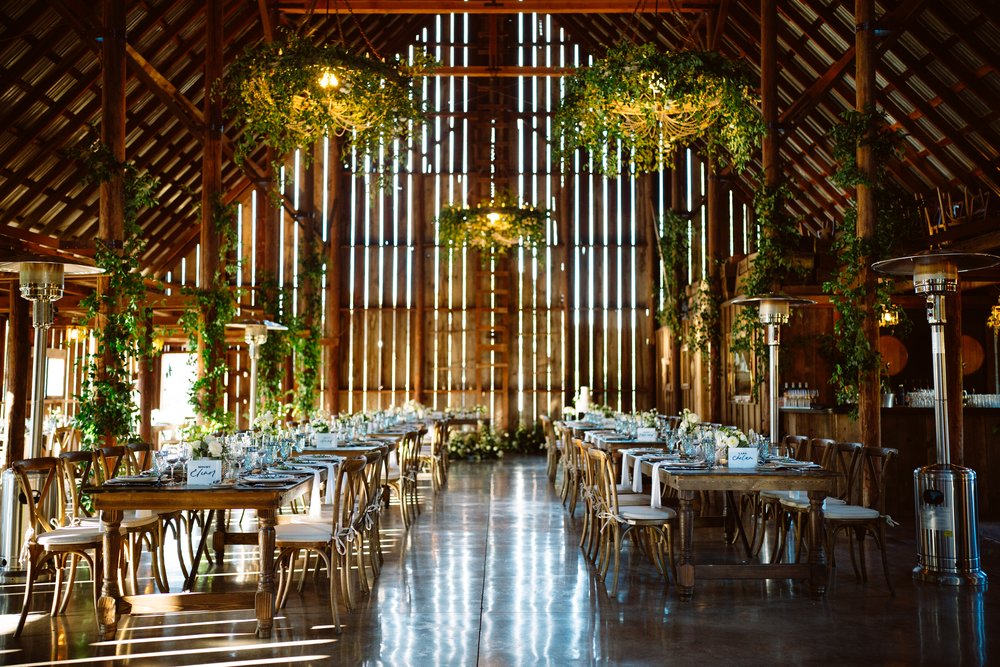 TRB also offers tons of in-house rentals for the day including wood farm tables, vintage wood dining chairs, wine barrels, a vintage windmill, and lawn games. The customization options are truly endless with everything available onsite, making step up and cleanup even easier on wedding day! Over the years we've helped dozens of couples bring their wedding vision to life with totally different designs and styles. From rustic, to garden party, to boho, Tin Roof Barn is the perfect backdrop to wow guests with a one of a kind wedding venue for you special day.
Contact us for more info on our Tin Roof Barn special venue pricing!
Sentinel
A downtown, centrally located venue is always a benefit for both local and out of town wedding guests and The Sentinel is one of our favorites every year. A historic hotel with an extensive list of signature amenities, a curated art collection, and two of the city's finest culinary establishments, The Sentinel is the perfect location for couples looking for a classic ballroom feel with modern touches to this historic site. This one stop wedding shop includes just about everything needed for your big day such as in-house catering from Jake's, tables, chairs, linens, AV, china, AND 9 unique locations to host every element of the day.
View fullsize
View fullsize
For small events of 50 or less be sure to check out the Fireside Room, complete with domed ceilings and an original fireplace as the perfect backdrop for an intimate ceremony or cocktail hour. It'll feel like you stepped into a cozy private residence straight from the 1800's and your photos will be the talk of your family and friends for years to come! Need a bit more space? The Library and Renaissance Room will be much better suited for the 150 guest mark, while, the Billiard Room, Grand Ballroom, or Governor Ballroom can all accommodate upwards of 200+ guests for an all out wedding day experience.
View fullsize
View fullsize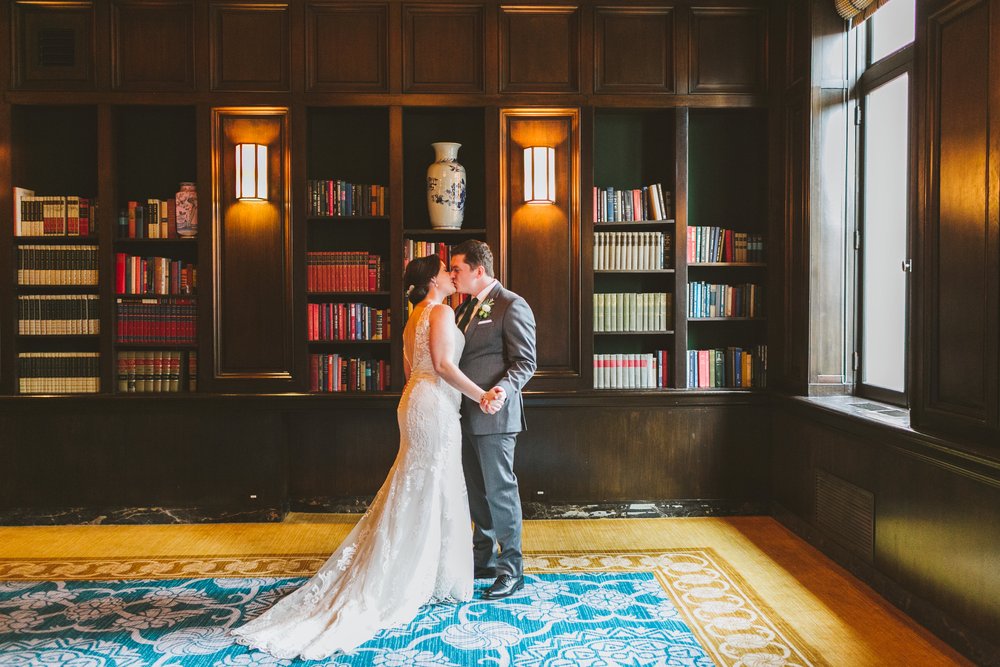 One of the biggest benefits to a Sentinel wedding is that guests can stay onsite at the hotel or just steps away at one of the other many lodging options within downtown Portland. Similarly, getting ready onsite is a piece of (wedding) cake and rooftop access or signature hallway shots can create the cutest photo ops for first looks or popping some celebratory champagne on wedding day. Fun fact, our very own Nora even got married at the Sentinel back in 2009!
Blockhouse
Have you ever wanted to get married in a greenhouse? Maybe you want the option of being surrounded by greenery for your ceremony or reception? Blockhouse, located in Northwest Portland, is an intimate garden style venue that will leave guests in awe that this lush botanical resort is just a 5 minute drive from the Pearl District and NW 23rd Street. Described best as an "intimate gatherine locale," this space is best for small guest counts, rehearsal dinners, welcome parties, or even a post-wedding brunch. Although the seated capacity maxes out at 60 and standing at 75, by adding the Pomarius Nursery, you can double the space with a 120 guests max and of course add some additional pops of greenery throughout your event.
View fullsize
View fullsize
View fullsize
View fullsize
View fullsize
View fullsize
The built-in bar and chef's kitchen make catering a breeze in this space and allow for everything from pre-ceremony drinks to late night snacks a simple addition for your catering staff. Blockhouse, part of the Cast and Co. family, also provides numerous amenities during your 12 hour rental period including set up and break down of Blockhouse's inventory, chairs and glassware for 40 guests, custom wood tables, bistro tables, as well as outdoor lounge furniture and bistro lighting on the patio.
See more from Anna + Kramer's Blockhouse event, here!
The Bindery
In the heart of downtown McMinnville sits a modern studio perfect for an intimate celebration of any kind. The Bindery is a stylish, bright space with ample natural light and industrial architecture for the modern couple looking to find the perfect space amongst the natural beauty of Oregon Wine Country. Conveniently located across the street from The Atticus Hotel, guests will feel transported from the magic of this quintessential small town charm despite being only a 40 minute drive from downtown Portland.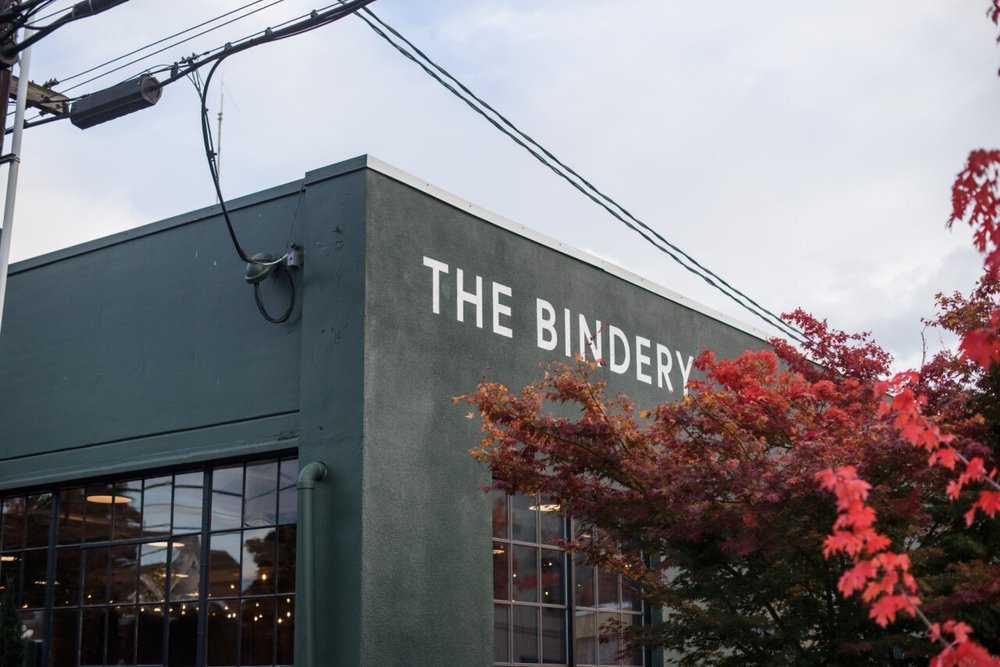 View fullsize
View fullsize
View fullsize
View fullsize
The open-air feeling of the space is felt throughout the high ceilings, large windows, and north-facing garage doors which can open up in summer months for the perfect dual indoor/outdoor space. You can even request to shut down the adjacent street to create even larger outdoor opportunities for cocktail hour or your reception. With so much of a blank canvas to work with, The Bindery also offers many in-house lounge and furniture options to fit any style or color scheme.
Coopers Hall
Sometimes your style feels like it doesn't fit in any one specific category and you need a venue that can creatively incorporate multiple different aesthetics in one. Meet Coopers Hall, the perfect combination of a rustic, modern, vineyard, and taphouse all rolled into one. Built in the mid 20th century as a former auto body shop, the spacious building has two-story high ceilings and brilliant natural light that supports their abundance of in-house plant life and creates a dreamy setting for your special day.
View fullsize
View fullsize
View fullsize
View fullsize
View fullsize
The space featured two unique areas: The Mezzanine, which overlooks the winery and taproom and is the perfect space for groups under 50 to gather for intimate celebrations, and The Barrel Room, a semi-private area on the main floor for up to 70 guests featuring wine barrels, large plants, and cafe lights. If you're looking for a little more space, the full buyout of the winery allows for up to 180 seated or 225 standing for a ceremony and reception. One of our favorite hidden features of Coopers Hall is the customizable marquee lettering sign adorning the back wall. This adorable addition to the wedding day is the perfect hidden surprise as guests enter the space and just one more personal touch to enhance your day.
Choosing a wedding venue is possibly the most important part of your wedding planning. Could you use some help? Our Portland and Bend team has seen dozens of Oregon venues and can help you choose the perfect one for your vision and budget. Contact us today!