Do you have your all-star wedding party lineup in place? 
Hopefully, you're lucky enough to have at least one guy you can count on to be your groomsman. If you're really lucky, you'll have more! If you haven't asked them yet, it's time to bust out the groomsmen proposal ideas to give you some inspo!
Who Should Be Your Groomsmen?
Of course, no matter who you ask, you need your groom posse to be as dependable as possible. Some common groomsmen include: 
Who knows you better than anyone? Who can you trust to keep your deep dark secrets? Why, your brother, of course! That's why brothers are usually the #1 guy on a soon-to-be groom's list.
Maybe you don't know him quite as well, but your fiance's brother is about to become a bonus brother to you, too! Besides, the wedding party just wouldn't be the same without all the siblings involved, don't you think?
Close friends are also must-have members of your groomsman crew. They're also on the list of those guys who can keep your secrets and whom you can turn to in times of trouble.
Many of us have cousins, uncles, etc., who we've grown up with and we're very close to as well. Those guys deserve a place by your side at the wedding. And the bachelor party.  
Groomsmen Proposal Gifts They'll Love
1. Groomsmen Proposal Box
by Etsy: RootsAndLaceGifts
If you already have a list of goodies you want to give your groomsmen but nothing special to put it in, look no further. We like this gift box because it's roomy enough to include plenty of stuff, it comes in an array of cool colors, and it's completely customizable with a name and/or personalized message. 
2. Custom Cigar Bands
Are you looking forward to that celebratory cigar after the ceremony? Or at your bachelor party? What better way to include your guys than give them a set of premium cigars complete with custom bands that ask them to be your groomsmen?
3. Leather Toiletry Bag
As practical as it is handsome, these leather toiletry bags are sure to impress. They're custom-made with quality full-grain leather and feature a sturdy cotton lining to stand up to many years of use. Have it personalized with his initials, name, logo, or a picture for an extra special gift.
Available in dark brown, vintage brown, and black in sizes S, M, and L. 
4. Engraved Lighter
Even if your groomsmen aren't smokers, this diamond monogrammed lighter is so classy that he'll want to carry it around anyway. You can choose to engrave it with his initials or name and a specialized message. Comes in gold, silver, and matte black.
5. Custom Fishing Lures
For the outdoorsmen in your crew! We thought these were so unique; they're a fantastic groomsman proposal gift for your fishing buddies to commemorate the day you got hooked, *er* hitched. 
6. Groomsmen Golf Gift
by Etsy: One19Stationery
Were you planning an outing to play golf with your groomsmen to bond before the big day? This cute set delivers the goods and the message all in one. It includes a personalized ball and tee with their name and rank (best man, groomsman, father of the bride, etc.) and a note cordially inviting them to join the wedding par-tee. 
7. Leather Travel Tie Case
by UTILE
We'd be willing to bet not too many guys have a travel case this nifty! Since he'll be carrying his tie, cufflinks, and other manly accessories around to the wedding and fittings, why not get him a case designed to do it in style? It even comes with a tie hanger to hang it all up in the closet all nice and tidy.
8. Muscle Duffle
This bag is just so rugged and handsome; we had to include it here. It's like if Sean Connery or Sir Patrick Stewart was a duffle bag. Is that weird?
It has all the room your groomsmen will need to stash the goods for a bachelor party weekend, your destination wedding, or both. It's monogrammable with up to 10 characters on the front and comes in brown, green, black, and tan. 
9. Custom Face Socks
If your groomsmen are a little bit on the wackier side, like, say, Robin Williams or Martin Short- a pair of socks featuring their handsome mug is a great way to say, "Will you be my groomsman? And if so, will you wear these socks to my wedding?"
Of course, you could make them really awesome and put your handsome mug on them instead. You're welcome, gentlemen. 
10. Personalized Poker Gift Set
by Etsy: DesignstheLimit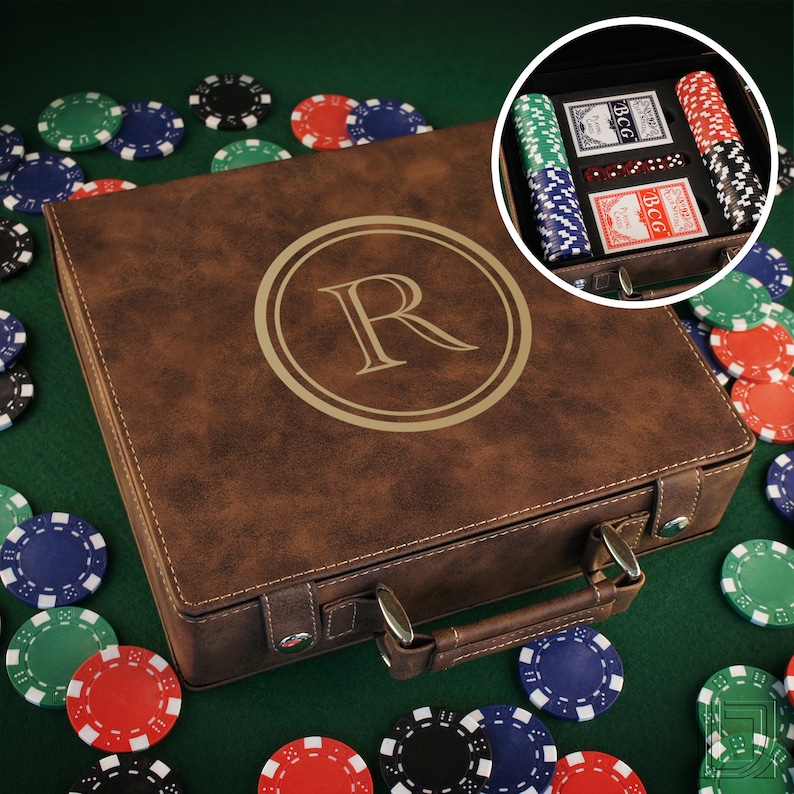 We love this sophisticated poker set! It comes monogrammed (or not) with 18 different styles to choose from and comes with all the chips, cards, and dice they'll need to get their game on. It's available in four classic color combos, too. 
Remind your dudes that just because you're getting married doesn't mean you'll stop having poker night. That'll happen when the baby comes. 
11. Personalized Groomsman Growler
We hope you have a fantastic brewery in your town to treat your groomsmen to their favorite suds. We also hope that they can get some to go with this German-style Grolsch growler when the party's winding down! 
It features a double-gasket flip-top lid and holds two liters of delicious frosty beer. It's handcrafted and can be engraved with the names and titles of your favorite groom posse. 
12. Celebrity Cameo
by Cameo
It's like a proposal card, only cooler! Chances are, you'll find your guys' favorite actor, comedian, social media personality, sports hero, musician, or (insert celebrity name) here. Hit them up with a message detailing your situation, and your celeb will ask your groomsmen for their hand in marriage for you. Or in marriage assistance. You know what we mean. 
13. Personalized Tie Clip
by Etsy: JewelMango
If you're looking for a classy gift for your huge wedding party that won't break the bank, a personalized tie clip for them to wear at the wedding and beyond is a fabulous option. You can have these silver tie clips engraved with up to 22 letters/characters, and they're available in four size options. 
14. Exotic Jerky Bouquet
Roses are red. Violets are blue. Here's some dried meat products we hope you love too. We're romantics around here. After all, this is a wedding website.
How can your groomsmen say no to a bouquet of 20 jerkies, including elk, buffalo, venison, and more? He can't. He won't. Hopefully, he'll share. 
15. Cooler Proposal
Let's face it- one can never have too many travel coolers! Fill it with beer, monogram it with his initials, and he'll be all kinds of ready and willing to be your groomsman. The proposal peels off, so he can use it at any gathering after the wedding's over that calls for frosty beverages. 
Groomsmen Proposal FAQ
You had questions; we have answers!
Do You Have to Give Proposal Gifts to Your Groomsmen?
Of course not, but wouldn't it be a grand gesture to those guys who'll help keep you sane and out of trouble during this whole wedding planning situation?
How to Give Groomsmen Proposal Gifts
While there is a certain level of decorum that goes with it (for instance, don't ask one friend to be a groomsman in your wedding in front of another that you have no intention of asking), giving your groomsmen their proposal gifts is a pretty low-maintenance affair. 
You can send it straight to their house (we think this is the best way, just because everyone loves to get stuff in the mail), gather everyone around and pass them out, or hide them around town and send everyone on a scavenger hunt. Whatever works. 
When Do You Ask Your Groomsmen?
You should really ask your groomsmen ASAP after you have the beginning details ironed out about the guest list and how many you'll have in your wedding party. The rule of thumb is to aim for at least eight months to a year before the wedding, but that timing can be more flexible if you're planning a more extended engagement. 
What If You Don't Have Anyone to Ask to be a Groomsman?
No sweat! Lots of guys opt out of groomsmen or a best man; it's not going to ruin your big day. You may have to come up with some creative solutions if your spouse-to-be has lots of bridesmaids, but it's nothing you can't plan for. 
Also, consider that this is the 21st century, and you don't have to have a groomsman. More and more people are mixing genders in their wedding parties, with groomswomen, bridesmales, and partypeople. So if you have a sis or female bestie you'd like to ask to be your groomsperson, have at it. It's all fun.
Do you take this dude…
To be your officially appointed groomsman? Do you promise to deliver a fantastic groomsman proposal gift that he'll love and he can actually use beyond the wedding?  
Here's the part where you say you do. Then go forth and shop, party, and make memories throughout the adventure. Cheers.