A bride and groom found a unique way to treat guests at their wedding after serving a wall made up entirely of bags of potato chips.
The best weddings are the ones that serve as a reflection and celebration of the happy couple's union and shared personality.
As wedding planner Diana Lin explained to The Knot, it's about creating something that comes from the heart. "Don't think about what's normal or traditional but think about what makes your day uniquely yours," she said.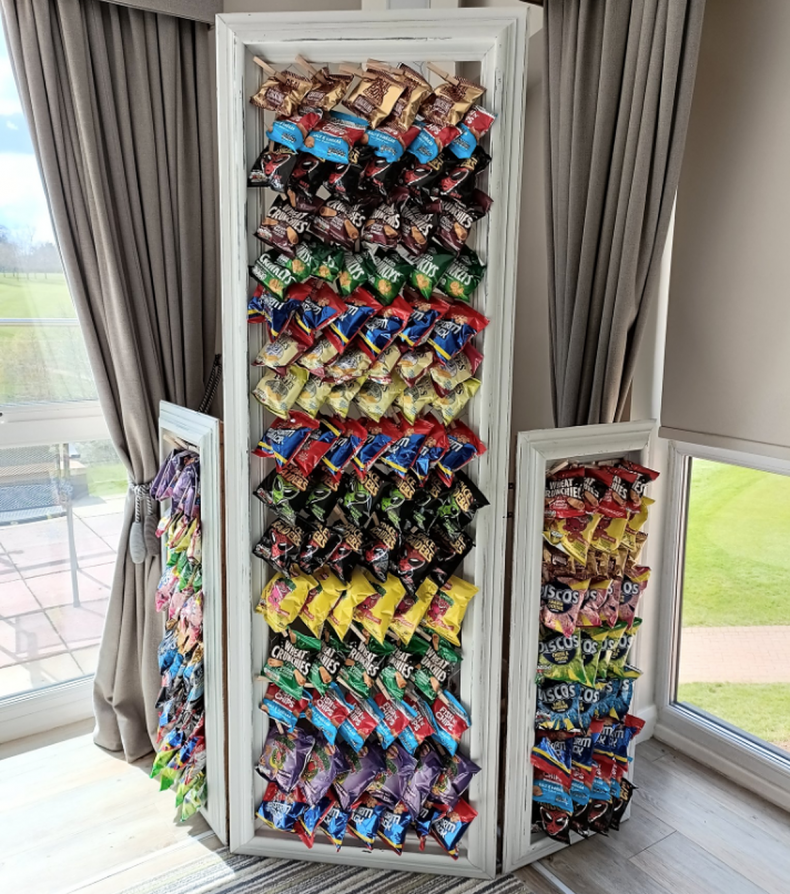 U.K. couple Philip and Michelle O'Mahony were determined to make their big day one to remember after COVID forced them to cancel their nuptials on two previous occasions.
Eager to do something fun on a budget, Michelle O'Mahony told Newsweek they hit upon the idea of creating a wall of potato chips featuring flavors and types "you had as a child that you don't always see in shops today."
Combining nostalgia with good old fashioned snacking, the resulting display proved popular not just with the guests in attendance at their wedding reception in the East Midlands, but also many thousands more on social media.
The display ended up going viral on Twitter after a picture was posted online by sarahjane792, who had been sent it by a friend in attendance.
At the time of writing, the post has racked up over 1,800 retweets and more than 42,000 likes, with many heaping praise on the couple for coming up with a way to keep guests occupied.
"What a good idea," Diane Palmer wrote. "Weddings I've been to, bride and groom **** off to some picturesque location for photos, leaving guests hanging around for hours…a chip wall might just stave off attempted cannibalism."
Mark_oc agreed, writing: "What a great idea," while Supertanskiii admitted: "I'd eat them all." Chris McGurgan thought it was "genius," with MattCox15 lamenting: "OK, I thought my wedding day was perfect but now I see it was missing something."
Danielle Moss described it as "absolute heaven," with Chris MacIntyre dubbing it the "stuff dreams are made of…"
Not everyone was enamored with the idea of a chip wall, of course.
BrixtonBobbyBob criticized the couple for serving "greasy, salty junk food" instead of canapes or something healthier, while FeelingAntsy said: "A magician would have been more memorable and probably not more expensive."
Chloe Jones thought it was "awful" and better suited to a "kids party," while Stephen Kelly remarked: "Dear me, the wedding buffets have really gone down since I last went to a wedding."
However, the naysayers remained very much in the minority, with most of those commenting expressing delight at the idea.
Michelle O'Mahony told Newsweek they got the idea after seeing someone do something similar on the internet but not to this scale. "Just wanted something for guests whilst enjoying the evening after a day of celebrations," she said. "Who doesn't love a bag of chips.
"Everyone loved it, it was at the far end of the room so initially I don't think people realized what it was. It stayed full most of the evening but as the night came to a close, guests cleared the wall to go back to hotel rooms and carry on the party."
Michelle said they only discovered it had gone viral the next morning while chatting with their departing guests. She initially didn't believe it—then the messages started flooding in. "My phone has just been going crazy with people sending links to all the pages where it's being shared," she said.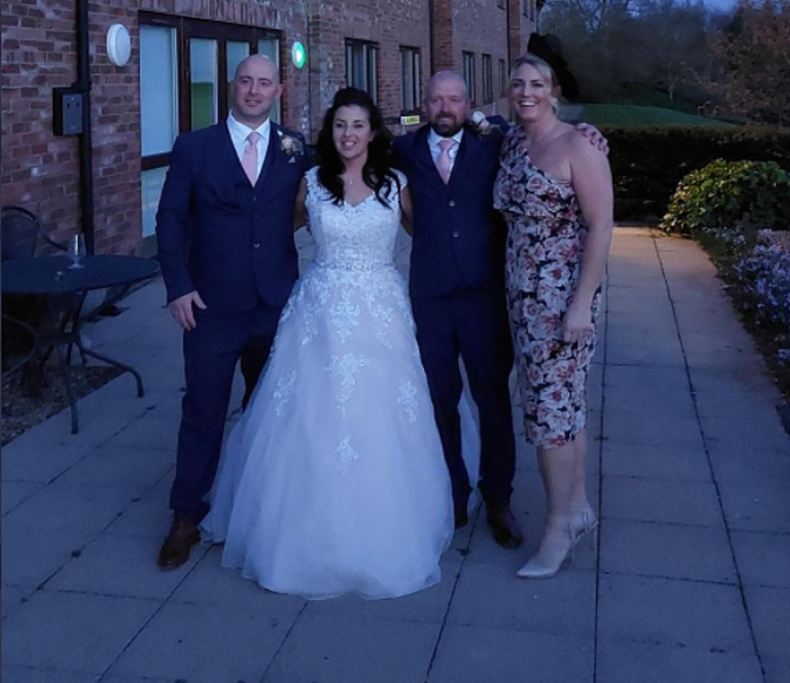 She said she has been delighted by the response and laughed off the critics, explaining that while their wedding venue did not offer canapes there was plenty of food available for anyone who didn't want potato chips.
"We had a savory salty bar when guests arrived. We had a sit down three course dinner. A sweet table, donut wall and an evening buffet along with wedding cake," she said. "Obviously not all of that is cucumber sticks and carrots but that's what an evening out is for, to treat yourself."
Incredibly, Michelle didn't even have a bag of potato chips herself, though she did note that the "scampi fries and pork scratchings were popular."
Ultimately, she has no regrets.
"Weddings are expensive so it's important to try and do things that you will remember. We'll never forget this now it's gone viral. It's a great talking point from our wedding, though I can't believe I ended up being upstaged by snacks," she said.
The frame that once held the chips now has pride of place in their home too—as a display for the many cards they received from those in attendance.