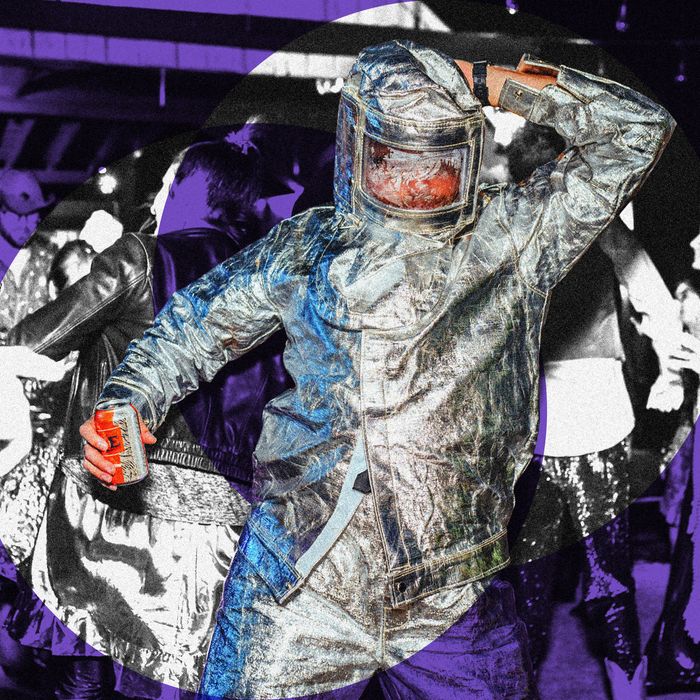 Photo-Illustration: The Cut; Photos: Hannah Koehler at Minkmade
As anyone who has been to a wedding knows, there are certain things you can expect, from fancy invitations printed on pricey card stock to the hokey party favors guests take home and immediately discard. Amy Shack Egan wasn't into these arbitrary "rules" fueled by the multibillion-dollar wedding industry — so she became a wedding planner.
Shack Egan runs Modern Rebel, an alternative wedding-planning company with the goal of helping brides-, grooms-, and brooms-to-be create their own one-of-a-kind "love parties." Starting off with just three love parties in 2015, Modern Rebel now averages 60 to 70 per year in New York, Los Angeles, and destination locations. With events booked out for the remainder of 2022, Shack Egan and her all-female team of nine are busier than ever.
I was a gender-studies major in college and the last person you'd imagine who'd be like, Rah-rah, weddings! I was turned off by all the checklists and things you "have" to do to make it a wedding. I was like, I don't even want to call it a wedding. Let's just call it a "love party." Like, we don't need to get all up in arms about napkin folds! But I've worked in this industry for almost eight years now. People loved the idea of having the space to do things a little differently.
Amy Shack Egan of Modern Rebel.
Photo: Chellise Michael
I am so lucky because I get to work with the coolest people. They're totally open to making bold choices, whether in fashion, color, or unique ideas about ceremony layouts, signage, favors people actually want, or making donations in their guests' names. They don't even want to enter through an aisle: "We wanna do a surprise ceremony, Amy." Cool, let's do it. Let's reimagine what people might be expecting. That's always the most fun for me. Like, one of my favorite new trends in New York right now is an After Hours Snack Truck you can rent for an end-of-the-night finale. They literally deck it out with your favorite nostalgic candy — like '90s candy — or fast food. You can make it whatever you want, which is the best end-of-the-night treat for your guests. I'm so over exits. Surprise people with fun food on their way out the door. I've been burned literally and figuratively from sparkler exits — drunk guests waving fire batons is a bad idea.
The most memorable wedding I was hired to design and plan was a space-disco-cowboy love party in 2019. It was in a ghost town near Austin, Texas. There was an axe thrower and a karaoke bar. We had a rocket launch and astronaut gear. There were so many disco balls, and everyone arrived in a totally decked-out school bus. Everybody was in costume. It was wacky and wonderful — just like the couple.
Sourcing the perfect location, props, and entertainment for each love party is always a mixed bag. Sometimes it's vendors I already know and some that find me on Instagram or vice versa. There is an amazing nationally connected planner network on Facebook that always has great recs and then sometimes it's a deep-dive research rabbit hole — just putting in the effort to find that diamond-in-the-rough vendor who will make the event next-level.
We have a pretty unique design process that takes about eight weeks, which includes working with couples on their wedding "mantra." If you could come up with a saying or phrase that embodies your relationship, what would it be? One of my favorite mantras was "You keep me safe, I'll keep you wild." For this design, we played with a series of safe and wild design choices, an eclectic mix. Another was "A Thousand Years"; the couple felt that when they met, they had known each other forever. For this design, we wove in choices from different time periods — vintage TVs, brass chandeliers, a '70s lounge set — a time-traveling love-party aesthetic.
During those eight weeks, we meet with our couples monthly via Zoom and occasional in-person walk-throughs or meetings. Our sweet spot is 18 months of planning: The first third is logistics, the second is design, and the final leg of it is coordinating. The work is extremely complicated and requires very strong communication skills, detailed organization, and a good balance of chill and "on top of it" energy. So much of the work we do is invisible, but we want it that way because we want people to be fully present and experience hopefully one of the best days of their lives.
Photo: Hannah Koehler at Minkmade
The week of the wedding is typically the most relaxed. You have family coming into town; you don't want to be asked a million questions. You want to rest and know it's in the hands of the pros now. So we have our final meeting with the couple at the start of that week, and from there, I do all my final emails and confirmations with vendors, and the couple shouldn't need to be looped in at that point.
I'm also prepping for the day of by organizing all the information: I have my pink Modern Rebel clipboard with my "Reserved" signs for the ceremony, my printed timeline, my printed contact sheet (both vendors and important non-vendor info), finalized color-coded floor plans, seating charts, ceremony cheat sheet, and so on. It's a lot of information, so we have to find a way to distill it easily. The day before, I may have a rehearsal and make rain-call decisions (it sometimes happens a day prior to this), then on the day of, it's game time. Which typically looks like this:
8 a.m.: I text the couple something like "LET'S DO THIS!" Then eat a good meal, get ready, and put on my pump-up playlist (something like Shania Twain's "Man! I Feel Like a Woman").
11 a.m.: On-site at the venue, I manage any number of load-ins, which might include: liquor, beer, ice, regular rentals, specialty rentals, DJ/band equipment, catering, flowers, dessert/cake, prop/set pieces, lighting, etc.
1 p.m. to 4 p.m.: Set and style the space and rental pieces. Make sure the tables are placed, troubleshoot issues (maybe not enough boutonnieres arrived, or the band's setup is overloading the circuit so I have to reimagine it and work on managing electrical issues with the building, or the disco-ball spot we had planned for rigging isn't working because of the larger-than-expected drum kit for the band, or the A/C isn't working — why?).
I'll talk to building management, the ceremony chairs get set up, we prep for guest arrival (several may cancel last-minute, so we have to rearrange seat assignments without bugging the couple and possibly nix a table), prep the ceremony musicians and discuss cues, and then the guests arrive.
Sometime around 5 p.m., usually: The show begins. Make sure the couple has post-ceremony drinks and snacks for the "Oh shit, we're married" moment! I always recommend a ten-minute pause together to take it in. And be sure jams are on for cocktail hour. Then, an epic room flip: The ceremony space transitions to a full reception room with new lighting and a new setup. It's a madhouse!
The next eight hours: Welcome guests into the reception space and manage the transitions: intro of couple, first dance, etc. Then troubleshoot: remind caterer that guest at table seven has an extreme allergy; find a lactation room for a guest (will this closet work? Sorry, venues are still largely inaccessible — ugh); give a ten-minute heads-up to toast-givers; maybe have time for a vendor meal (maybe); set and display dessert; start organization of pack-up items; furious guest forgot a phone charger, Do I have one?! I get asked this question so often it has lost its meaning.
Someone is hot. Someone is cold. Can we adjust the thermostat? Someone's uncle is asking me to request "Bohemian Rhapsody." (Um, no.) The dance party is coming to a close. The couple is happy, a little drunk. "Amy, what would we do without you? Come to the after-party with us!" Organize load-out; the rental company is an hour late. One final walk through the space with the venue's night manager: We're all clear.
2 a.m.-ish: Hit the hay.
So much behind the scenes, so much invisible work: The couple never knew the kitchen flooded, a drunk guest got locked in the bathroom (we rescued them), the elevator had a momentary glitch, an older guest snapped at me for not finding them a salt shaker, or that moment I made sure their grandmother had a sweater. The effort that looks effortless but is far from it. The work of hospitality — so undervalued but so necessary. Thank you to every client who says thank you to their vendors publicly in their speech. For a moment, the visible becomes visible and the guests clap because we're a team. Because gatherings aren't free, the cost of community and experience is a worthwhile investment.
Photo: Hannah Koehler at Minkmade
My favorite compliment someone gave me was "You are somehow so on top of your shit and somehow so chill at the same time." It's my secret sauce.
COVID affected our business like everybody else's. We were rapidly growing before the pandemic took hold and then in a matter of weeks had canceled events. Everything got postponed or canceled. We had to scale back our staff. I made the decision three weeks into the pandemic to pivot to virtual weddings. Basically, we became your Zoom stage manager. It kept us afloat. We did about 50 of those across the globe during the pandemic. It was cool because it actually broadened our reach and we got to meet couples from all over the world, but it wasn't a sustainable solution. Thankfully, we've come back from the pandemic, and it's been a total wedding boom. It's busier than ever. It has also been a challenge because we're still planning weddings while managing a pandemic, even if it feels like we're past it.
Just to give you a sense, I had a wedding planned for three years because the pandemic postponed it twice. So finally, the third time, it happened. Ten minutes before we let the guests in during cocktail hour after the ceremony, we were reimagining a floor plan because of last-minute cancellations from travel and guests testing positive the day of. That's how nuts it is right now. For the most part, the couple has no idea any of this is happening. I mean, they realize some guests didn't show up, of course, but our job is to make sure our clients stay in the moment. So as much as we can, we shield them, and the party goes on!
There's literally an envelope shortage at the moment. I know that sounds like, Who frickin' cares? But when you're dealing with getting invitations out to 200 people, an envelope shortage is a very real issue. Sometimes in wedding planning, if you don't laugh, you'll cry because the tiniest details matter. Sometimes it's the most ridiculous thing that ends up causing the most stress. Ultimately, if you're having a wedding just to have a wedding, it gets old fast. If you have a relationship to rely on and laugh through the ridiculousness, it's better.
Weddings are expensive. Trust me, I get it. For most of our clients in New York and L.A., for 150 guests, they're spending at least $75,000, and many are spending close to $200,000. But I also try to remind couples that the wedding industry is a unique pocket of awesome, women-run, diverse small businesses. You have this opportunity to invest in your local community in a way you may never have again.
​​My favorite thing about what I do as a wedding planner might surprise people: It's the text chains that come later. The "Oh my God, Amy, we're pregnant" texts and the emails updating me on a big move or life change. It's when I get the sense from the couple that the love party was just the beginning, that I helped set the stage for a life to come after. The love party kicked off the party for the rest of their lives.