Dresses | June 21, 2022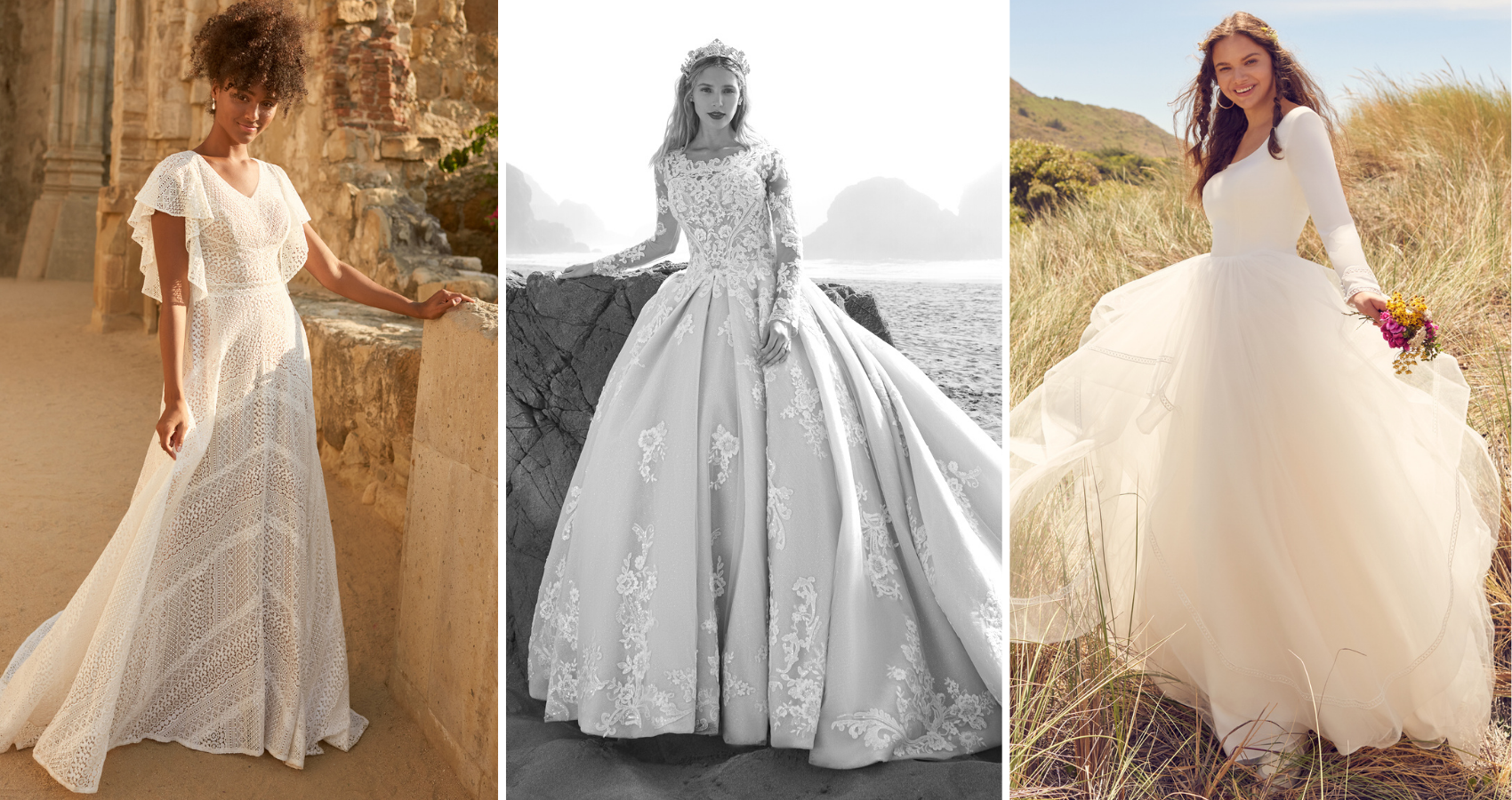 Thanks to a few STUNNING celebrity weddings over the last decade, modest wedding dresses have made a big-time mark in the "impeccably stylish, irresistibly romantic bridalwear" hall of fame — with no signs of dropping out anytime soon. 
We really don't blame these leading ladies (Think Paris Hilton, Lily Collins, and Billie Lourde) for sticking to the classics. There's nothing like an elegant, glamorous, and ultra-classy silhouette and exquisite tailoring to certify A-list style status for decades to come! 
What Is a Modest Wedding Dress, Anyway?
A modest wedding dress is a timeless, classically designed wedding dress. Often, it is designed with a modern twist or fresh trend upgrade though! These conservative wedding dresses are designed to complement your figure while offering demure coverage — usually high necklines and long (or cap) sleeves. Typically, there are no high slits in the skirt, there are covered backs, and little to no revealing illusion detail. 
If you too love the demure romance and gorgeous detail of modest bridal gowns,  you've come to the right place! Keep scrolling for our latest styles from our Maggie Sottero, Sottero and Midgley, and Rebecca Ingram collections. (And be sure to bookmark our Style Quiz to come back to later).
First up for the "royal details" aesthetic, we present this long-sleeved modest wedding gown, Norvinia Lynette by Sottero and Midgley. This bold and feminine ball gown features an illusion lace bodice and a lush and lovely skirt. If offers coverage for a winter wedding or formal black tie celebration — the layers and embellishments make it a sight to behold. Ooh la la!
We love how this princess gown channels Paris Hilton's high-end wedding vibe. It's a little extra, yet still luxe and polished — a perfect match for the star's charm and confidence.
Norvinia Lynette also comes in different sleeve and color variations. Personalize with sleeveless neckline or spaghetti strap options. Or, go bold in a nontraditional black wedding dress colorway.
Another regal look is Sahar by Maggie Sottero. This impeccably tailored wedding gown combines a modest Victorian bodice with sleek, modern embellishments. You'll feel exceptionally chic and couture in this Hilton-worthy silhouette (and be able to mimic her wedding dress's chic high neckline).
Meghan Markle Inspired Modest Bridal Gowns: Rosemary Leigh by Rebecca Ingram and Josie by Rebecca Ingram
The formula is simple: If you love the sleek, slenderizing look of Megan Markle's modern wedding gown, your top priority is silhouette. Our top picks? Rosemary Leigh by Rebecca Ingram and Josie by Rebecca Ingram. The demure and vintage-inspired wedding gowns with simple lines and stunning fabrications are practically fit for royalty.
PC: Genesis Imagery
Rosemary Leigh is perfect for veil accessories, and also features a sister-style personalization with a strappy bodice. 
Love these styles? Head to our gallery of simple, elegant, and conservative wedding dresses for more inspiration.
Nicole Kidman Modest Vintage Wedding Gowns
Nicole Kidman is an undeniable style icon. So, it's no wonder she chose the perfect blend of timeless and fashion-forward for her wedding look. Get inspired with her regency-core Balenciaga style from 2006. In an era of over-the-top ball gowns and (let's face it) some pretty tacky 2000s trends in bridalwear, Kidman manages to look both classic and ahead of her time.
For a sweet and whimsical take on this Bridgerton-esque wedding dress, opt for a dreamy silhouette like Orchid by Maggie Sottero. This modest wedding gown shows off your figure in allover lace, but offers full coverage with a statement bodice and sleeves. It's vintage meets new, boho meets chic, modern meets modest, and the perfect dose of demure.
If you're all about the airy details on Nicole Kidman's wedding gown, Louisa by Maggie Sottero may also catch your eye. This fairytale princess style consists of soft tulle, embroidered lace motifs, and unique pops of color. This is texture meets shimmer in an irresistibly chic confection.
There are several ways to personalize Louisa. You can change the sparkle tulle to plain tulle; shorten or remove the train for a more casual look; or add buttons down the back for a vintage vibe. You can also add or remove the detachable illusion lace long bishop sleeves or the chapel length tulle veil adorned with lace (both sold separately).   
Kate Middleton Inspired Modest Wedding Dresses: Carrie Leigh by Rebecca Ingram and Sawyer by Sottero and Midgley
Love the royal look but feeling the easy-breezy persuasion? Looking for soft lace details in a Kate Middleton-inspired silhouette? Cue Carrie Leigh by Rebecca Ingram. Pair an illusion-trimmed lace bodice and long sleeves with a soft tulle skirt, add champagne and heirloom jewelry — the "modern princess" effect is immaculate.
Another stunning sleeved style with a full ball gown skirt is Sawyer by Sottero and Midgley. This illusion lace design is romantic yet sophisticated, formal yet effortless. (Just like Kate Middleton's ball gown!) It channels her royal-inspired lace and hint of sexiness of her gown.
Solange Knowles Inspired Simple Modest Wedding Dresses: Fernanda Lynette by Maggie Sottero and Hayes by Maggie Sottero
You're a runway goddess. You're drawn to statement silhouettes. You've got a killer eye for line and form. It seems Solange Knowles' minimalist-meets-maximalist bridal style is calling your name.
To channel this celebrity wedding vibe, look to Hayes by Maggie Sottero. This wedding gown features long, svelte crepe and nearly-nude illusion details. It's sweet meets sexy, super stylish, modest, and ultra-flattering on a variety of body types. (And with sleeve options! Choose short cap sleeves for a light summery look or long sleeves for soft romance.)
Another Solange-worthy design is Fernanda Lynette by Maggie Sottero, a simple modest wedding dress in crepe that's all about fit and tailoring. For a fully modest look, personalize this design with the long fitted sleeves. For a totally unique vibe, order the strap variation and add the Jennings sleeves — a fresh spin on a Renaissance classic.
Kate Upton Inspired Classic Modest Wedding Gowns: Lupita by Sottero and Midgley and Lorraine Leigh by Sottero and Midgley
Planning a royal garden celebration for your best day ever? Love the glamour and romance of Kate Upton's Italian countryside wedding? Presenting Lorraine Leigh by Rebecca Ingram, a lovely combination of formal styling and effortless romance. We picture this nature-inspired wedding dress with gorgeous greenery, bright blooms, and starlit dancefloors.
For a striking yet simple modest wedding dress with illusion coverage, opt for Lupita by Sottero and Midgley. This evokes the soft glamour of Kate Upton's look but in a clean and lightweight A-line silhouette. It's a chic upgrade to conservative wedding dresses from our latest collections.
Kim Kardashian Inspired Long-Sleeve Bridal Dresses: Sadie Leigh by Rebecca Ingram and Aston by Sottero and Midgley
PC: Alyssa Cates
Also set in Italy, Kim Kardashian's wedding was defined by her long, graceful, modest-inspired wedding gown by Givenchy. We love the statuesque glamour and drama of this look.
If you're in the mood for a luxe and elegant vibe like Kim's, modest wedding dress Sadie Leigh stands out in comfort and style. (Bonus! Sadie Leigh is from our Rebecca Ingram line—our selection of classic wedding gowns at budget-friendly price points. See more from our latest affordable wedding gown collections).
Another wedding gown we adore is Aston by Sottero and Midgley. Just like the former KKW's dramatic fit-and-flare, this couture style was made for the spotlight. It sports a similar high neckline, dramatic sleeves, and sneaky back details.
Samira Wiley and Lauren Morelli Modest Bridal Gowns: Ekaterina by Maggie Sottero and Gibson by Sottero and Midgley
If you're smitten with Samira Wiley and Lauren Morelli's perfectly mismatched wedding dresses, look to magical pairings from our latest collections. First up, Samira's classic princess ball gown in a striking fabrication. Similar to this wedding gown are Ekaterina by Maggie Sottero and Tatiana by Maggie Sottero. Both of these are soft yet striking, effortless yet ultra-formal. We're smitten!
If you love Lauren's nontraditional yet super glam wedding style, make a similar statement with our Gibson bridal pantsuit by Sottero and Midgley — or with our long, slimming lace style Kevyn Leigh in a high neck bodice (also by Sottero and Midgley). This pantsuit is especially dreamy with a whimsical and modest overskirt.
These are powerful and unique designs for an expected twist on ultra-feminine bridalwear. (Just because you have a penchant for conservative wedding dresses, doesn't mean you can't make it totally your own!)
Looking for the final touches for modest wedding dresses inspired by celebrities? Time to accessorize like a pro! When curating things like veils, capes, shoes, and jewelry for your modest bridal gown, pay attention to how rare, intentional, and designer-inspired pieces elevate the demure charm of your look. 
Take, for example, a gorgeous pair of statement earrings. These add a contemporary flair to a slimming, simple modest wedding dress, but may clash with a voluminous princess silhouette or textured lace gown. Likewise, a veil or shrug can give your look an air of formality and occasion, but the wrong piece can add bulk and unwanted clutter. Your full-coverage silhouette is timeless and classic, so it's important to choose details that both distinguish and balance. (Like a true red-carpet goddess!)
Talk to an Authorized Retailer about ordering with accessories and personalizations!
To keep the shopping inspo going, here are more lovely galleries featuring our latest collections, styled shoots, and real bride magic:
What Wedding Dress You Should Wear Based on Your Zodiac Sign
15 Trendy Wedding Dresses From Maggie Sottero's Fall 2022 Collection
10 Sexy Wedding Dresses For Every Bride Looking To Make A Statement On Their Big Day
Happy shopping for chic and swoon-worthy modest wedding dresses!