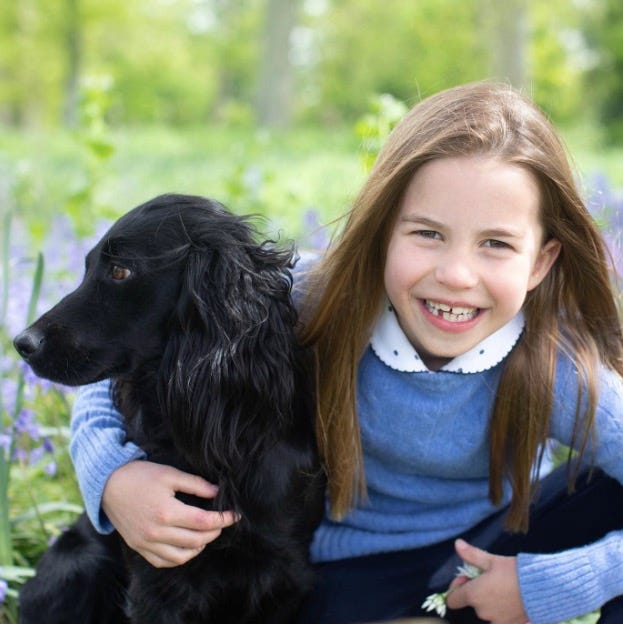 Duchess of Cambridge|@dukeandduchessofcambridge|Instagram
Kate Middleton, the Duchess of Cambridge, has posted two self-shot photos of her daughter, Princess Charlotte, to mark the young royal's seventh birthday.
The photos were posted to the Cambridge's Instagram account on Sunday 1st May with the caption 'Seven tomorrow!'. Princess Charlotte's birthday falls 0n bank holiday Monday, 2nd May, this year.
The Royal Family Twitter account confirmed that the photos of Charlotte were taken by the Duchess, in Norfolk, this weekend. The young Princess is sitting amongst beautiful bluebells in bloom, in what is a very spring-inspired series of photos.
Charlotte's pet cocker spaniel, Orla, also features in the celebratory images. The BBC report that the Cambridge's adopted Orla in 2020, just before their family dog Lupo sadly passed. Lupo had been a wedding present from the Duchess's brother, James Middleton.
This content is imported from Instagram. You may be able to find the same content in another format, or you may be able to find more information, at their web site.
This is the latest in a long list of portraits the Duchess has taken of her children. She is a keen amateur photographer and patron of the Royal Photographic Society.
Happy birthday, Princess Charlotte!
This content is created and maintained by a third party, and imported onto this page to help users provide their email addresses. You may be able to find more information about this and similar content at piano.io