Do you want to look great on your wedding day? Then you need to learn how to dance! But do you really need to spend thousands of dollars on lessons before your big day?
There's nothing worse than looking like a complete idiot on your wedding day. And while learning how to dance might seem fun, it's not worth spending hundreds of dollars on lessons just to get started.
But here's the thing…you don't need to spend hundreds, or even thousands of dollars on lessons to become a decent dancer for a single dance. In fact, you only need 2 hours of practice per week to master basic dancing skills if you practice right.
And with these simple tips, you can quickly learn how to get comfortable dancing without breaking the bank.
Why You Should Consider Learning How to Dance Before Your Wedding Day
Dancing is a great way to celebrate your big day, and there are many benefits of taking dance lessons before your wedding. Not only will learning the right steps make your first dance as a married couple even more special, but it can also help you feel more confident and relaxed on your big day. Here are some of the top reasons why couples should consider taking dance lessons before their wedding even if it's just to learn a basic dance:
1. Improve coordination: Learning how to move together in sync is essential for an elegant and romantic first dance. Dance classes can help you get comfortable with each other's movements and develop confidence in certain moves that may be difficult to master alone. Simply knowing the dance steps can help but it's better to have your partner present when practicing even for simple dance steps. 
2. Feel Confident: Most people aren't born professional dancers but dance classes can provide a great way to break the ice and feel more confident in front of your guests. And it's a way to help you achieve that dream wedding dance that wows everyone. 
3. Stress relief: The last thing you want on your big day is to be stressed out! Dancing together as a couple can provide an enjoyable distraction from wedding planning and help reduce stress levels. Making sure the planning process and choreography in mind are done can help you do just that. 
4. Make Memories: Taking dance lessons before your wedding is an experience that you'll remember for years to come! Dance classes can also be a fun outing for the two of you, even after the wedding. Remember you'll be spending time with your partner during the workout routine and the weeks of lessons so it can help make your relationship stronger! 
5. Practice perfect steps: With practice, the two of you will be able to master complicated moves with ease and grace, ensuring that your first dance looks polished and professional in just a short time frame.
Whether you're a beginner or an advanced dancer, having dance lessons before your wedding is the perfect way to make sure that your first dance as a married couple is special and memorable. Make sure to start early so that you have plenty of time to practice and feel confident dancing on your big day!
How Long Does it Take To Learn a Wedding Dance?
You need time to actually learn the dance and have a bit of muscle memory of the dance and this can be different for each person. Ideally, you should start learning your wedding dance at least four to six months before the wedding. This gives you enough time to perfect your routine and ensure that all of the steps are properly learned in order for you to look graceful and natural on the big day.
If possible, try to practice on a regular basis throughout this period in order to stay comfortable with the moves and in sync with your partner. You shouldn't just practice at the dance company but at home as well. If you have limited time or resources, then make sure that you review a few key elements each day so that everything is fresh in your mind when it comes time for the big performance. Most importantly, have fun with it! The more relaxed and confident you feel while dancing, the better your routine will be and you can have that YouTube-worthy first dance.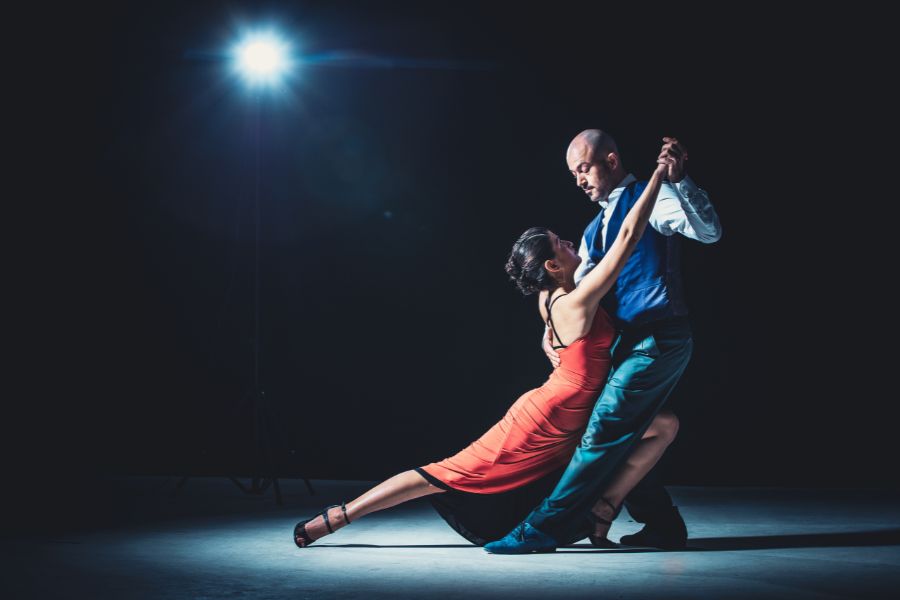 Learning a Wedding Dance May Take More Than a Few Lessons
The answer to this question depends on the individual and their goals. To improve quickly, it is recommended to attend at least one lesson per week. If you are looking for more of a leisurely pace, two to three lessons per month may be enough. The frequency of your lessons will depend on how devoted you are to perfecting your moves and learning new ones.
Taking regular classes will also help you develop muscle memory and make the most of each practice session. Furthermore, if competing in any dance competitions is a goal of yours, attending more frequent classes may be necessary in order to reach that level. Ultimately, it's up to you and what works best for you as an individual; however, having consistent lessons can only benefit your growth as a dancer.
Additionally, if you are looking to perfect your technique and refine your movements, private lessons may be a great option. Private lessons allow for one-on-one instruction with an experienced teacher who can help you focus on the areas that need improvement. With enough dedication and practice, you can master any dance style in no time!
Match the Wedding Dance with the Right Dance Song
The choice of the first dance song for your wedding is an important one. It should be a song that both you and your partner can agree on, as it will be remembered for years to come. There are many different styles and genres to choose from, so take some time to think about what type of music you would like to have played during this special moment. Consider a style or genre that is meaningful to both of you – perhaps something from when you first met, or even something more modern that reflects who you are as a couple now.
Once you've chosen the genre or style, start looking through songs within that style. Think about lyrics and melodies- what words do they make you think of? Is there a special meaning behind the song? What does it make you feel?
When deciding on a first dance song, keep in mind that it should be something that won't be overplayed or cliché. If you go for a more traditional song, consider adding a unique twist to it by having an instrumental version played, having your DJ add some modern beats to the classic tune, or mixing two songs together.
Finally, if all else fails and you are still having trouble coming up with the perfect first dance song, look outside of music – there may just be another type of art form (a poem, play or painting perhaps) that speaks to both of you as a couple. No matter what you choose in the end, just remember that it is the sentiment behind the song and your connection to each other that makes it special.
Waltz, Tango, or Salsa, Oh My! Choosing a Dance Style
With so many different styles of dance, it can be difficult to choose the perfect one for your special day. Before deciding on which style you will learn, consider factors such as how much time you have to practice and what kinds of movements make you feel comfortable performing. If you prefer to keep it traditional, then a classic ballroom dance like the Waltz or Foxtrot might work best for you.
But if you want something with more modern flair, there are plenty of slower dances like Salsa and Tango that bring a lot of energy to the floor. For something more upbeat, try out Jive or Lindy Hop – both are sure to get your guests up and moving! No matter what type of dance you decide on, learning any style with someone special can create fun and lasting memories. So pick what feels right for you, and don't forget to practice so you're ready to show off your moves on the big day!
Wedding Dance Lessons if you're Getting Married a Short Time Away
This could be a daunting prospect for those who are not experienced dancers. Without any prior experience, learning a wedding dance in one day can feel overwhelming and intimidating.
However, with the right guidance and motivation, it is possible to learn a basic but beautiful wedding dance routine in no time. It requires some dedication and hard work on your part, but in the end you will be rewarded with an unforgettable performance that everyone will remember fondly.
The first thing you should do is pick your song. Choose something upbeat and up-tempo that fits well with the vibe of your wedding day. Then find someone to help teach you the steps – this could be a professional instructor or even a friend or family member with some dance knowledge.
Once you have the steps down, it's time to practice. Start with a few basic moves and gradually build up your repertoire. Practice in front of a mirror so you can perfect your form and make sure you are confident in each step before moving on to the next one.
Finally, when the big day comes, just relax and let all that hard work you put into practicing take over. Have fun with it and remember – even if you stumble or mess up here or there, nobody else is going to know but you! So, enjoy every moment of your special wedding dance routine.
Choosing the Dance Studio or Dance Teacher that is Best for You
The key to finding the right wedding dance teacher is to do your research and ask questions. Ask friends or family who have been married recently for any recommendations they might have. If you don't know anyone who has had a recent wedding, look online on websites like Google or Yelp for reviews of local wedding dance instructors or professional dance lessons.
Read through those dance school reviews carefully, looking for details about the instructor's style, experience level and customer service. Once you find some potential candidates, reach out directly to the instructors. Check their availability and be sure that they can accommodate your specific needs. Ask them what styles they teach, if they offer private lessons or group classes and how much it costs? Be sure that the instructor is comfortable teaching all skill levels, including beginners.
Cut down on the cost of wedding dance with a trial lesson if offered by the wedding dance teacher
Book a trial lesson with the instructor to make sure they are the right fit for you. The trial should give you an idea of the level of instruction and how comfortable you feel with them. If both of you enjoyed the lesson, then it's time to start planning your wedding dance!
You Can opt for Private Lessons for your Wedding Dance
When couples are planning their wedding, they often worry about how they will look on the dance floor. Private wedding dance lessons are a great way to help put these worries to rest and make sure that couples have an enjoyable and memorable experience. Not only that but you can also attend dance parties to try out your choice of dance before the big day. 
Private wedding dance lessons can be tailored specifically to the couple's needs. A professional instructor can help customize the choreography for each couple, ensuring that it meets their expectations and fits within the style of music that has been chosen for the special day.
With private lessons, couples also have more flexibility in terms of timing and learning the basic steps; private sessions can take place any weekday or weekend, depending on availability. Additionally with a private dance lesson, couples are able to practice in a comfortable setting as well as comfortable clothes without feeling self-conscious or intimidated by other dancers around them.
And if you need additional lessons, chances are they are available whereas wedding dance classes may take place only once or twice per week. Typically, the hourly rate for private lessons is much higher but you may opt for a private lesson from a dance instructor for the entire wedding party at once. 
Take your wedding dance experience to the next level
Private wedding dance lessons also give couples the opportunity to learn some fun and creative moves for their first dance together. Depending on the expertise of the instructor, couples can learn a range of styles, from classic waltz to more modern hip-hop or salsa. Some instructors even offer additional services such as video editing and music selection assistance to make sure that couples have everything they need for an exciting performance on the big day.
Overall, private wedding dance lessons are definitely worth it – not only do they provide a unique and memorable experience for couples but they also help to ensure that everyone looks great when it comes time to hit the dance floor! With all these benefits, it's no wonder why so many brides and grooms choose to take private lessons before their big day.
Dancing at your wedding can be amazing and memorable
The bottom line is that private wedding dance lessons can help make a couple's first dance together truly special and memorable! Not only are they tailored specifically to the couple's needs, but they also provide a comfortable setting for them to practice in without feeling self-conscious or intimidated.
Private lessons can usually be arranged at any time of the week, allowing couples to schedule sessions when it best fits into their schedule. Plus, with additional services such as video editing and music selection assistance offered by many instructors, couples can be rest assured that they have everything they need for an amazing performance on their big day. Private lessons are a great way to get some quality time with dance instructors to work on your wedding dance choreography. 
All these reasons make private wedding dance lessons well worth the investment!
FAQs
How long does it take to learn to dance for wedding?
Depending on the complexity of the dance and your prior experience, learning to dance for a wedding can take anywhere from a few weeks to several months. If you are a beginner, it is best to start with the basics and practice regularly to build your confidence and skill level. 4-6 Months is a good timeframe for most couples and what most dance companies recommend. 
How many dances do you do at a wedding?
The number of dances you do at a wedding will depend on the type of ceremony and your preference. Traditional weddings may have just one dance – the father-daughter dance and/or the mother-son dance. For more modern weddings, couples may choose to do several dances including a first wedding dance, a father-daughter dance, mother-son dance, and even a family dance. It is ultimately up to the couple to decide how many dances they would like to do.
What is the difference between a wedding dance and other dances?
A wedding dance is typically more formal than other dances. The steps and music are usually pre-planned, and couples often practice the dance to ensure they don't miss any steps. Other dances such as swing, salsa, or hip hop may involve more improvisation and freestyle movements.
What type of wedding dance is best for beginners?
The style of choreography is important for your wedding dance. A waltz is typically a great choice for beginner dancers as it moves at a slower pace, which makes it easier to learn. It is also a romantic and traditional dance that pairs well with most wedding songs, so couples can easily choose music to practice with during their wedding dance classes.