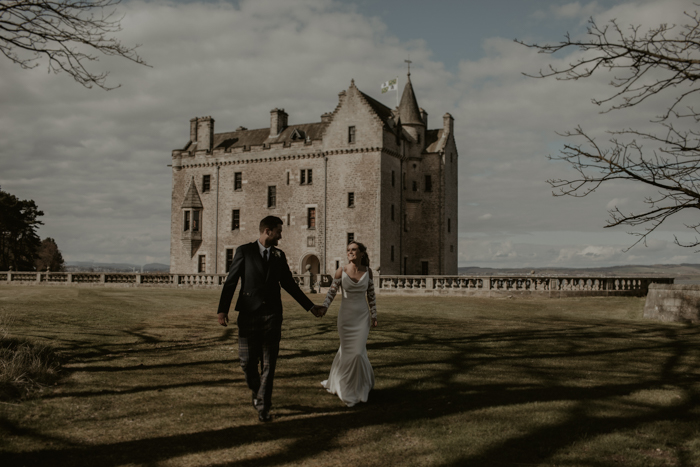 For many couples, getting married in a grand palace is the ultimate wedding dream come true. Set in a 13th-century castle nestled on a secluded coastal corner of a wooded estate, Lauren and Neil's Barnbougle Castle wedding was the perfect combination of elegance and whimsy. It looked like it came straight out of a storybook!
In the library, all eyes were drawn immediately to the cascading blooms in a timeless soft color palette that beautifully adorned the fireplace mantle. The pair literally tied the knot in a traditional yet personal Scottish ceremony surrounded by their loved ones. An elegant reception followed in the barrel-vaulted banqueting hall, where they wined, dined, and danced the night away. Towering centerpieces complimented the regal features—from the stained glass windows to the period decor.
Junebug member Mike Meller did a spectacular job capturing the romance and magic that filled their big day. One look at these photos, and we guarantee you'll daydream all day about your version of a fairytale castle wedding.
The Couple:
Lauren and Neil
The Wedding:
Barnbougle Castle, Edinburgh, Scotland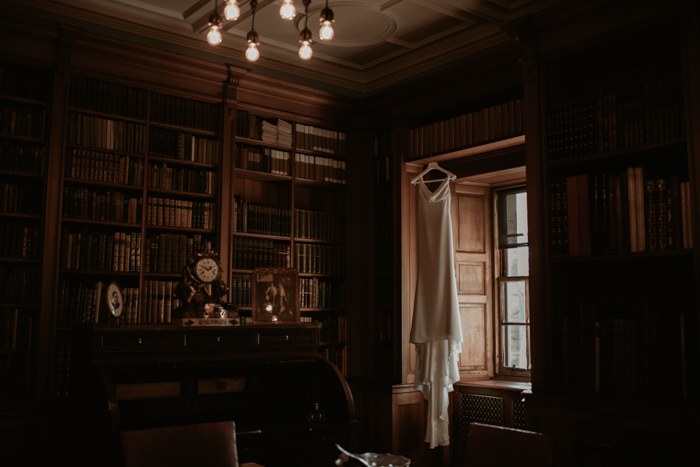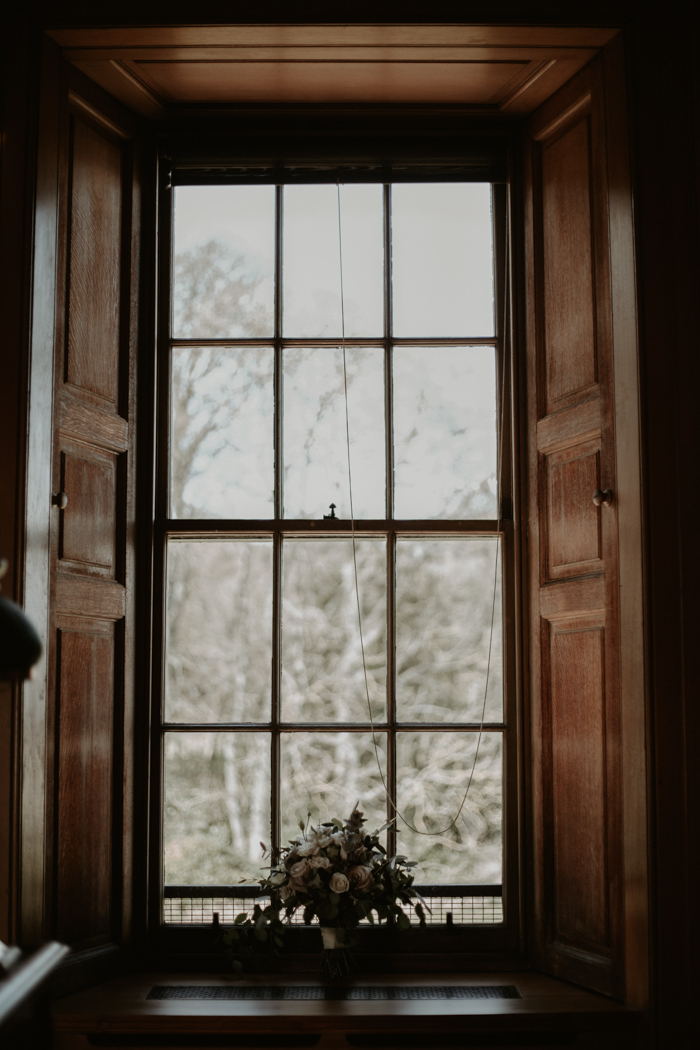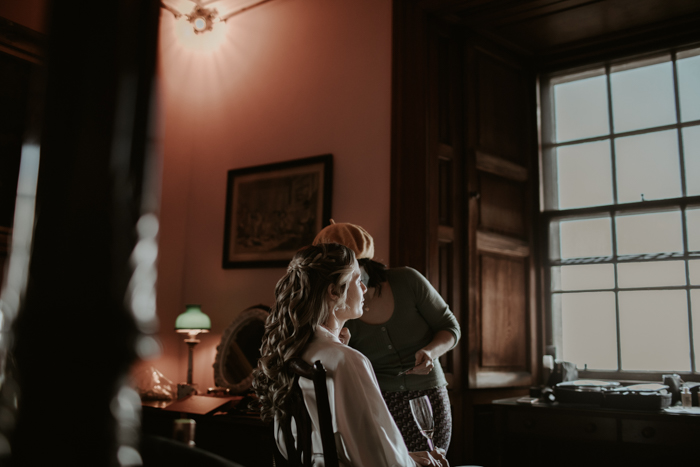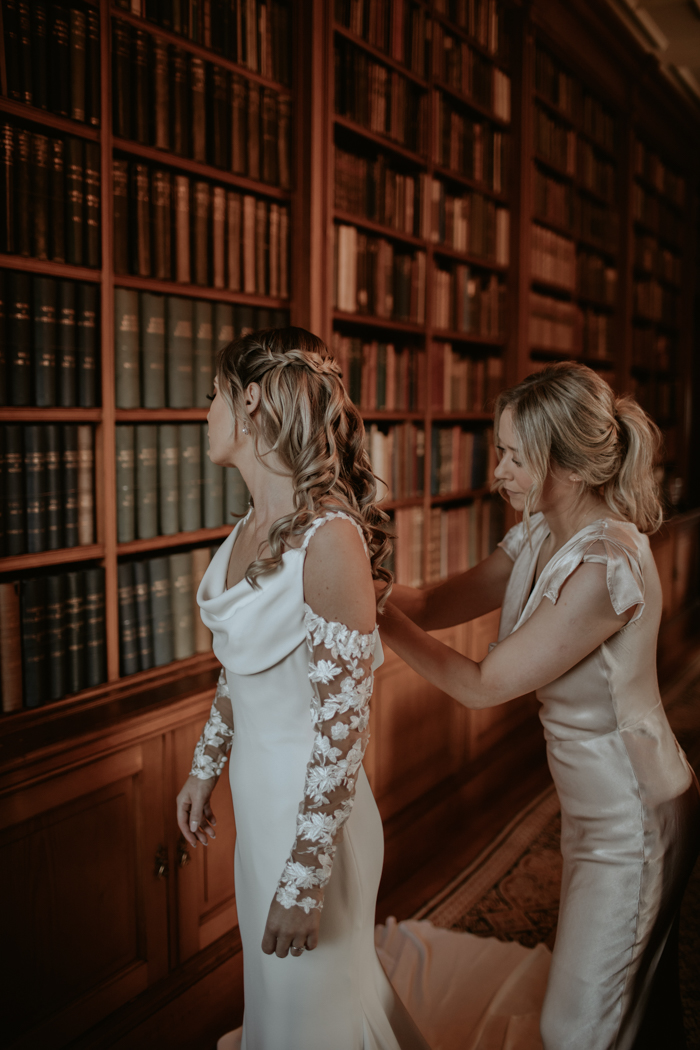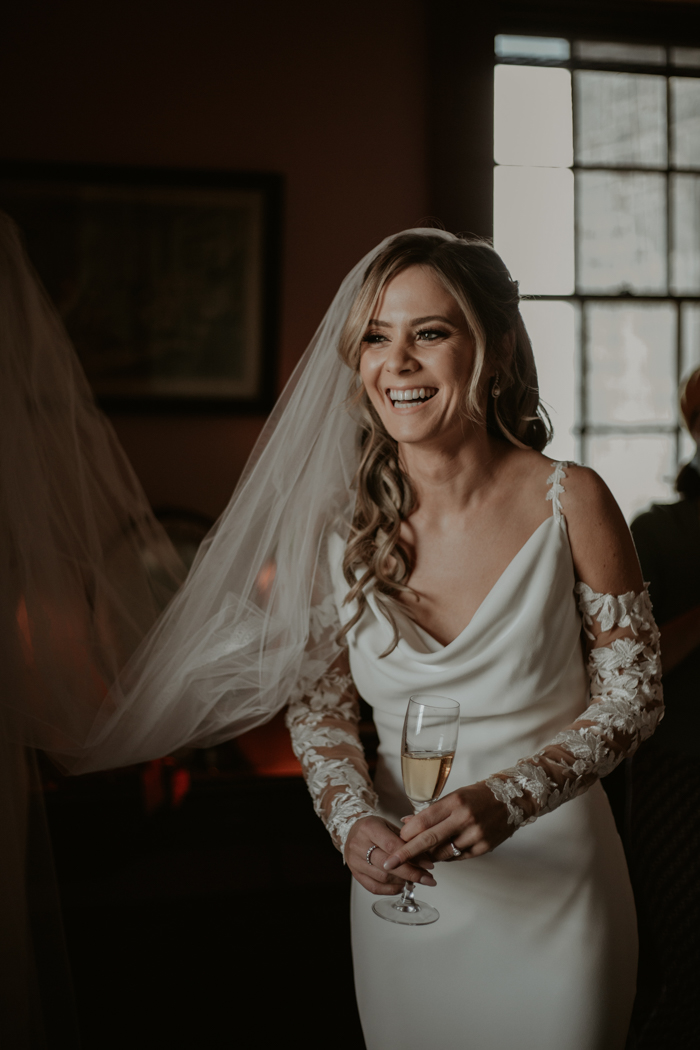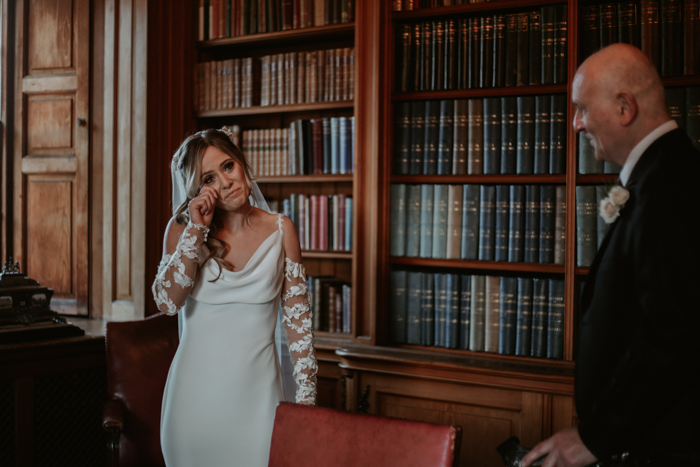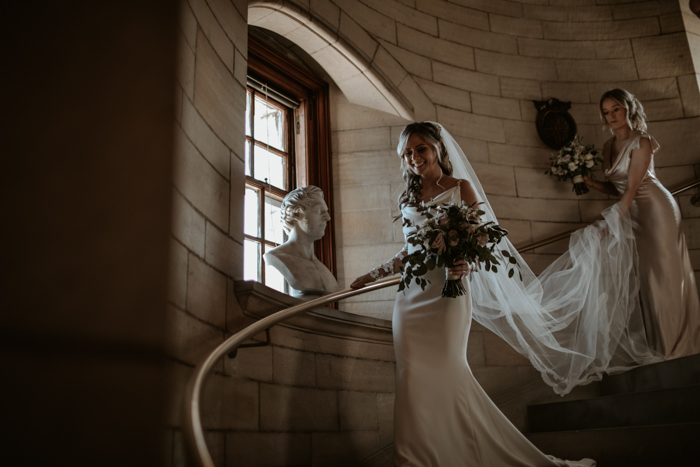 The Flowers And Decor Complemented Their Barnbougle Castle Wedding Venue Perfectly
We had a vision of how the flowers would come together and all the colors, with the bridesmaid dresses and the tartans, but I couldn't have imagined it looking quite so beautiful as it did. The greens of the eucalyptus and olive looked so beautiful with the white hydrangeas and quicksand roses. The florist even managed to find sweet peas that matched the artwork perfectly. I wanted the mantels and fireplaces to look grand but natural and flowing. I think it all just looked stunning, particularly in the banquet hall, where we had the addition of tall vases, ivory tablecloths, and taupe napkins.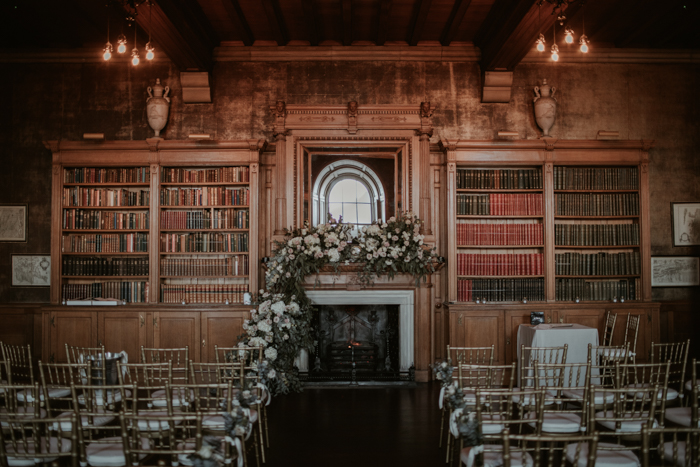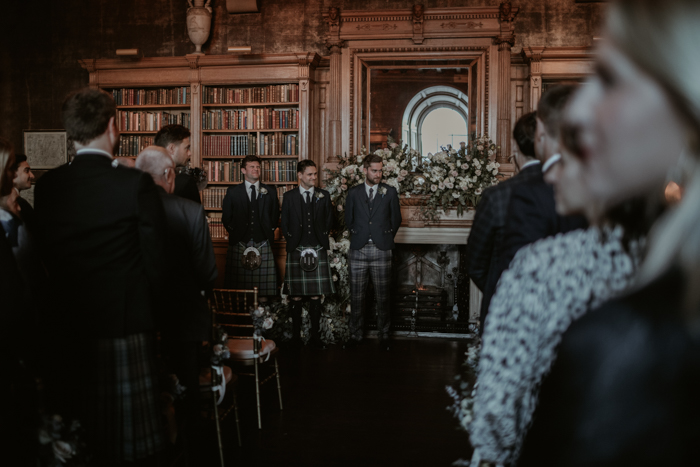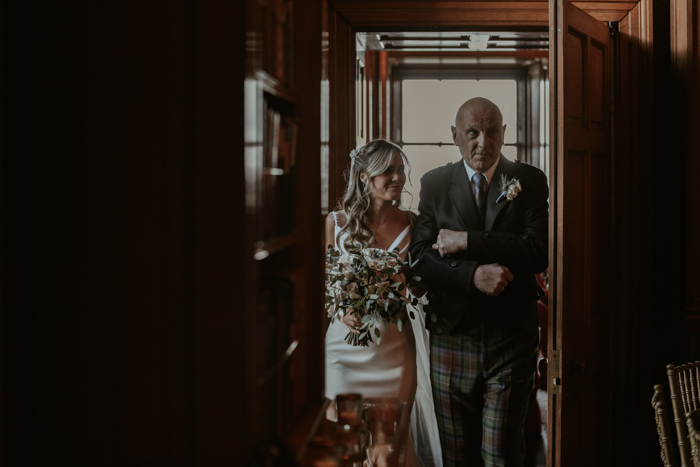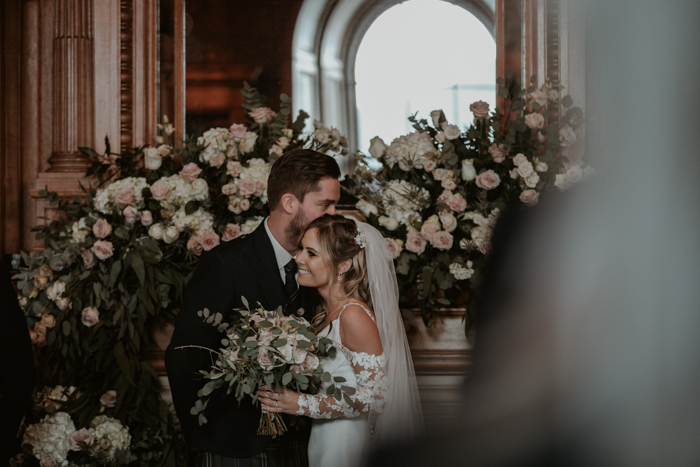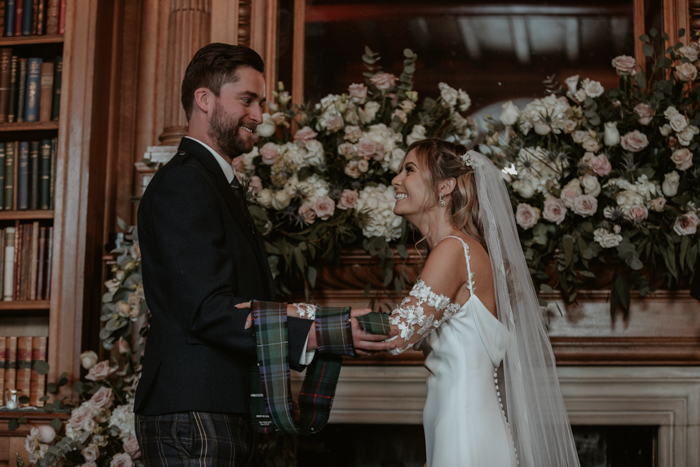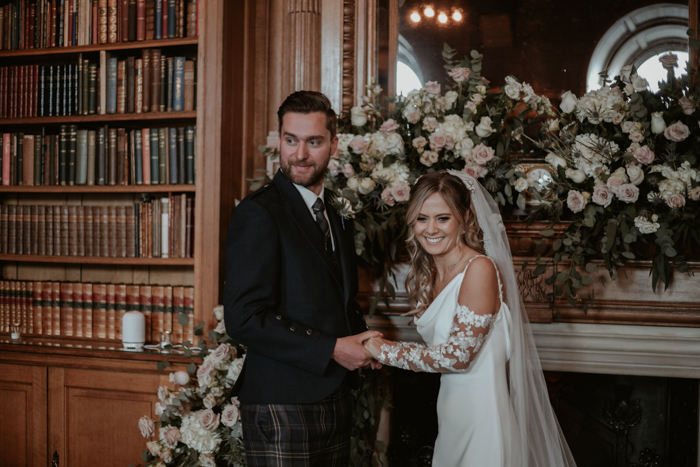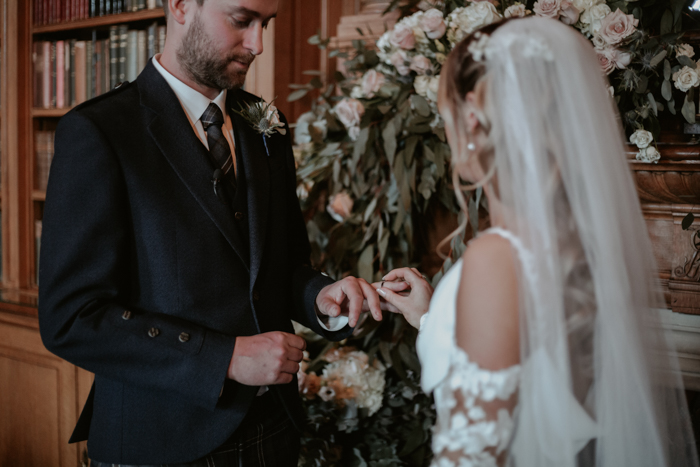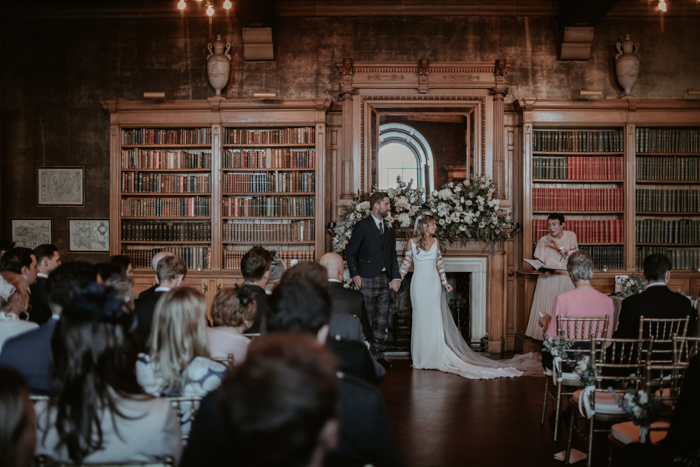 Photographer and Junebug Member Mike Meller Captured All The Natural Moments Of Their Special Day
Mike did a fantastic job of capturing the day. They were exactly how we wanted our photos to be—not staged or forced in any way. He added a lovely creative edge, and you can see the effort and time he put into the photos. He helped make us feel comfortable and completely at ease, which shows in the pictures. He's a good communicator and made sure he captured key shots that were important for us on the day. He also got the balance right of getting some good couple shots, capturing the guests, and prioritizing important family members.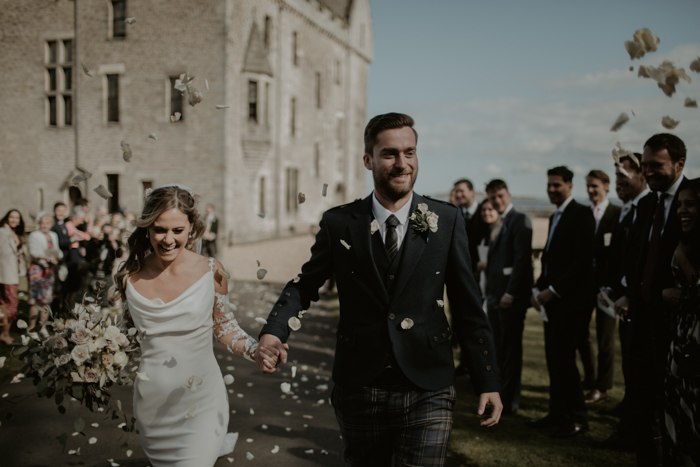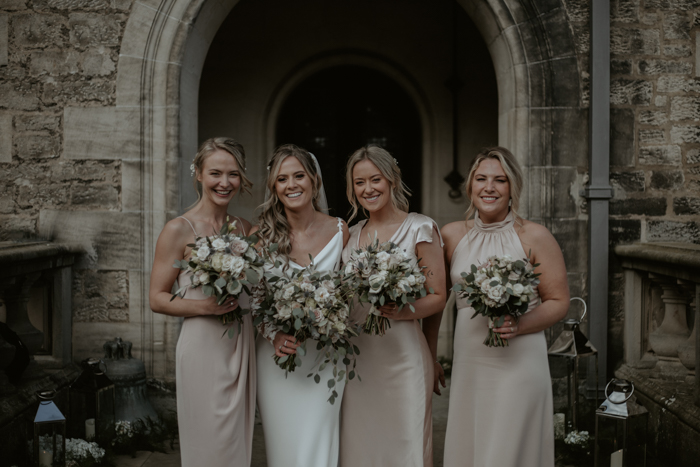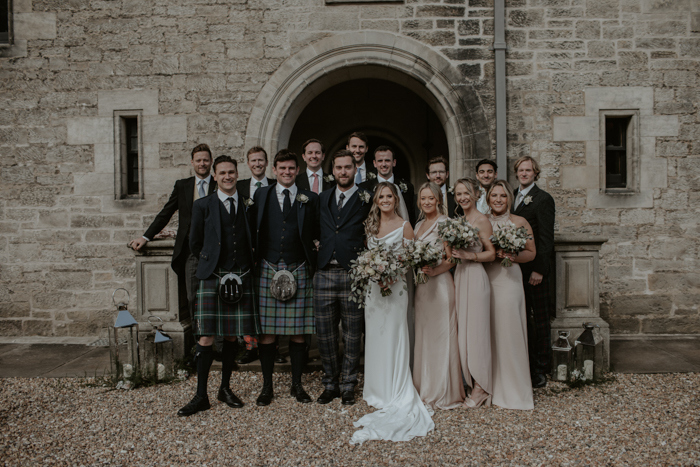 A Memorable Traditional Scottish Ceremony
Our ceremony was the best and most memorable part. The room was the perfect size to create the atmosphere we wanted for our modest number of guests, and our humanist conducted the most gorgeous, traditional Scottish ceremony—from tying the knot to drinking whisky from the Quaich. While we're not traditionally romantic people, it was an opportunity to share the reasons for our love for one another, and it felt like a truly romantic ceremony. After all, our main focus was to get married, and it was such a special moment, with lots of funny, quirky, and imperfect moments we'll cherish forever. Neil loved seeing the reveal of my dress for the first time, and he said he could hear all the reactions to my walking down the aisle.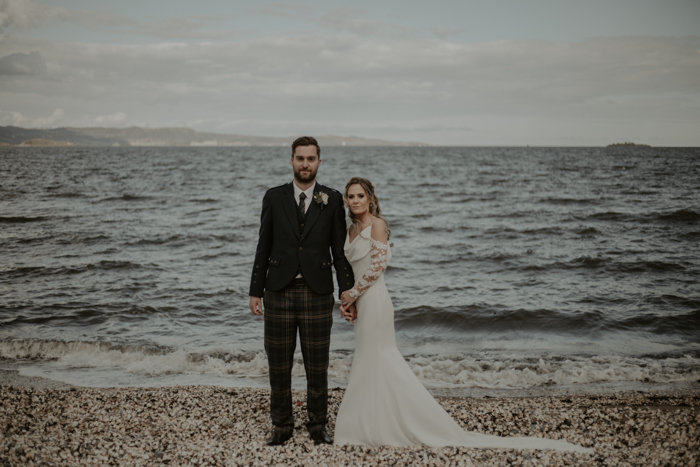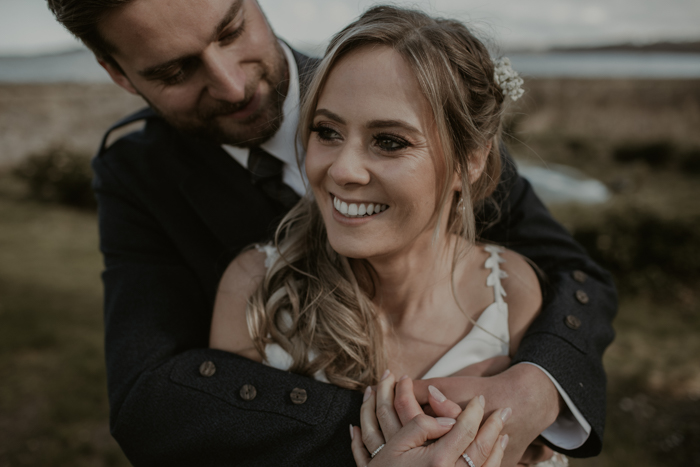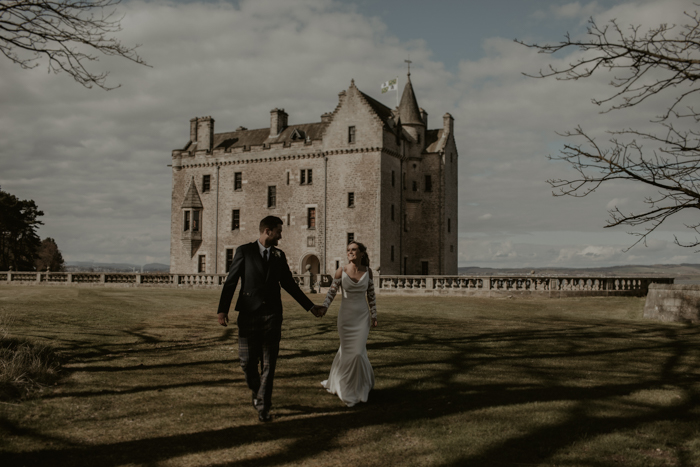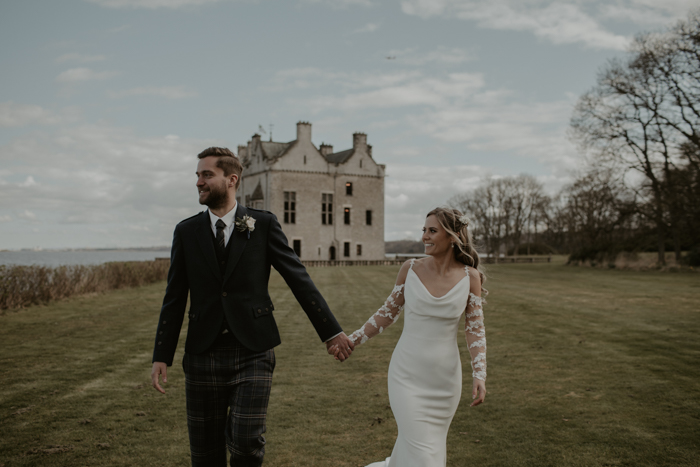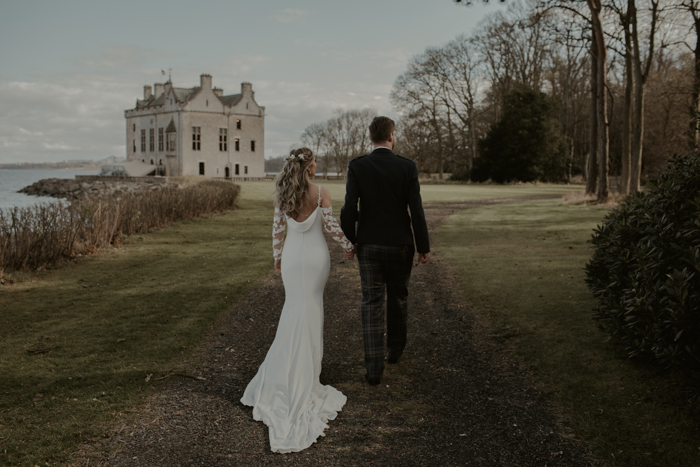 Incorporating Their Love Story And Scottish Traditions That Resonated With Them Into Their Ceremony
We had a great humanist who did her homework. We secretly filled out three things we love about each other, which were revealed on the day. That was a lovely surprise, and the guests gave us feedback on how special the personalization was. She also told the story of how we met and the engagement. Some of our guests have never heard this before. A good friend did a reading, but we went down the humorous, light-hearted route. We also had some music which was special to us. We had a few traditional Scottish symbols like tying the tartan and drinking whisky from the Quaich. Our Mums tied the tartan for us, and our Brothers were our witnesses.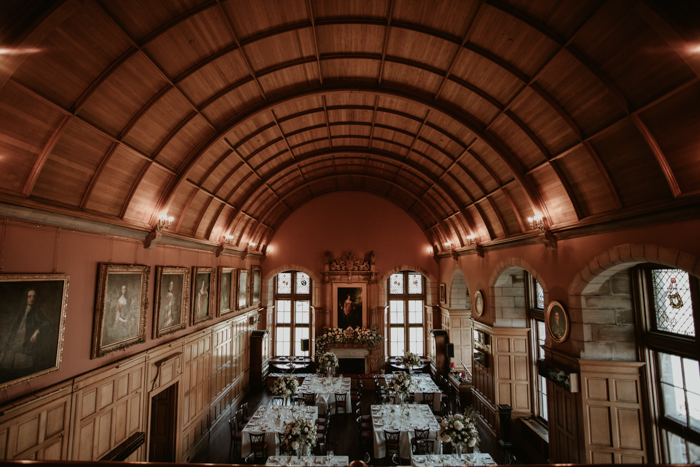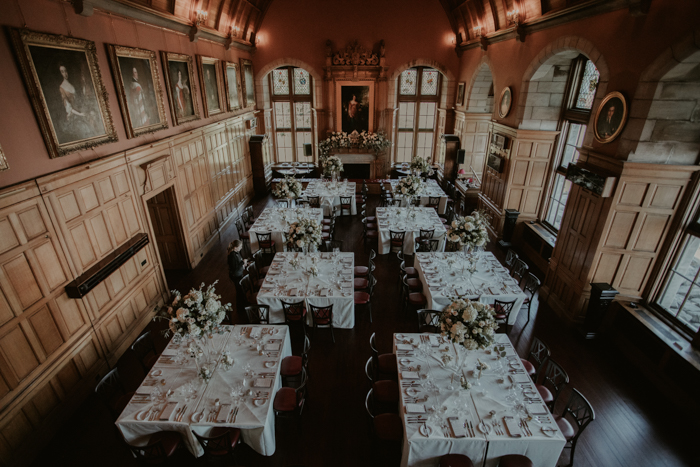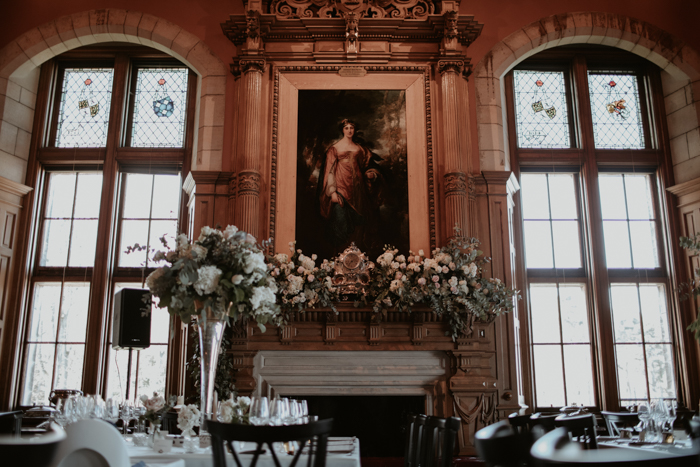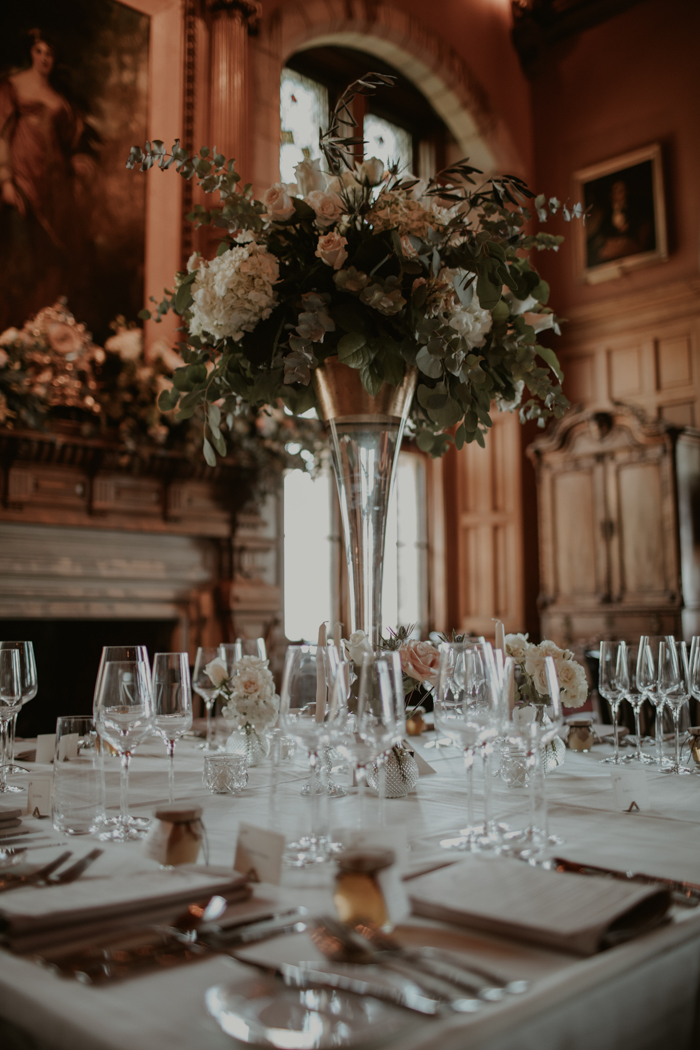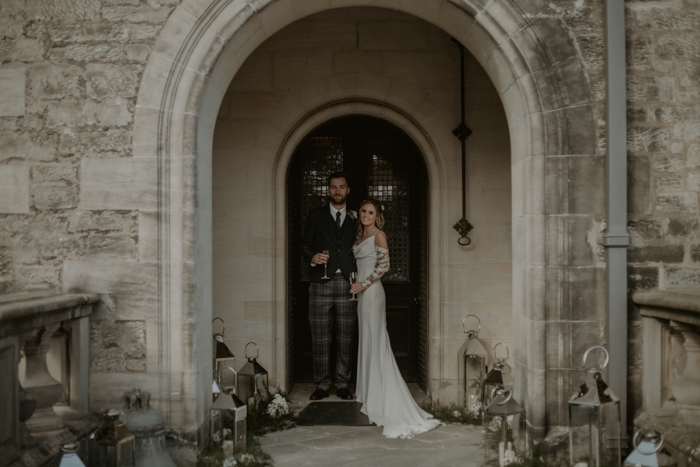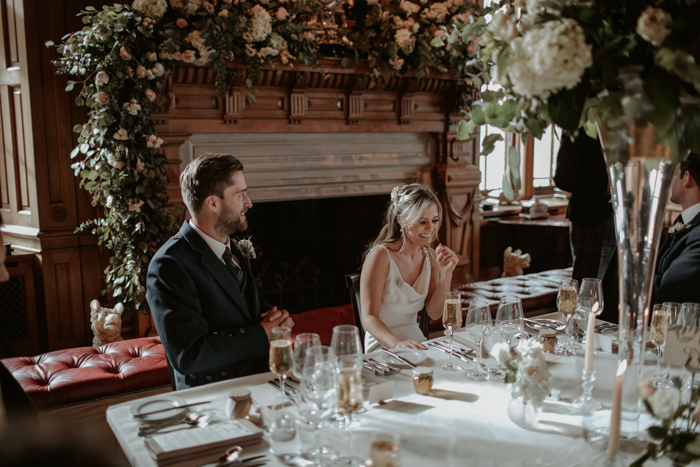 Advice For DIY Wedding Planning Couples: Stay Stress-Free On Your Big Day With A Day-Of Coordinator
We set a budget and added to it more than once. We were prepared for the costs of the wedding but hadn't realized that the more we got into the planning, we were a little carried away with making things bigger and better. I did all the planning myself—from figuring out drink quantities to designing the wedding invites, and it was a lot to take on with a full-time job. However, it didn't feel like hard work because I enjoyed every minute of it. The one thing I would do differently is to have a coordinator on the day to ensure everything is running to schedule. I felt like I had to worry about that on the day of our wedding, which was a shame. My advice would be to plan the event with a well-briefed, dedicated coordinator.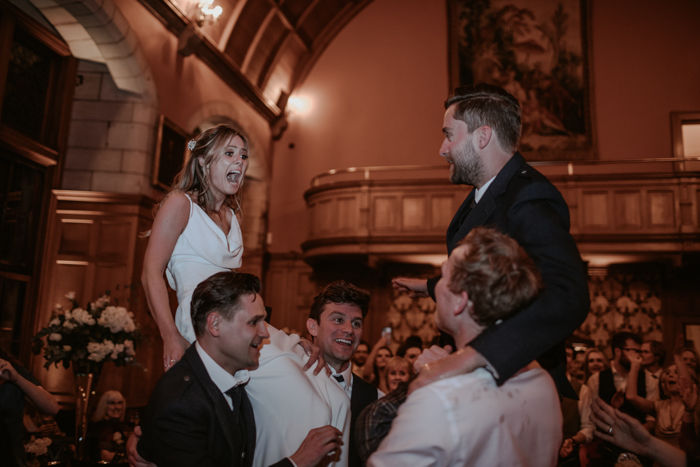 Congratulations to Lauren and Neil on their romantic Barnbougle Castle wedding. And a special shoutout to photographer and Junebug member Mike Meller for beautifully capturing the love and joy on their special day. To see more of his work, check out his profile in our directory of expert photographers from around the world.
While palatial venues undoubtedly convey a magical and ethereal feel, soft hues and lush flowers can turn any dreamy venue into a romantic setting with fairytale vibes. Whether you're still deciding on which color combo or floral arrangements would go perfectly with your venue, check out our list of floral palettes to spark inspiration!