Lauren, a Diabetes specialist midwife and Ashley, an Electrical contracts manager, got married on 5th November 2021 at The Georgian Townhouse in Norwich.
The couple were very much inspired by their florists floral artistry and really wanted flowers to be a big focal point of the day.
Enjoy these gorgeous images by Norfolk based wedding photographer, Camilla Andrea.
The Dress
Wedding dress was Rembo Styling and I purchased my wedding dress from Clementine bridal, in Kent. I originally tried the dress on in a local boutique, but the dress was out of my budget. I was lucky to find it in a sample sale at Clementine, so my mum and I took a trip to Kent to see it.
It was perfect and in amazing condition and the ladies in the shop were so wonderful.
They didn't pressure me into purchasing it, they allowed me to try on as many other dresses as I wanted too, but saved this one for last and I immediately knew it was the one. It was a really fun experience.
I would highly recommend looking for dresses in sample sales – you can find some incredible designs for a fraction of the price, which really helps if you have a particular budget in mind.
My dress felt like the perfect combination of wedding and party dress. I felt so comfortable and confident in it and I love that the tiered style and the split down the front gave it something a bit different.
My shoes were by Esska.
Bridal Beauty & Accessories
I wanted to keep my hair quite simple, so just used flowers to accessorise. I wore Poppy and Barley and Ashley wore Silver Birch and Lavender, both by Jo Malone. We picked our each others scents which felt really special.
I had some beautiful pearl earrings and a beautiful pearl bracelet. Both from my sister that were my something 'new' and something 'borrowed'.
The lovely Emily from Love Moi Makeup did our makeup and Debs from Hairsmiths did our hair. They were both amazing and it was like having a couple of extra friends getting ready with us on the morning.
How They Met
Ashley and I met way back in 2010. We met on a night out in a club in Norwich and I immediately thought he was way cooler than me because he lived in his own flat and had a nice car. I was 20 and still living at home with my parents at the time. We dated for about six months before we officially became a couple.
We got engaged on holiday in Bali in 2019 and I knew I wanted to get married quite soon, so we initially planned our wedding for August 2020. This of course got cancelled due to the dreaded Covid, but we finally married in November 2021.
My husband's suit was by the brand Gagliardi, and was purchased from Jarrolds, the most beautiful department store in Norwich. Ashley wore a lovely gold tie pin and he bought matching ones for his 3 groomsmen as a gift.
Venue & Location
We chose our venue after we had two failed plans with another venue during lockdown. The Georgian was a totally different vibe and took away all the stress we had previously had. It was such a relaxed vibe with everything we needed, whilst being incredibly reasonably priced.
The team were lovely and Holly the wedding planner was so helpful. It was really a very easy process dealing with the whole team.
Flowers
Our florist was the incredible Kim from Romeo and Succulent. Kim was incredible and was able to totally translate my very vague ideas into a perfect vision. It was almost as if she knew what I wanted more than I did.
I was particularly drawn to her 'moveable meadows' and knew I wanted to incorporate these into our design somewhere.
Kim created the most beautiful displays of wild flowers for our ceremony and everything was just perfect.
The Photographer
Our photographer was the lovely Camilla Andrea. I spotted her work when somebody I knew posted their wedding pics online that Camilla had shot.
I knew straight away that she was the one for us and she was the first supplier we booked.
She was such a joy to have around on our big day and I cannot recommend her highly enough.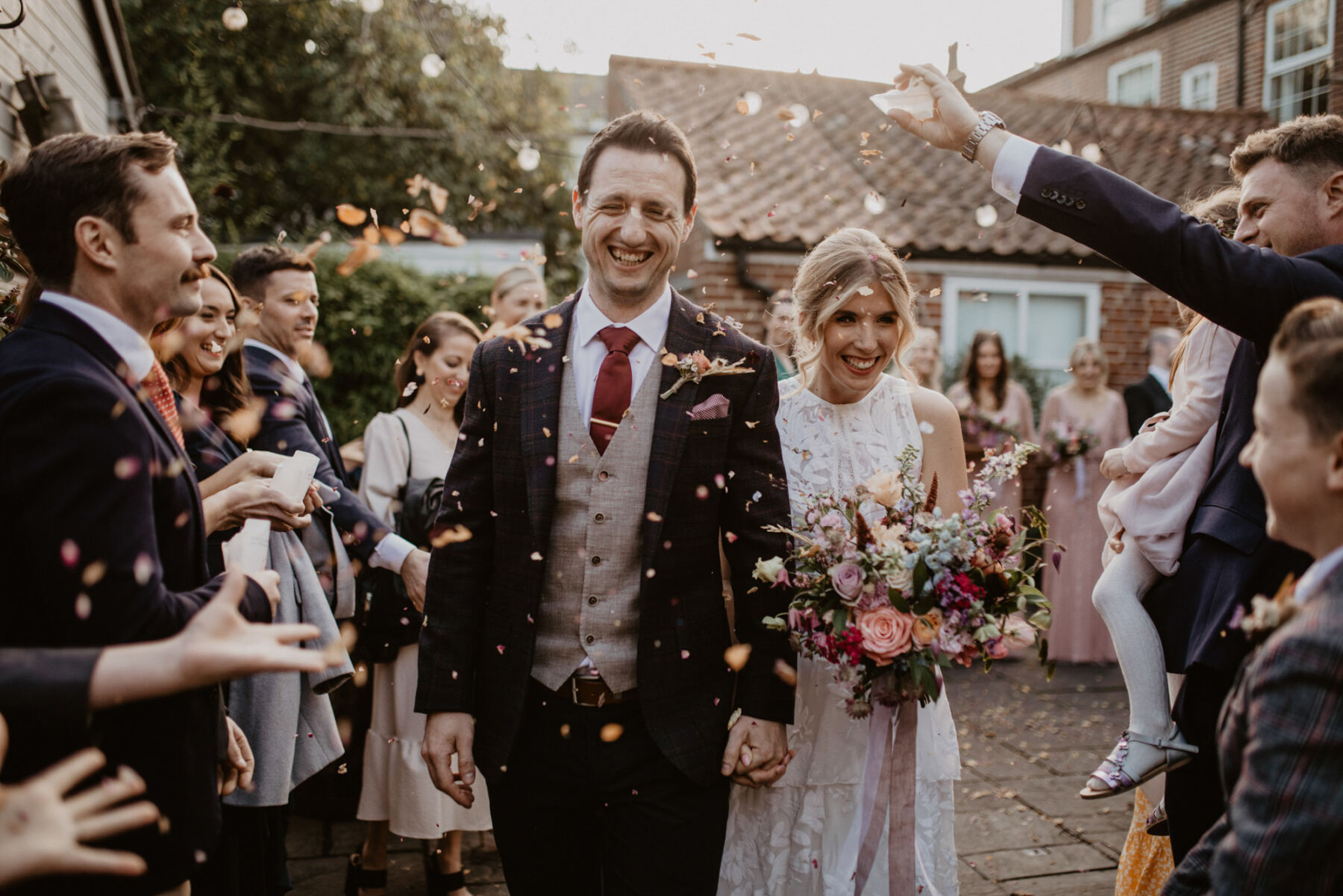 Bridesmaids
I let my bridesmaids pick their own dresses as I wanted them all to have something they loved. After a VERY long process, with only a few weeks to spare before the wedding (eek) they picked their lovely dresses from Monsoon.
The Delay
Our initial wedding date was August 2020. We decided to cancel this date in mid 2020 as there was definitely too much uncertainty at the time for us to feel confident t would happen or be able to happen the way we wanted it to. When it came tour final wedding date in November 2021, we were lucky in that there were no longer any restrictions in place, but we did ask all our guests to complete Lateral flow tests before attending the wedding, for reassurance.
The stress of planning a wedding can be immense without the backdrop of a global pandemic, so be kind to yourself. The waiting makes the day all that much more special and your loved ones will be so pleased to finally be able to share your special day with you and you will feel so loved that you will forget all the stress that came before it.
Reception
We hired some comfortable seating and styling items including rugs and beautiful Pampas grass and vases from a local styling company called Array Wedding and event hire (@arrayweddingndeventhire).
They have an incredible 'hire hub' which is a huge warehouse with different styling set ups ready made for you to view all their offerings. I could have spent all day looking around there.
For wedding favours we gave each of our guests two scratchcards in cute little scratchcard holders. We sourced the holders from Etsy. Sadly none of our guests won the jackpot – unless they kept it a secret 😀
A lovely friend of mine created our wedding invitations, menus, ad place names, Leah Hallam Creative.
Ashleys wonderful mum made our wedding. We had a two tiered naked cake – we kept it simple but delicious. The top tier was lemon and the bottom tier was chocolate.
A Live Portrait Artist
We had a live portrait artist at our drinks reception to create portraits for our guests. He was wonderful and the guests loved it. His name was Owen Mathers. We also had a live band for our evening reception, Three Mile Hill.
First Dance
Our first dance was played by our live band and it was 'Mmmbop' By Hanson.
When trying to pick our first dance, my husband had jokingly suggested it because its always the song we put on in the car on a long drive when we want to have a good sing. I joked and told him no way it wasn't suitable so I would pick something else, but I surprised him by having our band perform it for us. If you actually listen to the lyrics of the song, it's totally suited to a wedding.
Words of Wedded Wisdom
I think my biggest piece of advice would be to not put so much pressure on yourself. I actually didn't enjoy the planning process very much because I put a lot of pressure on myself to make the day something 'different and exciting'. But the reality is that if you have the right people there with you on your special day, it's always going to be amazing because although all the small touches are lovely, weddings are about people, not 'things'.
I think maybe I would have tried to budget to have a videographer, but actually our wedding photos are so incredible that just looking at those is enough to transport you back to the day. The main thing I would do differently would be to not stress so much dyring the panning process.
When we first were planning pre-covid, we wanted to keep our budget to around £10000. We lost out on a couple of thousand when our first wedding got cancelled, but we were very lucky that my wonderful parents contributed a considerable amount towards our wedding. I honestly haven't got an accurate figure of our total spend after our final wedding. But If I think about it, I don't think the total cost for the actual wedding we had would have exceeded this budget by much. But then again, maybe I am just living in blissful ignorance.